January 29, 2013
Please visit Shutterbug's Facebook page to read about what's coming up in the magazine, share your images, and interact with other readers. And be sure to "like" our page while you're there so you don't miss any exciting news!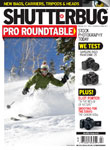 In This eNewsletter:

• How-To – Shooting Crystals
• Industry Perspective – The Convergence of Mobile Phones and Digital Cameras Has Arrived
• What's New This Month – Pixel Soldier, Davis & Sanford, Samsung, PocketWizard, and Pixel Professional
• How-To – Frozen Leaves
• How-To – Dealing With Inclement Weather
• Vote! – There are many more "mirrorless" type camera introductions than DSLRs these days.
• Workshops – Learn and Show
• Shutterbug Forums – Your Photo & Digital Imaging Source
This eNewsletter Brought To You By: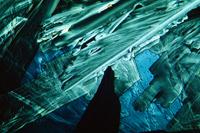 • Shooting Crystals
All The Colors Of The Rainbow
by Jim Zuckerman

One of the more interesting projects I've explored in photography is shooting birefringent crystals. Birefringence is the splitting of a light ray by a crystal into two components that are at different velocities and are polarized at right angles to each other. What this means in terms of photography is that when light passes through the crystals, you can see rainbow colors in the unique and beautiful forms that make up the crystal.

Get The Full Story






• The Convergence of Mobile Phones and Digital Cameras Has Arrived
by Ron Leach, Publisher

We spent a full week in Las Vegas earlier this month exploring the crowded halls of the 2013 Consumer Electronics Show, but it only took about an hour to confirm that the long-discussed convergence of mobile phones, tablets and camera technology is no longer a theoretical topic for discussion; it is a full-fledged reality. As you might expect, iPhone/iPad accessories targeted at the general consumer abounded, but there was also a wide array of innovative technology for the advanced photographer as well.

Get The Full Story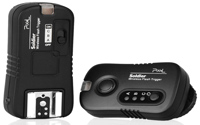 • Pixel Soldier Wireless Flash and Trigger
Argraph Corporation, the exclusive distributor of Pixel Professional Photo Accessories in the U.S., is pleased to announce the Pixel "Soldier" - a wireless flash and camera trigger that can fire flashes or DSLR cameras up to 1000 feet (300m) away!

• Davis & Sanford Pro Elite Tripod
The Tiffen Company announced that the new Davis & Sanford Pro Elite Tripod and Head models 5075-15 and 5100-25 are now shipping.

• Samsung NX300
Samsung Electronics Co., Ltd announced the launch of the NX300, the new flagship model in its successful NX series. Samsung also announced the new NX 45mm F1.8 2D/3D lens, the first one-lens 3D system capable of capturing both still images and full HD movies in perfect 3D quality.

• PocketWizard Firmware Update for Canon 5D Mark III
LPA Design, manufacturers of PocketWizard Photo Products, announced a new update to its ControlTL firmware for Canon versions of its MiniTT1 and FlexTT5 radios. Available now, firmware version 6.200 for Canon includes compatibility with the Canon 5D Mark III digital SLR camera. Any current owner of the ControlTL system can easily install this version via USB connection and update for free using the PocketWizard Utility. PocketWizard Utility version 1.54 or later is required before installing this update.

• Pixel Professional Photo Accessories
Argraph Corporation announced that it is the exclusive distributor of Pixel Pro Photo Accessories. The Pixel "King" series of wireless TTL flash triggers are for advanced DSLR cameras and flashes that allow little room for wires and cables. Simply attach the King transmitter onto the camera hot shoe, and the receiver under the dedicated TTL flash and you're ready to shoot.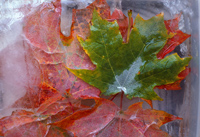 • Frozen Leaves
Pattern And Design
by Jim Zuckerman

I live in Tennessee, and in this part of the country it doesn't get cold enough in autumn to see colorful leaves frozen in local rivers. When I first moved here, I had been hoping to get shots like that, and I was disappointed that it wasn't going to happen. I came up with an idea to get the shots I wanted, though, and it worked out quite well. I was able to create artistic and colorful macro shots in which I had total control as opposed to finding beautiful patterns serendipitously.

Get The Full Story



Giottos High performance is always a value.
Tripods*
Monopods*
Ballheads*
Panheads; Quick Releases; Lightstands; Cleaning Kits; Screen Protectors; Accessories
* 5-Year Warranty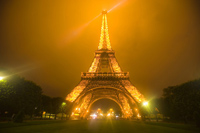 • Dealing With Inclement Weather
Making The Best Of Every Shooting Condition
by Jim Zuckerman



It is disappointing when you travel somewhere hoping for beautiful weather, and instead of sunrise and sunset lighting, beautiful cloud formations, and comfortable temperatures, you face a rainstorm, a dull sky, or even a blizzard. While the pictures that you had in mind may not be possible, there are always great photographs that can be taken. It's just a matter of expanding your thinking.

Get The Full Story







• Vote!
There are many more "mirrorless" type camera introductions than DSLRs these days.







• AdoramaTV Watch, Learn , Create
We'd like you to know that our friends at Adorama have an exciting new resource that's a key part of their photographic education initiative. See host, Mark Wallace, present how-to videos for everyone from snapshooters to enthusiasts to professional photographers, plus product reviews, interviews with today's top professional photographers, and reviews of iPad apps. AdoramaTV is the newest part of the Adorama Learning Center, which has thousands of photo-related how-to articles, product reviews and buying guides. New videos are added daily. Visit us today and ignite your passion…

• Cavecreek Photographic Workshops
Courses offered each month. Contact: Alan Lowy's Cavecreek Photographic Workshops, 2135 E. Gaffney Road, Phoenix, AZ 85087, 623-465-1077.

• Adorama Photography Workshops
Various courses offered each month. Contact: Adorama, 800-223-2500.



•Newsletter Feedback
Let us know what you think about our Newsletter. Please send your comments to:
editorial@shutterbug.com

• To Change Your Email Address
Please send your request to: zachary.rizzuto@sorc.com


If you would prefer not to receive future communications from Shutterbug, unsubscribe here. You may also reach us by writing to the following address: Source Interlink Media, Inc., 261 Madison Avenue, New York, NY 10016 Att: Privacy Coordinator. Privacy Policy.

Shutterbug Home Page • Print & Web Media Kit • Contact Us
Copyright SOURCE INTERLINK MEDIA™ All Rights Reserved
1415 Chaffee Drive, Suite 10 | Titusville | FL | 32780