The Zeiss Ikon SW Camera; 35mm Precision In The Digital Age Page 2
There's none of that new fangled DX coding! You have to remember to change ISO speed when you change film types. Film speeds are set with a round knob that has a collar that, when raised, is rotated to set ISO. The problem is that knob is just a tiny bit thinner and slipperier than it could be and is more difficult to grip than in some other older film cameras. Or maybe it's just that I'm getting older.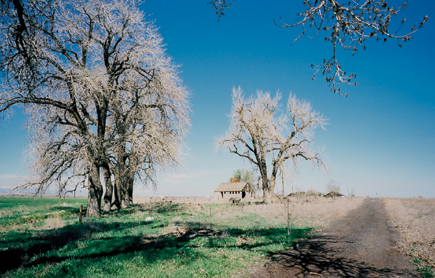 Spring was late coming to Colorado and when I went to this old farm that I have photographed many times there was a lack of color, but the Fuji Pro 160S helped punch up what was there. Captured with the Zeiss Biogon T* 21mm f/2.8 ZM lens set at f/8 with focus set at hyperfocal distance. It was shot in Automatic mode with a +1/3 stop exposure that produced great-looking negatives.
An accessory shoe atop the camera and directly above the lens accepts a viewfinder matching the lens' focal length. As an aid in composing your shot, these viewfinders show the area that surrounds the image. These viewfinders are precision optical devices so expect to pay $500. By comparison, Voigtländer finders for similar focal length lenses run between $128 and $289. A second (hot) shoe is built to take a flash, a bubble level, or other accessory. If you're serious about photographing architecture and plan to use the SW on a tripod, you'll want a level such as Adorama's Single Bubble Level ($18.95) to slip onto that second shoe.

Once when shooting with the Distagon T* 15mm f/2.8 ZM lens I switched to the Biogon T* 21mm f/2.8 ZM and forgot to change the finder. That will give you some surprises when you get the film back, and not in a good way. So be aware that while the SW is an interchangeable lens camera, there is no viewfinder so you have to change the finder to match the lens!

The Distagon T* 15mm f/2.8 ZM lens is a big puppy and unlike the other ZM lenses I used, caused some blockage in the finder window so you can't see 100 percent of the area covered by the shot, but you should be able to figure it out. The Zeiss Ikon SW has no rangefinder window to help you focus the Zeiss optics that are available for the camera. But, Mr. Bill, I can hear you saying, how will I ever focus? My favorite method for focusing is to set the lens at its hyperfocal distance. (See "Hyperfocal Distance" sidebar below.)

I divided my shooting time between hand holding and tripod-mounted exposures. While the SW's light weight and ergonomics are superb, the optional Side Grip makes holding the SW camera easier and offers a standard 1/4" tripod mount exactly under the optical axis.

The Side Grip is made of durable synthetic material and only weighs 1.4 oz. Get one when you order the camera.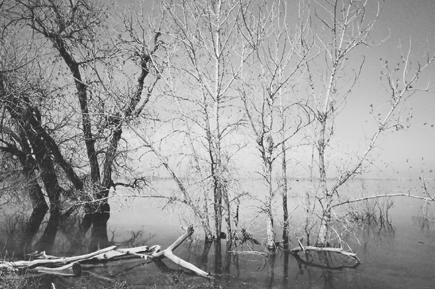 When shooting black and white I prefer Kodak's Professional BW400CN film because of its fine grain and smooth tonal transition, and it can be processed wherever you take your C-41 color film. The film makes a wonderful companion to the crisp images produced by the Zeiss Biogon T* 21mm f/2.8 ZM.
Shooting in Automatic mode and working under low light with film such as Fujifilm's ISO 800 color negative resulted in slightly underexposed negatives. How much? Based on the histogram of the scanned negative, I'd estimate about one stop. If you plan to shoot in Automatic mode under these kinds of lighting conditions, I'd suggest you divide the ISO by two and dial that up on the SW's film speed setting. Shooting outdoors in Automatic mode was slightly different but seemed biased for transparency film, so you might want to use the SW's Exposure Compensation mode that offers +/- two stops in 1/3 stop increments. You do this by rotating the A on the shutter speed dial next to the desired adjustment. If you decide to go old school and use a handheld meter, an incident reading at the correct ISO speed produced predictable and accurate results.

Is the Zeiss Ikon SW camera old-fashioned? Yes. But this kind of breathtaking build quality, whether it's the ultimate road car such as the Bugatti Veyron or a 35mm camera like the Zeiss Ikon SW, never goes out of style.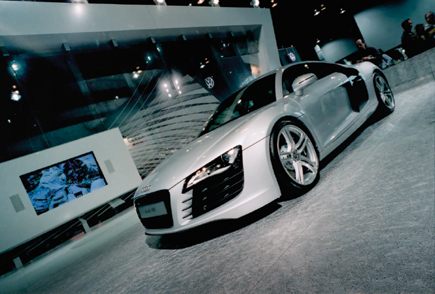 In a shot of German precision made with a German precision instrument, this Audi R8 was photographed at an auto show with the Zeiss Ikon SW and Biogon T* 21mm f/2.8 ZM lens. The lens was set at f/8 with focus set at hyperfocal distance and shot in Automatic mode that produced a slightly underexposed negative when shot on Fujifilm 800.
Hyperfocal Distance (Sidebar)
The hyperfocal distance is a specific point of focus where any object that is between the distance from that point and infinity is in focus. Here's how to do it: After you select an aperture on the lens, rotate the focusing ring setting so that aperture appears opposite the infinity mark. With some of the Zeiss wide angles producing depth of field from a few inches to infinity you effectively turn the camera into a high-quality point-and-shoot camera, making it possible to make grab shots like the one I made of the mailboxes.
This was a grab shot made with the Biogon T* 28mm f/2.8 ZM lens set at f/11 with focus set at hyperfocal distance. Mary was driving and we just started to pull away from a shot that didn't turn out so well when I saw these mailboxes and hollered "stop." It was shot from the passenger seat in Automatic mode with a +1/3 stop exposure on Fuji Pro 160S color negative film.
Zeiss Biogon T* 21mm f/2.8 ZM Lens Specs At A Glance
Focal Length: 21mm
Aperture Range: f/2.8-22
Focusing Range: 1'-7.7"
Weight: 10.6 oz
Length: 2.52"
Price: $1307 (silver or black)

Zeiss Ikon SW (Body) Specs At A Glance
Camera: 35mm camera with focal plane shutter and TTL light metering
Exposure Metering: TTL center-weighted metering at working aperture
Film Speed Range: ISO 25-3200 manually set in 1/3 f/stop increments
Exposure Modes: AE with Aperture Priority or Manual; AE lock option for a single exposure or for a sequence of exposures; exposure compensation +/- two stops in 1/3 stops set at shutter speed dial
Range In Automatic Mode: 8 seconds to 1/2000 sec
Range In Manual Mode: 1 second to 1/2000 sec in one-stop increments; Bulb
Flash Synch: Synchronization at 1/125 sec and longer shutter speeds
Batteries: One CR 1¼3 lithium or two 1.5v cells type LR44 or SR44
Size: 5.4x2.9x1.3"
Weight: 13.9 oz
Price: $999 (silver or black)

For more information, contact Carl Zeiss MicroImaging, Inc., Photo Division, One Zeiss Dr., Thornwood, NY 10594; (800) 543-1033; www.zeiss.com/photo.

LATEST VIDEO

SPONSORED VIDEO