What's New In The Wedding Business?; Challenges And Opportunities Page 2
Now we reach new brides in one of two ways. First, we network with other wedding vendors heavily. We have displays at every major venue plus displays at any other wedding vendor we can network through, like florists and cake vendors. We spend a good portion of our overall marketing budget on these displays and gifts for referring vendors. We like to become friends with these vendors so that referrals to us are genuine and those networking relationships last longer. We know which vendor likes martinis and which ones love chocolates, etc., and send those vendors personal gifts and thank you cards at the holidays and anytime they refer us. Second, we market to new brides through our existing brides. Outstanding customer service and great images make it easy for brides to refer us to their family and friends. Viral marketing like putting a "sneak peak" slide show on our blog within days after the wedding creates buzz and excitement as well.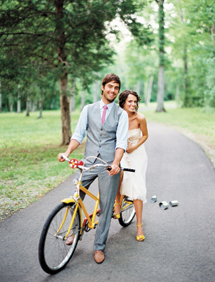 © 2009, Jose Villa, All Rights Reserved
SB: What do you think is the best format or technique to present a wedding photography portfolio?
Jose Villa: Since presentation is of key importance, I would suggest finding the best way to make sure that the images are large and that your photos work with the design of your logo and website. Whether it is an online portfolio, an album, or a nice commercial portfolio, make sure everything is consistent. For my portfolio I print small images on watercolor photo papers and have them hand bound by my album designer.

Jennifer Gilman and Mark Garber: While the digital era has provided us with an unlimited number of ways to show our work, traditional methods of showing work can't be forgotten. We use a variety of methods to show our work electronically, like Flash galleries on our website or "animoto" (video) shows on our blog or embedded into e-mails.

However, each year we take the time to update all our studio samples as well. Making sure our albums and wall samples are current and reflective of industry trends is also very important. When we send our price list and other marketing materials to brides, we send a CD portfolio but we make sure that we still have numerous images on the printed marketing materials. You can't assume that a bride is going to stop everything she is doing to put a CD/DVD into her computer or TV. You need to bridge the gap and have a healthy mix of electronic mediums with traditional printed marketing materials.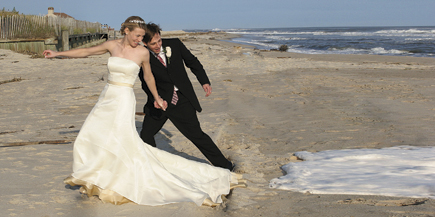 © 2009, Aaron Pepis, All Rights Reserved
SB: How well does your website market your wedding photography services for you and why do you think it has been successful?

Julia Woods: Our website is very important to the booking of brides. We post every current wedding on there, so it sends a lot of traffic and creates a lot of buzz around each wedding. We have had many clients tell us when they book that they tagged our website after they saw our post from one of their friend's weddings.

Aaron Pepis: We put a website up about nine years ago and never had a lot of Flash or animations. People we tend to work with are not interested in that and I find that most wedding clients really want information, so we use a simple design of thumbnails that enlarge to the center of the page.
The use of a website also depends on the interest of the clients. If they are only looking at price then they are not looking for us. First we show quality and then we talk price. On our website, clients look over all of the images and then they query for more information. We use a fill-in contact form and not just an e-mail link. From there we put together a PDF portfolio and make a phone appointment to go over this custom portfolio of images with them. If they are looking for traditional, I will put together eight or 10 pictures that are more formal or posed. If they want journalism, I will put those images together in a PDF.
© 2009, Aaron Pepis, All Rights Reserved
Jennifer Gilman and Mark Garber: We have separate websites for wedding and portrait clients linked together with one splash page. Our bridal work is a little sexier and trendier than our portrait work and we didn't want to dilute that trying to appeal to high school seniors or moms planning a portrait. Some features of our website include an "In the Media" page, which we use to showcase anytime we are published or win awards. We have online ordering provided by proofcast.com. I like proofcast.com for a variety of reasons, including easy ordering for clients, but primarily because clients don't ever have to leave our site.

We also kept the design of the website clean and crisp. We didn't want to overburden the eye and have any design aspects take away from our images. We also went with an all-white look to follow in that clean, crisp feel. Because most of our competitors have dark, overdesigned sites ours stands out like a breath of fresh air. We also went with music that subtly reinforces that feeling. My favorite quote comes from Leonardo da Vinci, "Simplicity is the ultimate sophistication." This is certainly true with website and blog design!

Our blog is also a critical part of our marketing because it is marketing done in "real time." It keeps us current as well as humanizes us to our clients. We also make it a planning tool for brides by showcasing new trends, color schemes, or planning tips. This keeps brides coming back—you don't want to be a one-hit wonder!

LATEST VIDEO

SPONSORED VIDEO