Want To Work As A Photo Assistant?: A Great Start To A Career In Photography
Beyond learning how to handle cameras and photo equipment, working as a photo assistant will teach you many lessons that will go a long way toward helping you build a successful career. Skills you'd most likely garner include learning about project management, studio protocols, location procedures, dealing with clients, preproduction and postproduction work, and more. These are all essential business skills and can often be learned only "on the job." Indeed, talk to many established pros today and you'll find that's how they got their start.
To research this article I spoke with both photographers and photo assistants and asked them the same questions on getting work as a photo assistant. I trust you'll find their answers are filled with noteworthy advice, tips, and action items. Thanks to our photographers: Tony Gale, Anthony Nex, Kevin Steele, and James Sullivan, and our photo assistants: Matthew LaVere, Casey Prout, and Neal Reiter.
Shutterbug: What are the best ways to research and find work as an assistant?
James Sullivan: Researching potential clients (photographers you might wish to work with) is the first step toward getting out there and getting work. Every photo assistant should make a conscious decision about the type of photography they want to do and the types of shoots they would want to work on in order to learn as much as they can about working in the commercial photo industry. There is nothing that turns off a photographer faster than when an assistant shows up for an interview and that assistant has no idea what type of work the photographer does. This tells the photographer that you were not willing to take three minutes out of your life to do a Google search and see what types of jobs he or she has been shooting and what the photographer has done in the past.
So the first step is making a list of those photographers whose images you admire and putting them into some type of database for easy access (we suggest the 1ProPhoto.com Photo Production DB - Personal Edition) and then making initial contact via social networks like Twitter, Facebook, LinkedIn, and others. You should also use traditional e-mail to send a short introduction (one to two paragraphs) with your resume as an attachment or a link to a downloadable PDF, or if the resume is short you can embed it into the e-mail.
Another great option is to create your own e-mail newsletter (MailChimp offers a free option) to keep those potential clients in your database up to date on the jobs that you have been working on and your new skills and experiences. And lastly, pick up a phone and call the photographers or their studios directly. This not only shows your level of ambition and commitment but it will also demonstrate your ability to communicate with the people you are trying to get work with.
Tony Gale: I think the best way to research photographers are the various online sites that photographers pay to be a part of, such as PhotoServe, APA, Workbook, FoundFolios, and Dripbook. Those are good because it helps filter toward photographers who are working and therefore more likely to hire assistants. The best way to find assisting work is to get out there and put the work in, volunteer at events with photo associations such as APA and ASMP, and go to any networking event you can. E-mail and call the photographers you would like to work with and be persistent—but not annoying. I definitely notice direct mail because I get so little of it from assistants, but really, e-mails are probably the most effective. Consistency is the key; one e-mail won't do it, but several over the course of months might.
Anthony Nex: Start by going to the Workbook website and searching for photographers in your geographic area. You can see what type of work they do, their clients, and see if that is a fit for your interest and experience. Events such as gallery openings and APA events are great for meeting people. I suggest you find the person standing alone and go say hi. You'll never know who you'll meet. Honestly, the best way to get hired is by a referral from another assistant. Try and network with other assistants. That is how most people I know hire crew, myself included. Meeting photographers at events works, too. The worst way to get assisting work? Sending out a PDF of your resume with nothing visual about it. I don't care if you worked for Starbucks in high school or you know how to use a Nikon (this should be taken for granted). You're a visual person and so am I. Send an image, or write something that creates one in my mind. If I can learn something from someone or they make me laugh there is a good chance I'll hire them.
Matthew LaVere: Viewing the "Find a Photographer" page on ASMP and being active in a local chapter helped me get started networking with professionals. I've met amazing people in Detroit, including photographers, photo assistants, photo reps, and studio managers, who have referred me to great gigs. Going onto the Wonderful Machine website or reading professional photo publications helped me pay attention to what's going on in the industry.
After my research I made a list of photographers to meet in NYC and Detroit. A fellow ASMP member/photographer I know said if I ever wanted to move out there, take my time to build up my network. The idea was to book 10 meetings and then purchase a plane ticket to NYC to attend meetings/reviews every quarter. My first big trip out to NYC for meetings I went above my goal and booked 30 meetings. I still go out a few times a year to NYC to show my book, photograph new work, and attend conferences to stay up to date on industry trends.
The other tactic that worked for me was networking with rental houses. Alan Davidson, the owner of Dayspace Studios in Detroit, is the only authorized Profoto rental house in the state and has given my information to many photographers flying in from out of town.
Neal Reiter: The best way to find photographers is by using paid web portals like Workbook, Wonderful Machine, or ASMP's Find a Photographer. These websites tend to have working photographers who are looking for assistants. I compiled a list in a spreadsheet document of all the photographers locally. Then I ranked the Top 10 that I wanted to work with. From there I marketed, starting at #10 and up. Each day I worked down to #1, hoping to have the tightest e-mail, the best phone call, and the greatest interview possible. The most overlooked marketing strategy is to focus on networking with local assistants. I took a highly sought-after assistant for drinks and that not only helped me learn about working as an assistant but they were more willing to share contacts. More often assistants are asked for referrals. If you can get your name on those referral lists, your network is marketing for you.
SB: What three "be the best photography assistant" tips can you offer our readers that would make the best possible impression on a photographer?
James Sullivan: Be punctual and on time, be aware and pay attention, listen to everything being said on set and keep your opinions to yourself. Never claim to know more than you really do and ask questions when you don't know something—never assume!
Anthony Nex: I had an assistant once send me an informal e-mail, and it was clear he had an understanding of my job and his role in helping me. He hit the main points: "I don't talk too much; my phone is on silent and in my backpack (this is key these days); I show up five minutes early; I listen and watch and learn, so you don't keep having to ask me for the same thing; I'm not the first to eat but am often the first to get up from lunch; I dress appropriately for the shoot; and I'm a great DJ if you need music." I hired him the next day and he worked with me for a few years. My main points are: turn off the ringer on your phone and don't text all day—clients give us a hard time when they see that from assistants. Show up on time, not five minutes late, and look busy even when you aren't. I know I may not need you every minute, but clients don't often understand that and when they want to chop the budget it may be you they cut if they think we don't need you. Help me to keep you employed so we can both benefit.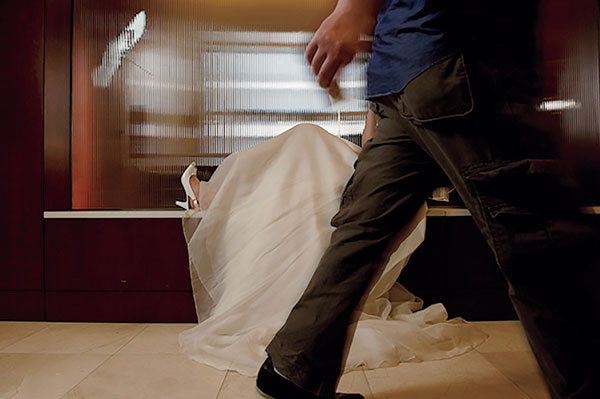 Kevin Steele: Always do more than expected, think ahead, and anticipate and do things without being asked to do them. Know your position on the set. Never offer advice in front of the client or art director. If something is about to start smoking and explode then whisper in the photographer's ear. Unless you've been asked to shoot behind the scenes and post to social media, turn your mobile phone off: that means no photos, no texting, no checking voicemails.
Casey Prout: The first and probably most important bit of advice I can give is to know something different. Any photographer worth his salt knows his equipment and technique like the back of his hand. But he can't know everything about everything because it's impossible. If you can bring expertise in a complementary area or emerging technology it brings added value to your work and the photographer's studio.
The second thing would be to study stage management: think about the backstage manager of a live theatre production. There are a limited number of photography assistant training courses out there, but almost every area has some sort of local live theatre. The skills that make for a good stage manager and a good photographer's assistant are extremely similar. Both need to be fast and efficient and light on their feet. Both need to be able to handle the needs of talent, crew, and creative at various times while still doing their primary tasks. They can also be long, tiring jobs with little to no thanks and you can be easily blamed if anything goes wrong. Know how to be practically invisible unless the boss needs something and by that point you have already predicted the need and started taking care of it.
The third piece of advice I could give is to not forget that this is a job and a place of business. Just because your call times are at odd hours and you are on set somewhere amazing you are still at work. Try and be a bit early, dress well but appropriate for the shoot, and be ready to work. Leave your ego at the door without being a doormat. And take yourself and your work seriously.
Matthew LaVere: Showing up with an assisting kit (gaffer tape, Leatherman Multi-Tool, pens, Sharpies) shows you're prepared and ready to work. Also, having a flexible personality is key. I travel with a lot of photographers and you have to be enjoyable to be around. You also need to know when it's a good time to talk or be laid back versus being strictly business and move as quickly as possible. I've assisted over 60 photographers in the past few years and while everyone is different my goal is the same. My mission is to put in 110 percent and make the production run as smoothly as possible with little or no problems. To make the best possible impression on a photographer you should have any resources at the ready. It could be knowing where good restaurants are to eat, speaking a second language, knowing owners of a small business, how to tie advanced knots, anything they throw at you. If you can take the pressure off a photographer and make the solution seem effortless while doing it with a smile on your face, I guarantee they will call you back.
Neal Reiter: Never sit down. There is always something to do. Bring a fully stocked kit. Even if you never pull anything out, you still look professional having one. Stay off your phone! You aren't there to take selfies. Be 15 minutes early…if call time is 8:00, be there at 7:45. Being there to help the first people load in leaves a great impression.
SB: How do you think working as a photo assistant helps make the transition to being a full-time photographer?
James Sullivan: The time spent working as an assistant allows you to learn the real-world skills that you cannot learn in school or if you only work for one photographer. Working for a diverse group of photographers on a multitude of shoots allows the assistant to learn from everyone else's mistakes without that added expense of time and money that tends to kill most new photographers' careers. This applies even more when it comes to: producing shoots, dealing with clients, models, stylists, hair and makeup, booking studios, model agencies, renting equipment, location scouting, creating and managing a shoot budget.
Anthony Nex: It enables you to see how the business really works. I see most people these days go straight to shooting, but they often lack critical production and marketing skills to sustain success. A few years assisting gives you the knowledge, confidence, and contacts to build a long, successful career. Plus when I was an assistant I could keep $20 in my pocket for weeks—you're paid, fed, and housed, at least when on the road. Never spent my own money. When you're a photographer it seems like everyone has access to your wallet!
Kevin Steele: It's a great opportunity to see how other photographers work not only with the technical craft but, most importantly, with client interactions and workflow. So try to assist for as many different photographers as you can to get an appreciation for the different working styles as well as learning what to do and also—most importantly—learning what not to do.
Casey Prout: Just like any other industry, learning from books, courses, and video tutorials is useful. But there are a million little things that can only be learned by witnessing it firsthand. Each market is different and has its own quirks, and every training manual cannot dedicate space to all those weird circumstances in which the normal rules don't apply. Also, being able to ask questions about the industry or get critiques on your own photography with instant feedback is priceless. There is a reason why the apprenticeship system is found in so many cultures throughout human history.
Matthew LaVere: Working as an assistant has allowed me to see small and large productions and how to run them smoothly. It also has given me plenty of networking opportunities, meeting with makeup artists, stylists, art directors, photo assistants, producers, and digital techs. Detroit is a small community and we always try to help each other out and make productions happen. It also helps me see how photographers manage expectations with clients and their crew to ensure everyone has a pleasant experience.
Neal Reiter: By assisting many photographers, I have learned something valuable from each one. For example, from one photographer I learned how to talk to a client. From another I learned the importance of making the experience fun for the client. From another I learned the importance of team and staffing for the job.
Web Resources
Photographers
Tony Gale: www.tonygale.com
Anthony Nex: www.anthonynex.com
Kevin Steele: www.kevsteele.com
James Sullivan: 1ProPhoto.com, 1ProCrew.com
Photo Assistants
Matthew LaVere: www.mattlavere.com
Casey Prout: www.caseyprout.com
Neal Reiter: www.nealreiter.com
Other Resources
APA: www.apanational.org, www.apanational.org/find-a-member
ASMP: www.asmp.org, www.findaphotographer.org
Dripbook: www.dripbook.com
FoundFolios: www.foundfolios.com
MailChimp: www.mailchimp.com
PhotoServe: www.photoserve.com
Wonderful Machine: www.wonderfulmachine.com
Workbook: www.workbook.com

FEATURED VIDEO