Walter Iooss: Sports Photography Legend Page 2
Iooss became a pro at age 17: "When I graduated from high school, I went to work." His first major assignment from SI came in September of 1961, when he photographed Roger Maris' 61st home run, breaking Babe Ruth's record at Yankee Stadium. (Iooss' very first SI assignment came during the summer of that year, "shooting an 80-year-old sailor." Iooss' photo appeared on the back page of SI.)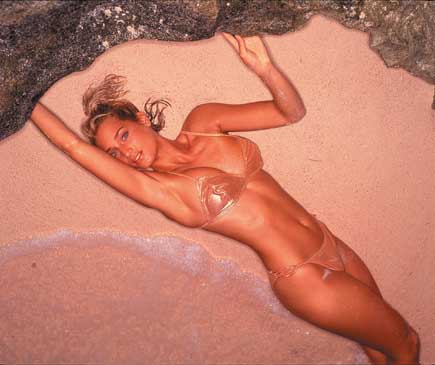 Manon, a Sports Illustrated swimsuit model photographed in Bermuda, 1994.
As he puts it, he was lucky enough to keep working. Iooss says that another youthful photographer, Neil Leifer, covered a lot of major sporting events with him for SI. He says it was like "two boys doing a man's job."

Iooss says wistfully, "I photographed the great Johnny Unitas at 15 or 16, and finally met him years later--he was the last of my boyhood heroes." He met Unitas in 1999, on what Iooss describes as "a very awesome day," to photograph him for the cover of SI. "It was such a tie into my childhood; he was the consummate field general." (Unitas passed away in the fall of 2002.)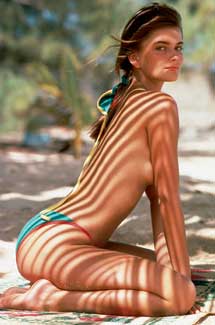 Supermodel Paulina Porizkova, photographed in Jamaica, 1980, for SI's annual swimsuit issue.
Today, Iooss resides in Montauk, New York, with his wife Eva, a former model. They have two sons, Christian, who's a photo editor at Golf World, and Bjorn, a photography major at Rhode Island School of Design.
Iooss seems to have an instinctive gift for lighting, composition, and being at the right place at the right time. He shoots in a variety of formats ranging from 35mm (a Canon EOS-1v), on up to 8x10. "And when I can get my hands on a Polaroid 20x24, I do that too." He shoots film, primarily Fujichrome color transparency and black-and-white print films at varying speeds. "They all have their uses--you just have to learn about them," he points out. As for lighting, Iooss says he uses studio lighting on location much of the time--"mostly with a 1200 watt-second Profoto or Comet."
Muhammad Ali, Berrian Springs, Michigan, 1996.
In 1999, SI produced a show for its 20th anniversary with a celebration of the greatest athletes of the 20th century. "They brought some tremendous sports heroes to Madison Square Garden," he says. "You don't often see these people after their careers are over." Iooss immortalized the evening by taking a group photo with a 20x24 Polaroid camera. "I photographed 19 of undoubtedly the greatest assemblage of athletes you'll ever see," he beams, adding that this was one of the most memorable events he had ever experienced.

He once spent six or seven months with Michael Jordan to take pictures for the book, Rare Air (1993). Of the experience, Iooss says, "He made me understand just how special basketball was to him." He adds that he was fortunate enough to work with Jordan again in '98, to photograph him for SI. "It was one of the rare times I got to work with someone twice."
He's also photographed children's sports, such as some kickboxing games in Thailand in 1995, and "Cuban Children of Sport," an SI story in 1999, when Iooss took two trips to Cuba.
Evander Holyfield, New York City, 1999.
Pushing the Limits
His advice to aspiring pros is, "To be good at anything, you have to do it often, to be thinking about photography all the time." Iooss says that most people with good ideas, a particular style and a good eye can do well, and beyond that, "you have to
use your heart, your eye and your mind." He emphasizes the fact that people don't always have to be in great locations to take great pictures, and that a talented individual can create great shots anywhere. Originality is key: "Try to have your own vision."
A veteran of many years behind the lens, Iooss appreciates the importance of creative growth. "You've got to push the limits of your own photography," he comments. "People are looking for something edgier all the time."

To see more of Walter Iooss' work, visit his Website at www.walteriooss.com.

FEATURED VIDEO