GALLERIES
You are here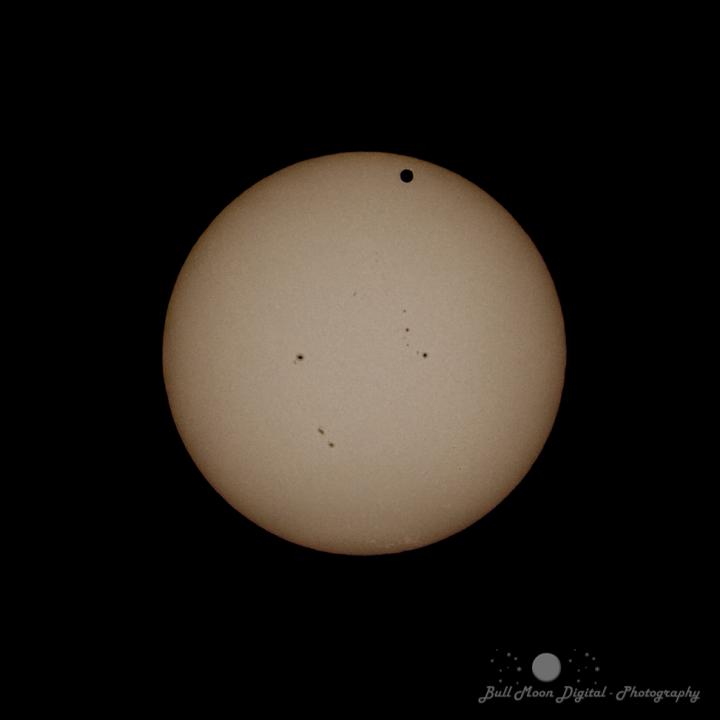 Venus Transit 2012
Canon 5D MKII 70-200mm with 2x converter / B&W ND 10 stop / B&W UV/IR / Hoya ND 3 stop filters / ISO 100 f10 1/6400 sec / 400mm
Tripod ABSOLUTELY Required
After having rain and clouds all day, we set up anyway and just as it started the clouds broke - awesome! We were on the uppper parking deck at Perimeter Mall and were lucky that someone else also had chosen that spot and had two telescopes set up. We shot these with a camera and we also had a "binocular projector" set up for constant viewing.
This shot is cool because it shows not only the Sun spots, but also some of the other texture of the surface and some cloud like shapes at the bottom - all of which are much more prominent in the hi-res wave-length filtered NASA photos. That we can see these details from 93 million miles away in a photo is astonishing. Venus is 1/4 as far away as the Sun which makes it appear much larger in comparison to the Sun than it really is.
I saw the previous transit in 2004 using binoculars projecting it onto a sidewalk in Amsterdam.

Venus Transit 2012 June 05
Views: 445
Dimensions: 973x973
Size: 218kb
Filed Under: