TrekPod Go! Monopod; When The Going Gets Tough. . . Page 2
This oh-so-clever monopod is topped with a mini ball head (see "Head of the Class" sidebar) that uses two magnetic attachments called "MagAdapters" along with a magnetic quick-release attachment for attaching light (2 lbs) or heavy (9 lbs) cameras, although I'm skeptical enough about that latter claim not to mount my 4-pound Pentax 6x7 on it. A tethered safety clip magnetically secures the MagMount to provide additional security when walking in deep brush. The whole magneto combination worked perfectly with my Canon EOS Digital Rebel XTi with battery grip attached and I found it to be an excellent companion to my Zeiss Ikon SW or Leica M6 film cameras. This lightweight combination makes an ideal package for 35mm landscape photography when hiking. The ability to flip the legs open at a moment's notice for a little extra stability was a decided plus. Trek-Tech warns not to "hike with the legs in the open position," but I guess you would have figured that out yourself.
TrekPod Go! performed up to and exceeded any requirements I might have for a monopod. Whether it was walking trails in a state park or hiking more rugged terrain in national parks, such as Rocky Mountain National Park, the little monopod that could served well as both a camera support and hiking staff. It's not just for photographers; my guess is that birders and other lovers of the outdoors will consider it an indispensable accessory. I do.
Head Of The Class
Monopods can be used with the same type of heads as a tripod but typically don't use any head at all. Flashpoint's carbon fiber and Monostat's monopods can be used without any head and like any monopod are easily tilted to get the perfect camera angle. Monostat-RS monopods have a reversible 3/8 and 1/4" mount that can be screwed into your camera's base or tripod collar on long focal length and zoom lenses. TrekPod Go! includes a mini ball head but also offers the industry standard 1/4"-20 mounting stud so you can remove and replace it with something more substantial, such as Adorama's ($59) Flashpoint magnesium-alloy ball head that features a micrometer marked base, rubber gripped adjustment knobs, and a quick-release shoe.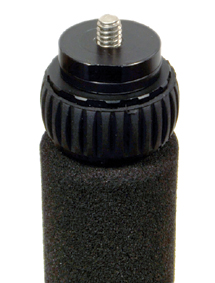 Technical Specifications
Column Sections: Three plus spreadable leg section
Height, Tripod Mode: 43" to 57.5"
Closed Length: 23"
Leg Lock Type: Twist lock/screw (spreadable leg section)
Max Load, Tripod Mode: 9 lbs
Grip: Molded polymer standard; optional hardwood and exotic wood grips available
Weight: 28 oz
Price: $199.99

For more information, contact Trek Technologies LLC (Trek-Tech), 15858 SW Upper Boones Ferry Rd., Lake Oswego,
OR 97035; (503) 459-0030; www.trek-tech.com.