Top Digital Imaging Books Of 2008; This Year's Digital All-Stars Page 2
Digital SLR Astrophotography; by Michael A. Covington; Cambridge University Press; 234 pages; $45 (ISBN: 978-0-521-70081-8)
Written by one of America's leading amateur astronomers, this book is more how to than picture book, which is too bad because the few images are spectacular, albeit displayed in glorious monochrome. Instead this book takes a nuts-and-bolts look at putting your D-SLR to work capturing images such as the Orion Nebula as shown on the back cover. If those two shots aren't enough to get you to dust off that old telescope, check your pulse. The illustrations are clear and show you what's needed to do digital astrophotography. There's even a chapter on working in the digital darkroom and while the author calls the techniques "specific to astronomy," anybody who's worked in low light will be able to adapt their existing knowledge into tweaking images of non-terrestrial origin. This is a great book for the back yard astronomer and will help you get ready for your next star party.
Understanding Shutter Speed; by Bryan Peterson; Amphoto Books; 160 pages; $24.95 (ISBN: 0-8174-6301-1)
Congrats to Amphoto for publishing not just another book about exposure but for giving readers of all levels a look at the impact shutter speed has on the captured image. I think books like this one with narrowly focused topics allow the writers to dig much deeper into a specific subject and allow the reader the benefit from this detail. Since shutter speeds are an important part of the exposure equation, Bryan Peterson takes you beyond just getting the exposure right by showing what impact the creative application of shutter speeds can have on a photograph's aesthetics. It's illustrated with some remarkable examples of how shutter speeds—especially slow ones—can add drama to an image. A section on composition (there's that whole "Rule of Thirds" thing again) wraps up the book and seems out of place and most readers can just skip it.
Digital Photography Outdoors; by James Martin; Mountaineers Books; 219 pages; $18.95 (ISBN: 978-1-59485-087-5)
This book is a gem even if you never make it to Angkor Wat or Bhutan and only shoot in your local state park because as Mack Sennett once famously said, "A tree is a tree is a tree." As James Martin shows in this small but well-crafted book, photography is all about working with the art and science of light to create attractive images under a wide range of working conditions. While occasionally the tone of his writing may seem professorial, Martin's book is chock-a-block with tips on matching the tools to the situation at hand and sometimes those tools include the digital darkroom, including a how-to section on merging images that will make some purists' hair catch on fire. This is a truly contemporary book about the realities of creating travel and adventure photographs in the digital age.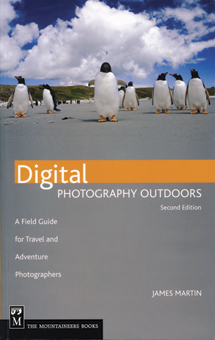 Digital Nature Photography; by John and Barbara Gerlach; Focal Press; 208 pages; $24.95 (ISBN: 978-0-240-80856-7)
Eschewing the standard portrait orientation and template-driven design plaguing many Focal Press offerings, the Gerlachs' book not only fills in the blanks but takes you in new directions. In fact, if you're not interested in landscape photography and want to focus only on the birds and the beasts, this book is hard to beat by combining real-world tips with out-of-this-world images. The subtitle of the book is "The Art and the Science" and it meets this goal as few subtitles do with solid information wrapped up in an excellent package and highlighted by beautifully reproduced nature photography. I especially liked the last chapter, which includes photos of John showing he has a sense of humor and the image of him close to a red fox shows the kind of soul he has, all of which is obvious on each page of this book.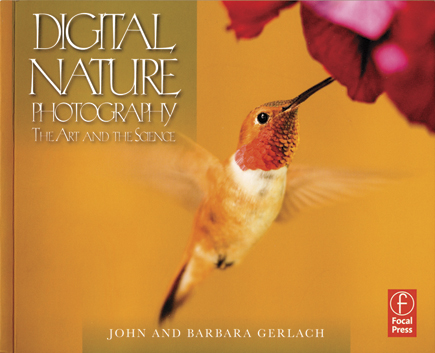 The Art of Pregnancy Photography; by Jennifer George; Amherst Media; 128 pages; $34.95 (ISBN: 978-1-58428-218-1)
As the US birth rate continues to decrease, portraiture of pregnant women has become increasingly popular. In these pages, Jennifer George showcases not only her warm, sensitive portrait style but also shares with readers her work habits in the studio and on location. The concise text is accompanied by emotion-filled illustrations that show how to select backgrounds and keep the focus on the subject as well as helping subjects select the right kind of clothing for what is a different kind of family portrait. While you may think you know about lighting, her techniques combined with clever digital retouching tips help bring a warm, intimate mood to images of expecting parents. It's not just all about posing and lighting tips, George shows how to develop a marketing philosophy to sell this kind of portraiture, covering everything from creating promotional materials to closing the sale. If you are looking for a new profit center for your photographic business, you need this book.
The Digital Darkroom

How to Wow: Photoshop CS3 for Photography; by Jack Davis; Peachpit Press; 224 pages; $44.99 with CD-ROM (ISBN: 0-321-50986-2)
The reason this book does not appear in the Crème De La Crème section is that it's about Photoshop CS3 and with CS4 just around the corner (and maybe even announced by the time you read this) an update is surely in the works. In the meantime, this CS3 version in the How to Wow series is the best yet. Topics include selection tips, retouching and wrinkle reduction for portraiture, and two sections on processing raw files. All this information is presented in an easy-to-read format surround by superb production values, creating a must-have book for anyone interested in getting the best from their image files using Photoshop CS3. The bundled CD also features software, including PhotoTools Lite, and a bunch of time-saving Photoshop scripts from the inimitable Russell Brown. Jack Davis is not just an excellent teacher and technician but even a causal glance at some of his images in the book's final pages show he's an artist as well.
iPhoto '08: The Missing Manual; by David Pogue and Derrick Story; Pogue Press/O'Reilly; 424 pages; $34.99 (ISBN: 0-596-51618-5)
iPhoto is included with all of Apple's new computers but among the missing is the manual. David Pogue has filled this gap with his Missing Manual books, a series for many Apple products, including a boffo one for the iPod. Here he avoids the no-frills approach using a contemporary design and full-color illustrations to create the best and most definitive guide to using iPhoto. I have been hard on this program for a long time but have gradually come to like it—sort of—but I know iPhoto has many fans if only because of its price. Here Pogue and Derrick Story have succeeded where Apple didn't try and created a must-have book for iPhoto users.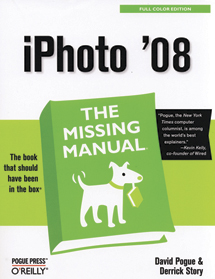 Adobe Photoshop Forensics; by Cynthia Baron; Thomson Course Technology; 370 pages; $34.99 (ISBN: 1-59863-405-4)
Even though Photoshop CS3 has medical-imaging capabilities this isn't Gil Grissom's guide to using Adobe's flagship product. Instead, Cynthia Baron does a very CSI-like job of helping you see the technology and techniques behind actual photographic hoaxes. Each chapter takes a look at real-life frauds and follows an "inspired by true events" approach to showing how and why these fakes were produced. More reality TV than a Photoshop how-to, this book takes the genre in totally unexpected directions and if you've ever wondered how did they do that, this one's for you.
Adobe Photoshop Elements 6.0 On Demand; by Steve Johnson; Que; 576 pages; $34.99 (ISBN: 978-0-7897-3787-8)
As Adobe's Photoshop has become more bloated with non-photographer-oriented features and more expensive, Photoshop Elements has grown better while still selling for less than $100. This is the best of the Photoshop 6.0 books and while it's a big one you don't have to read it cover to cover. Get familiar with the table of contents and use it as a reference or just read those sections, such as "Manipulating Images with Filters," that appeal to you while enjoying the crisp text and explanatory screen shots that guide you through the program's features and commands. Adobe Photoshop Elements 6.0 On Demand is downloadable for Amazon.com's Kindle digital reader for $19.59. They sell the softbound book for $23.09 so ya gotta wonder about the efficiencies of electronic reading. Like many software books it will become a bit dated; Elements 7.0 is now out and will probably slowly supplant 6.0, but if you have 6.0 this one's for you.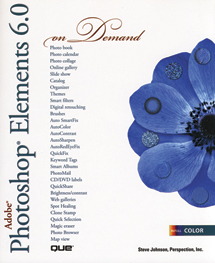 Creating Exhibition-Quality Digital Prints; by Tim Daly; Aurum Press; 160 pages; £20 (ISBN: 1-902538-50-1)
Even if you're not looking to make exhibition-quality prints and only want to improve the quality of your photographic output, buy this book. It sells for less than $8 (plus shipping) on Amazon.com, making it the photo book bargain of the year. Tim ("I'm not the Wings guy") Daly has put together a workflow starting with raw capture through processing then enhancing
the file and finally making a print. In a blast from the past, he introduces you to a digital implementation on the wet darkroom trick of pre-fogging. Those few pages alone are worth $8! Another moldy oldie is his digital replication of the split-grade processing technique where you used different contrast filters with mutli-grade papers to create the final image. There's also his interesting take on different paper types and like the entire book uses a widely eclectic organization where each page is a delightful surprise.
Shameless Commerce Division
This year was a busy one for Shutterbug writers. Peter Burian published Magic Lantern Guides for the Sony DSLR A200 and Sony DSLR A300/A350 digital SLRs that are filled with the unique images and insight that make Burian's work informative and fun to read. If you are not familiar with Magic Lantern Guides, check www.larkbooks.com to see what's available for your specific camera.
Nobody photographs people in exotic locations better than Rick Sammon. In his latest book, Face to Face (www.oreilly.com), Sammon shows the difference between making photographs and "taking" them using before and after examples as well as how-to sections illuminated by his incredible images. Coming just in time for the holidays is Rick Sammon's Exploring the Light (www.wwnorton.com) that promises to help you achieve better available light images by showing how to obtain the best exposures in challenging situations.


This year also saw the release of Better Available Light Digital Photography (www.focalpress.com), a book I co-authored with Pulitzer Prize-winning photographer Barry Staver. This is not just an update of our 1998 film-based book on existing light photography but is bigger and better than the previous version and is all-color. There's a full chapter on digital noise along with a special chapter Staver wrote on his photojournalistic approach to wedding photography.