The Story Behind the Image: Persistence Pays Off for a Classic B&W Outdoor Photo by Michael Ryan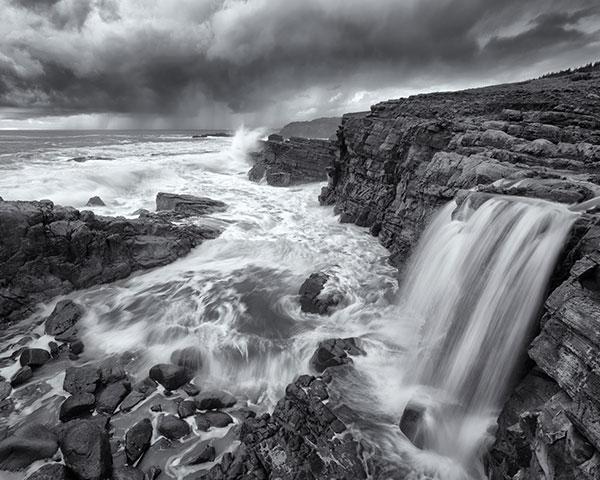 If at first you don't succeed, try, try again. That was the motto of fine art landscape photographer Michael Ryan while trying to capture this scene at Salt Point State Park in Sonoma County, California.
"After several years of unsatisfying attempts photographing this coastal waterfall, my prayers were finally answered when dramatic conditions came together in December of 2014," Ryan recalls. "The combination of storm clouds, high surf, and increased waterfall flow made for an amazing evening. I really could not ask for anything more."
Ryan shot the image with a Nikon D800 and a Nikkor 16-35mm f/4 lens on a Gitzo GT2530 Mountaineer tripod and a Really Right Stuff BH-40 ball head at 16mm, f/16, 0.4 seconds, ISO 50.
"The biggest challenge was to find the right shutter speed that not only showed movement but also preserved enough detail in both the ocean waves and waterfall," he explains.
"I love black and white's simplicity and how it allows me to push the boundaries of light, shadow, and contrast without the distraction of color." Ryan offers fine art prints, greeting cards, photography tours, and other services at his website, michaelryanphotography.com.
You can also see his work on his Instagram feed and Facebook page.