Speedlights & Speedlites; Creative Flash Photography At Lightspeed Page 2
Operating Room
An editorial assignment from a national magazine allowed me to test the limits of a single Speedlight. I had to shoot a photo essay about the ethics committee of a local hospital. The logistics were cumbersome. Doctors, nurses, ministers, and administrators are busy people.

We made appointments with each subject and did photographs in Neonatal Intensive Care Units (NICUs), libraries, boardrooms, X-ray rooms, etc. I wanted maximum flexibility because I intended to light everything. The amount of time we spent with each person varied enormously but the surgeon evaded us continuously.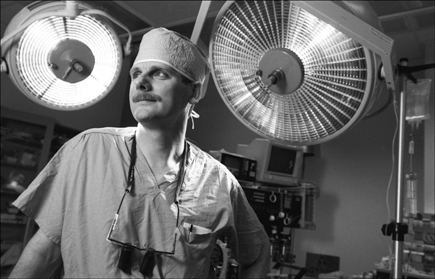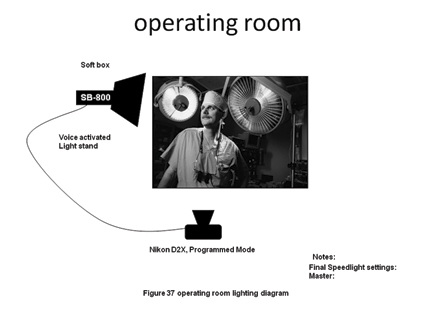 © Lou Jones, All Rights Reserved
The whole project was done with one Speedlight. Most of the images that were used in the story were done with a small softbox handheld by an assistant who followed the subjects in their daily routines. We finally got the surgeon who operates on fetuses in utero to agree to pose. I pushed him to let us photograph in an operating room. We scrubbed in and put on sterile surgical caps and gowns. One Speedlight on a custom-made TTL cord allowed my assistant to get as close as possible to the doctor. We just turned on all the operating theater lights and made them part of the image and used Program mode to balance the available light.

Lucia At Sunset
Shot on a Massachusetts beach in December in freezing cold. I am all bundled up in a parka.

3:45 p.m.: The sun had already set behind a 30-foot high concrete sea wall, behind the camera position, to the west. The background is the afterglow in the eastern sky. There is no direct sunlight on Lucia.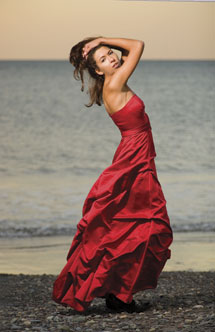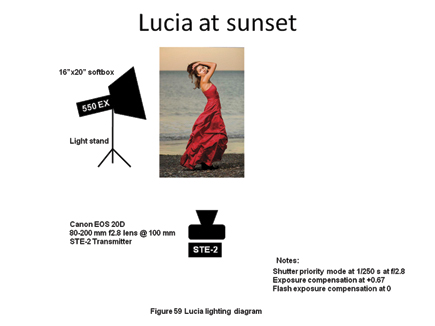 © Steve Ostrowski, All Rights Reserved
The exposure value was set on the camera to provide the desired amount of glow and color in the sky. Lucia is lit with a Slave Speedlite in a vertical softbox on a light stand just outside the frame, camera left. The TTL receiver on the Slave has been rotated to face the camera position. A Wireless Transmitter STE-2 on the camera fired the Slave. Distance from Transmitter to Slave was about 25 feet. A long 100 mm lens was used to compress the perspective between model and sky.

Jazz Pianist
Over the years I have had various involvements with music and record companies. I have photographed Donal Fox, a very talented musician/composer numerous times for his promotional materials. He was still using some black and white studio pictures I had taken but he needed updated photographs.
© Lou Jones, All Rights Reserved
Through contacts at a dealer that rents pianos for his concert tours we found the ideal location. We had quite a choice. The instruments were grand but the space was small. I had a preconceived idea of how I wanted to pose him. We moved one of his favorite, huge Steinways closer to the wall to take advantage of the right angle corner of the room. I moved the single Speedlight around until the circle of glare on the side of the piano did not obliterate the logo on the side.

We were tethered to a laptop computer so I could review the images between exposures. The camera was on a low tripod with me sitting on the floor. Beforehand I helped Donal with wardrobe and eyewear, but because of the simplicity of the lighting, my crew and I were in and out in record time.
Focal Press books are available at fine bookstores everywhere or through your preferred online retailer. Focal Press titles may also be purchased at: www.focalpress.com.
About the Authors:
Lou Jones is one of Boston's most diverse commercial and art photographers. Jones specializes in photo illustration and location photography for corporate, advertising, and collateral projects.

Bob Keenan is a Boston-area photographer. A retired electrical engineer, Keenan spent his career designing and developing radio frequency communications equipment, so working with the wireless speedlights and the concept of light pulses is a natural fit.

Steve Ostrowski is an award-winning photographer with over 30 years experience in commercial, editorial, annual report, fashion, portrait, and event photography. He is currently an instructor at The New England School of Photography in Boston, Massachusetts.

LATEST VIDEO