Sony's Alpha A700; A Remarkably Fast 12-Megapixel D-SLR Page 2
The Sony A100 received accolades for its Super SteadyShot stabilizer that also provides automatic dust removal by vibrating the (antistatic-coated) sensor. The A700 includes both features but employs a more effective Anti-Shake system that can dampen more high-frequency vibration. According to Sony, the new system provides up to a four shutter speed step advantage over non-stabilized equipment. I made many sharp photos at a 1/8 sec shutter speed when using a 70mm focal length (105mm equivalent). Switching to 1/4 sec still allowed me to make some photos that are adequately sharp for nice 5x7" prints.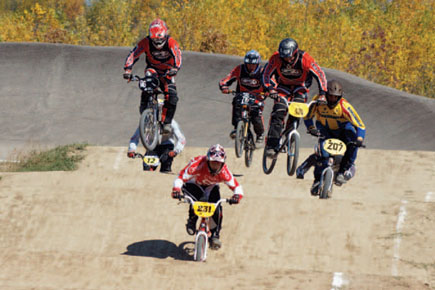 The fast tracking AF system, 5 fps advance rate plus the ability to shoot numerous JPEGs make the Alpha A700 a fine choice for action photography. For optimal results with high-speed, erratic motion, it's best to use an SSM (ultrasonic) lens with f/2.8 or wider aperture, but even an affordable Sony zoom--like the 75-300mm f/4.5-5.6 ED model used for this BMX race--can often provide a series of sharp photos. (JPEG Fine mode; ISO 400; 1/1250 sec; Hoya Pro 1 circular polarizer; at Track 2000, Milton, Ontario.)
Increased Speed And Efficiency
In order to provide great speed and superior image quality, the A700 employs entirely new technology, starting with a CMOS (not CCD) sensor that provides some preliminary data processing. The 12-bit A/D (Analog to Digital) conversion occurs right on the new "Exmor" silicon chip instead of a separate A/D processor, for greater overall speed. According to Sony, this technical approach also provides "rich tonal reproduction" and less digital noise because of cleaner analog data and a "shorter signal path."

There's also an improved BIONZ processing engine using Large Scale Integrated (LSI) circuitry for greater speed, two-stage noise reduction before raw data conversion, and less power drain. This processor also allows for a more versatile Dynamic Range Optimizer (DRO) that applies image adjustment curves for better shadow detail and contrast. Advanced mode is the most effective, since it analyzes 1200 segments in the frame. With the A700, the user can select any of several DRO levels--or set DRO Bracketing for three shots--for just the right increase in shadow detail in very contrasty light.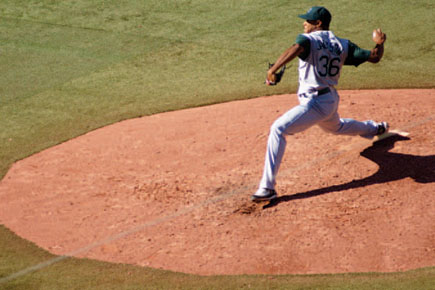 One of the benefits of a "prosumer"-level camera over an entry-level model, a faster Continuous Drive mode can be useful for a series of images. While the more typical 3 fps rate is fine for most types of subjects, sports photography enthusiasts will appreciate the greater speed (5 fps) available with the Sony A700. (DT 70-300mm zoom; ISO 400; Hoya Pro 1 circular polarizer.)
The combination of new sensor, processor, and a larger buffer (temporary storage bank) combine to generate an "unlimited" number of Large/Fine JPEGs or 18 raw files in a single burst at 5 fps (frame per second). (For the greatest burst depth and recording speed use a 166x to 300x CompactFlash card instead of a Memory Stick Pro/Pro Duo.) Because autofocus must be quick in order to keep up, it's activated immediately with the Eye-Start feature. Sony developed a new focus mechanism, faster AF microprocessor, improved algorithms, a more powerful infrared focus-assist lamp for low light, and a new 11-point AF sensor. The central focus point includes two horizontal plus two vertical sensors that allow for quick focus acquisition on virtually any type of subject or pattern.
The improved Sony Image Data Converter SR 2 software is faster and more versatile than the original version, making it preferable for modifying raw images before conversion to JPEG or TIFF format. Numerous functions are available, ranging from surprisingly intuitive to more advanced/complex, making the program suitable for everyone from novice to expert.
Although the Super SteadyShot system is most valuable in low-light photography, this feature can also be useful whenever we want to use longer shutter speeds while hand holding the camera. In this case, I was able to make an image with motion blur for a desired effect while the stabilizer ensured that the static parts of the scene would be sharply rendered. (At a 1/8 sec shutter speed; ISO 100; Hoya Pro 1 circular polarizer.)
Performance And Image Quality
During extensive shooting, the Sony A700 lived up to its billing as a fast, versatile camera for serious photography. It started up in a 1/2 sec, activated AF instantly, responded without any apparent shutter lag, and was almost always ready to shoot another long burst. Autofocus was fast, accurate, and reliable even in dark locations. Tracking focus performance in action photography was very good with an affordable Sony AF 75-300mm f/4.5-5.6 zoom. The camera's new AF system also provides a bonus when used with an f/2.8 or wider aperture lens: superior focusing accuracy with the dual cross-hatched central AF sensor point.
The improved Image Stabilizer is very effective, useful for sharper photos at lower ISO levels when a tripod is not available or is prohibited. This was an extreme test, using a 230mm focal length (345mm equivalent) at a 1/30 sec shutter speed. While the stabilized image is not razor sharp, it's obviously superior to the image made without the Super SteadyShot system. (ISO 100; DT 75-300mm zoom; Hoya Pro 1 circular polarizer.)

FEATURED VIDEO