Smart Shooting: My Favorite Smartphones and Apps For Mobile Photography
Mobile is an adjective often used to describe photography made with smartphones but I can put a tiny Panasonic Lumix GM1 in my pocket and take a walk—mobilize, if you will—as easily as my iPhone and shoot some nice photos. Instead, let's call it what it really is: Smartphone Photography.
That's not to denigrate the quality of the images that a smartphone can produce. Ralph Nelson's book Botanica (www.ralphnelson.com) features stunning close-up photographs of flowers and plants and all of the images were made with his iPhone! With their small sensors and often extreme wide-angle lenses, there is no doubt smartphones are changing the face of photography. In fact, a smartphone is the perfect answer to a question I'm often asked: What's the best camera? The answer is and always was, "the one you have with you."
My Favorite Smartphone Cameras
To make images for his 11x13-inch coffee-table book, Ralph Nelson used a 2MP iPhone 3G and an 8MP 4S. The current iPhone 6 and 6 Plus—which is bigger than an Olympus E-M1—have a similar but improved 8MP camera. To accomplish big megapixel counts, some smartphones, such as the 41MP Nokia (now Microsoft) Lumia 1020, have a sensor that's physically larger (2/3-inch) than competing phones. While smartphones aren't always known for their lenses, the Lumia 1020 has Zeiss optics. To produce its high pixel count, the 1020 uses oversampling software that you may recognize as similar to how some digital cameras' digital zoom feature uses interpolation to crop part of a sensor to create the illusion of longer focal lengths.
A phablet is a device that combines smartphone and tablet functionalities and with its 5.7-inch screen and 16MP (rear-facing) camera, Samsung's Galaxy Note 4 is more phablet than phone. The front-facing camera is 3.7 megapixels but when coupled with an f/1.9 lens and optical image stabilization you can make selfies in available darkness. And for those of you who miss their Apple Newton (I do) it has a stylus.
The chunky (20mm thick) but 20.7MP Samsung Galaxy K zoom is slightly smaller (4.8 inches), looks more camera than phone but has an actual 10x optical zoom along with optical image stabilization.
Straddling the 4-inch iPhone 5S and the 7.9-inch iPad mini but 0.2 inches smaller than a Galaxy Note 4, the iPhone 6 Plus is a phablet and while it won't fit into my old 50-pounds heavier jeans, it might fit in a pair of Shaq's pants. With its f/2.2 lens, optical stabilization—the iPhone 6 has only digital image stabilization—and face detection, the 6 Plus makes a damn fine camera. At 7.1mm thick, it's the supermodel of smartphones, especially when compared to the Galaxy K zoom. And like all smartphones these days, it lets you shoot HD video clips.
The buzz around the hipster water cooler is that the 5.2-inch HTC Desire Eye is the best smartphone for shooting selfies. For some people, images made with the front-facing camera are as important as those with the back shooter, which is why the Desire Eye has 13MP cameras on the front and back. There are even dual LED flashes to provide whatever light these tiny flashes produce. If you care about audio quality for your video clips, there are front-facing stereo speakers and three mics.
Not to be confused with Apple's 3G, LG makes the 13MP G3 smartphone that features optical image stabilization, which seems like a de facto cell phone feature these days. The 5.5-inch phone (I guess it's a phablet) has dual LED flashes and its autofocus uses an infrared laser to measure distances between the phone and your intended subject. The front-facing camera is just two megapixels, which LG must assume is sufficient for selfies.
Lest you think that photo technology migrates from cameras to smartphones, that trend now appears to be going in reverse. By the time you read this, Sony is expected to announce its APCS (Active Pixel Color Sampling) sensor. Unlike Bayer sensors that combine four R-G-B-G pixels to get one pixel of color information, every pixel on Sony's sensor gets full color information. By comparison, Foveon sensors use three layers of pixels instead of a single-layer array. The new imaging sensor is expected to be used first on an Xperia smartphone and later on Sony cameras.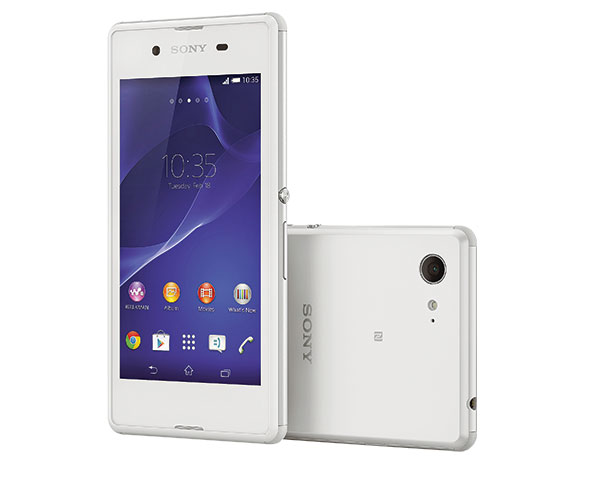 My Favorite Photo Apps
In these pages I've always insisted photography should be fun and that includes smartphone photography. Lensical (http://appt.ly/ourapps) is a free camera, photo library, and image editor app for iOS that lets you add everything from subtle photo presets and watercolor filters to face aging effects and follicle accurate mustachios. You can shoot and share photos in any aspect ratio and browse and organize your photo streams and albums without managing a light box or duplicating images. As is typical with many free apps, there are in-app modules you can purchase with costs ranging from 99 cents to less than two bucks.
At $3.99, ProCamera 8 by Cocologics (http://cocologics.com) for the iPhone and iPad may be the most extensive photo app I've found. It has separate focus and exposure points—I want that in my next camera—plus white balance lock in both photo and video modes. Shutter speeds can be set to 1/8, 1/4, 1/2, or one second. You can swipe between filters, use image adjustment tools, and crop photos. ProCamera offers TIFF capture, rapid fire mode, anti-shake technology for photos and videos, a 3D tiltmeter, self-timer, live histogram, 6x digital zoom, EXIF/video metadata viewer, and manual save functions. You can share finished images on Facebook, Twitter, EyeEm, and Instagram (with a SquarePrepare function and support for high-res export) or batch upload to Dropbox and Vimeo.
If you're going to shoot long exposures with your iPhone, consider Kenu's Stance tripod for the iPhone 5, 5S, 6, and 6 Plus that plugs into the phone's Lightning port. (So, it's not an app at all. It's a mobile photography accessory.) Kenu likes to say that Stance is the size of a Wrigley's pack of gum—I'm a Beeman's man myself—measuring 3.1 inches and weighing 1.07 ounces. Stance has zinc-alloy construction and nonslip feet along with a ball-and-pivot head allowing it to tilt and rotate. The legs fold flat and can be placed in landscape or portrait mode to watch videos. It costs $29.95 and doubles as a bottle opener for opening those PBRs.
Visual Supply Company's VSCO Cam (http://vsco.co) is a free app for Android, iPhone, and iPad and lets you shoot, edit, and share photographs. Capture tools allow for fine-tuning photographs, including exposure, color temperature, contrast, crop, straighten, fade, and vignette. Other controls include manual focus, shutter speed, exposure compensation, and ISO. My favorite feature in Edit View is the ability to compare the original image with the edited version by holding down the image. The Grid lets you find and follow other photographers around the world and post your photos. There are a number of preset packs available for purchase through an in-app store.
Tilt-Shift, aka perspective control, lenses have been all the rage for a while but the only problem is that these lenses can be expensive. You can add similar effects to smartphone photographs with TiltShiftGen2 for iOS. The app costs 99 cents and is available via Apple's iTunes. It lets you take photos in various styles such as ToyCamera plus add miniature and vintage effects. TiltShiftGen2 includes lens blur (round, elliptical, linear) and color correction features and has nine new filters along with a live preview. And of course, no photo app would be complete without the ability to post images to Twitter, Facebook, Flickr, Instagram, or Webio.
My favorite apps are those that assist your photography, no matter how you capture images. Pocket Light Meter (www.pocketlightmeter.com) is an iPhone app that lets you use your phone as a light meter doing exactly what you think it should, including making reciprocity calculations. As I write this, the current version offers improved low-light performance, has a redesigned settings view, and permits switching aperture, ISO, and shutter speeds on the fly. Because it's advertiser supported it's free but you can remove ads for £0.69 ($1.08) or by "buying the developer a pint of his favorite ale" for £2.99 or about $4.67 at current exchange rates.
Skyfire (www.skyfireapp.com) is currently a web-based application that is designed to help you find perfect light—the Golden Hour if you will. Skyfire produces maps along with predictive sunrise and sunset analysis but it's not just a reorganization of hourly weather forecasts. It uses a complex algorithm based on satellite images and national weather observations to isolate all the elements that together produce a great sunset. A smartphone app is promised real soon now so check the site as it might be available by the time you read this.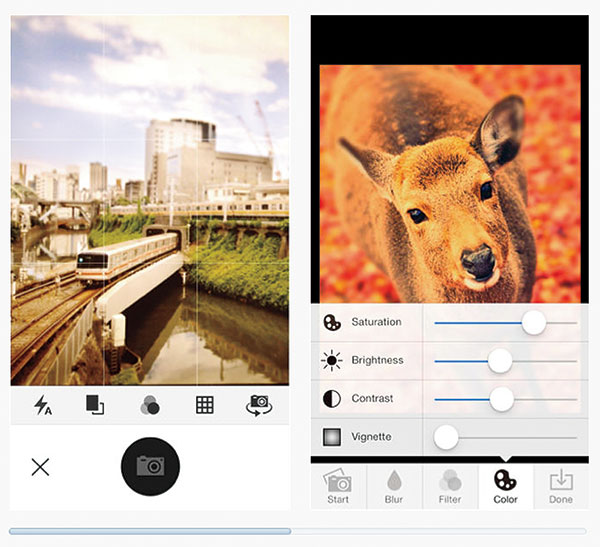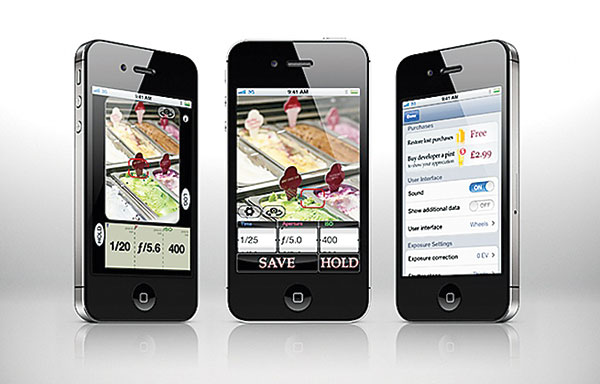 Since this issue's theme embraces mobile photography, apps, and social media, I invite readers to follow me on Twitter@joefarace, add me to your Google+ circles, follow me on Pinterest (www.pinterest.com/josephfarace), or read "Mirrorless Musings" on Tumblr (mirrorlessmusings.tumblr.com). Coming soon to Ello.
Product shots courtesy of the respective companies.

FEATURED VIDEO