Sigma's APO 50-150mm f/2.8 EX DC HSM & 70mm f/2.8 EX DG Macro; A "Constant Aperture" Zoom And A Multi-Platform Close-Up Lens Page 2
While manual focus is preferable for fine control in extreme close-up shots, some shooters prefer to use autofocus. There's a focus limiter switch that can be set for normal distances or for either of two macro focusing ranges. That ensures that the camera will not search the entire distance range from 10" to infinity, accelerating the autofocus process. Consequently, I found autofocus to be fast enough for most purposes; although it produced a high-pitched whine, the sound is not likely to bother an insect. A macro lens' proximity to a skittish subject is always the primary problem in high-magnification nature photography.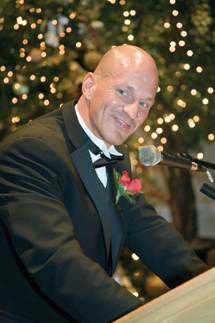 When used with a Canon EOS Digital Rebel XTi with APS-size sensor, the macro lens' 70mm focal length was useful for close-up portraits, especially at a wide aperture that blurred background elements. As a bonus, the nine blades of the diaphragm produce very pleasing results in defocused areas of the background. (Image made at f/4 with a 580EX flash unit.)
This is a multi-platform lens that's billed as an ideal choice for both extreme close-up photography and portraits. It's particularly suitable for portraits when used on a D-SLR with an APS-size sensor, because the effective focal length is 105, 112, or 119mm (depending on the camera's exact sensor size). During a wedding reception, I used the 70mm lens on a Canon EOS Digital Rebel XTi and made many pleasing images of individual speakers at the podium and of couples dancing. Frankly, this lens is almost "too sharp" for portraits; for a softer, more flattering effect that some subjects will prefer, some blurring in Photoshop may be required.

Evaluation: After reviewing my hundreds of images, I concluded that this lens is capable of making images of stunning quality, with snappy contrast and incredible resolution of intricate detail. What's really impressive is the consistency of resolution at f/2.8 to f/8 in both extremely close focusing and at greater distances. As well, by f/3.5, there's no visible "shading"; brightness is consistent across the image area. At f/11 to f/16, the most commonly used apertures in macro photography, image quality remained excellent. And the more extensive depth of field--the greater range of acceptably sharp focus--produced an impression of even better sharpness throughout the image area.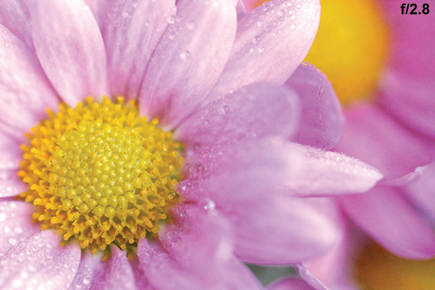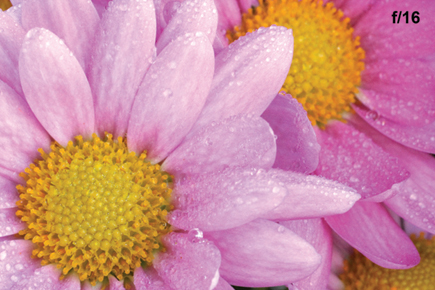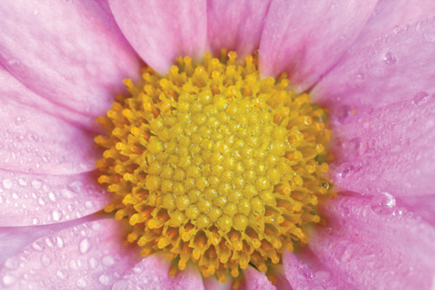 While the 70mm macro lens features a maximum aperture of f/2.8, it produces extremely shallow depth of field at such a wide aperture, causing much of the subject to be blurred. That can be fine for creative effects but most "macro" photographs are made at smaller apertures such as f/16 for more extensive depth of field. (A Canon EOS Digital Rebel XTi was used, mounted on a Bogen Manfrotto tripod.)
Note: Regardless of the great potential of this macro lens, technical proficiency is a prerequisite for sharp images at high magnification. Even the finest lens will produce blurry pictures without professional techniques. For the best results in "macro" photography, I used a rigid tripod when practical. When my subject was swaying in the breeze, I always waited until a lull in the wind or switched to a high ISO setting for fast shutter speeds. When hand holding the Canon EOS Digital Rebel XTi for greater mobility, I used ISO 400 or 800 for a shutter speed of 1/250 sec to minimize the risk of blurring caused by camera shake.

Suitable for both nature photography and as a conventional short telephoto, this multi-platform lens is an unusually fine performer, one of the best macro lenses that I have ever tested. Quite affordable for a wide aperture macro lens with the most advanced technology, it offers exceptional value. Aside from the outstanding image quality, the Sigma 70mm f/2.8 EX DG Macro is mechanically solid and likely to provide long-term reliability even during extensive field use.
Technical Specifications

Features
Sigma APO 50-150mm f/2.8 EX DC HSM
Sigma 70mm f/2.8 EX DG Macro
Construction
18 elements (including four SLD) in 14 Groups
10 elements (including three SLD) in nine groups
Angle Of View
27.9Þ - 9.5Þ
34.3Þ
Angle Of View
f/22
f/22
Minimum Focusing Distance
39.4"
10.1"
Maximum Magnification
1:5.3
1:1
Filter Size
67mm
62mm
Notes
HSM focus motor; lens hood included; accepts 1.4x or 2x EX DG APO converter
Conventional AF only; lens hood included
Size/Weight
3x5.3"; 27.2 oz
3x3.76"; 18.5 oz
Available Mounts
Canon, Nikon, Sigma; compatible with all 35mm and D-SLRs of those brands
Canon, Nikon, Maxxum/Sony, Pentax, Sigma; for D-SLRs with small sensors only
Street Price
$699
$449
For more information, contact Sigma Corporation of America, 15 Fleetwood Ct., Ronkonkoma, NY 11779; (800) 896-6858; www.sigma-photo.com.

A long-time "Shutterbug" contributor, stock photographer Peter K. Burian (www.peterkburian.com) is the author of several books, including "Mastering Digital Photography and Imaging" as well as "Magic Lantern Guides" to the Sony A100 and Pentax K10D. He is also a digital photography course instructor with BetterPhoto.com.

LATEST VIDEO