Shutterbug's Exclusive photokina Coverage; New Lenses For D-SLR And Micro Four Thirds Cameras: More Sensor Sizes (And Models) Complicate The Optics Issue Page 2
Pentax D-SLR Lenses
Both Samsung and Pentax are marketing several D-SLRs with Pentax AF mount and APS-C size sensor; options for owners of both brands are increasing. The 90-375mm equivalent Pentax DA* 60-250mm f/4 ED(IF) SDM zoom is finally available and it features a fast/silent ultrasonic SDM focus motor, superior anti-reflection coating as well two ED elements. Relatively compact (67mm filter; 36.7 oz), this telephoto lens is not inexpensive ($1500) but it is rugged and even water-resistant. The Pentax DA* 55mm f/1.4 SDM lens is a pro-grade ($800), ultra-wide aperture lens (58mm filter; 13.2 oz) with similar features and a rounded diaphragm for a more circular aperture, designed for a smooth, beautiful bokeh at large apertures.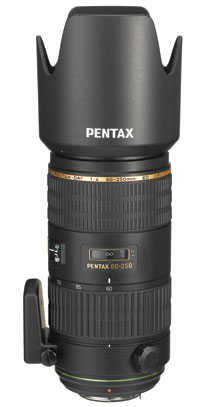 Note, too, that Pentax will be marketing a Limited Edition lens, the 15mm f/4 ED AL and a 1.4x Rear Converter SDM; the latter will be fully compatible with lenses employing a conventional AF or an ultrasonic SDM focus motor. Although prototypes were shown at photokina, neither specifications or prices were available. These products should be in stores by late spring 2009.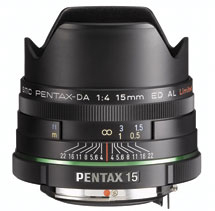 Pentax Limited Edition 15mm
Sony And Zeiss ZA Lenses
Sony has continued to expand its line of multi-platform lenses, in both the Sony G and Carl Zeiss ZA series. All Sony D-SLR bodies include Super SteadyShot so the lenses do not need a stabilizer but the new models are equipped with the fast/silent ultrasonic SSM focus motor. The latest in the premium-grade category, the Carl Zeiss Vario Sonnar T* 16-35mm f/2.8 ZA SSM zoom, is ideal for the full-frame A900 but also suitable for other Sony (or Maxxum) cameras. This pro zoom ($1800) with German engineering is rugged, gorgeous, large, and heavy (77mm filter; 1.1 lbs); it features two ED and three aspherical elements to compensate for all types of optical aberrations and to provide excellent edge-to-edge sharpness/brightness.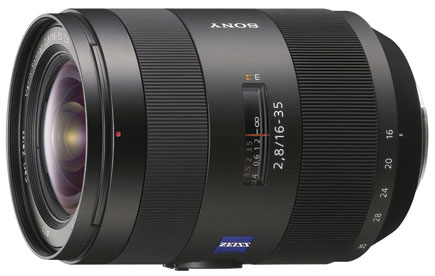 Carl Zeiss Vario Sonnar T* 16-35mm
A rugged, multi-platform lens (77mm filter; 3.5 lbs) in a new platinum/silver finish, the multi-platform Sony 70-400mm f/4-5.6 G SSM ($1500) is also perfect for the Sony A900. But it's even more likely to appeal to owners of Sony or Maxxum D-SLRs with the smaller APS-C size sensor, providing a 105-600mm focal length equivalent. This tele-zoom, with removable tripod collar, should provide very fast autofocus in sports and wildlife photography thanks to the ultrasonic SSM motor and internal focusing. This Sony G lens is also equipped with a focus-mode/range limiter switch and three focus-hold buttons for great convenience of operation. Image quality should be very good, thanks to the two ED glass elements and circular aperture, provided by nine blades.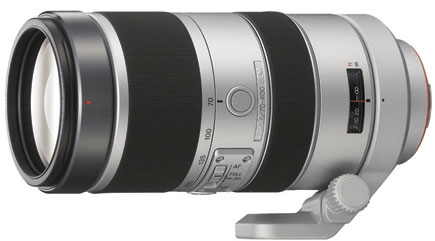 Other Zeiss Lenses
Although the ZA-series lenses marketed by Sony are not manufactured by Carl Zeiss, the German company also makes its own lenses, including two new wide aperture, multi-format, manual focus ZE-series models with all-metal barrels and very effective T* anti-reflection coatings, for EOS cameras. The Planar T* 50mm f/1.4 lens (58mm filter; 12 oz; $660) and the 85mm f/1.4 lens (72mm filter; 21 oz; $1170) are EF compatible, capable of transferring all information via electronic contacts. Apparently, that maintains all camera features, including E-TTL flash metering. Autofocus is not available but the EOS camera will provide the usual focus confirmation signal as it would with EF lenses.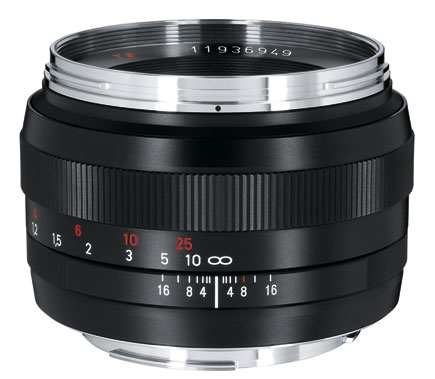 Carl Zeiss Planar T* 50mm
Another brand-new manual focus Carl Zeiss multi-format lens, the Distagon T* 21mm f/2.8 will be available in EF mount (ZE designation) in 2009; a K bayonet (ZK) and F mount (ZF) version will be manufactured first. This large/heavy, rugged lens (82mm filter; 600 g; $1750) will be a premium-grade product, with "outstanding correction of aberration" and "optimum edge-to-edge image quality" at any focused distance, as well as with extensive use of anti-reflection coating to minimize flare and ghosting.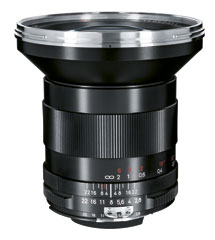 Carl Zeiss Distagon T* 21mm
New Lensbaby Models
The unique Lensbaby products—for full control of selective focus/depth of field for creative effects—have been available since 2004, but now, the series has been revised. Three distinct 50mm models are available, all featuring a new Optic Swap System, allowing the user to choose from four optional optics: double glass, uncoated single glass, plastic (to simulate a Holga or Diana camera effect), and pinhole with an f/19 and an f/177 aperture hole.
The Muse ($150 with double glass) ships with aperture disks from f/2 to f/8 while the Control Freak ($270 with double glass), with a locking mechanism, ships with aperture disks from f/2 to f/22. These two models, with manual/fingertip control and a barrel fine focus feature, replaced the previous Lensbaby Original, 2.0, and 3G. The Composer ($270 with double glass) is entirely new and ships with aperture disks from f/2 to f/22; it's based on a ball-and-socket assembly so it's easier to bend to the desired angle and retain its position after it's set. This model allows for greater precision and is easy to use even with one hand; it's also particularly convenient in close focusing.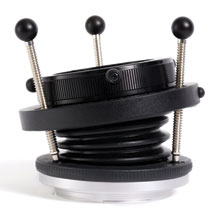 Panasonic G-Series Lenses
Compatible only with Micro Four Thirds cameras—without a reflex mirror and featuring the smaller lens mount—the two new Lumix G Vario lenses both feature an optical stabilizer. (Prices were not available at our press time.) The 14-45mm f/3.5-5.6 ASPH/MEGA O.I.S. zoom (28-90mm equivalent) is the kit lens for the Panasonic Lumix DMC-G1. It's very portable (52mm filter; 6.9 oz) and features a metal mount, multilayered coatings on many elements, unusually close focusing (to 20"), and an aspherical element to minimize aberrations and linear distortion.
Panasonic Lumix G Vario 14-45mm
The Lumix G Vario 45-200mm f/4-5.6 MEGA O.I.S. zoom (90-400mm equivalent) is similar in many respects. It's not much larger (52mm filter; 13.4 oz) than the kit lens and also provides close focusing (to 39"). This telephoto zoom employs three ED elements to correct chromatic aberration for fine image quality. Later this year, Panasonic plans to introduce three additional Lumix G Vario lenses: a multi-purpose 14-140mm f/4.5-5.6 O.I.S. zoom with stabilizer, a 7-14mm f/4 ultra-wide, and a very "fast" 20mm f/1.7 model. When Olympus releases their Micro Four Thirds camera, we should see several new lenses from this company as well.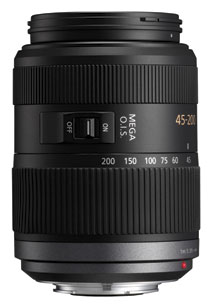 Panasonic Lumix G Vario 45-200mm