Shutterbug's Exclusive photokina Coverage; Electronic Flash Units: Add To On-Camera Lighting Capabilities Page 2
Metz also introduced a more conventional flash unit, the Mecablitz 36 AF-4 digital ($125), targeting entry-level D-SLR owners. It's identical to the Canon and Nikon versions that were already available, but you can now get a model for a Four Thirds, Pentax/Samsung, or Sony Alpha D-SLR, with support for the high-tech flash metering systems of the additional brands of cameras. Features include vertical-tilt capability, manual flash head zooming (28-85mm) and LED data panel, a GN of 36 (at the 85mm end, at ISO 100), and compatibility with flash features available on many D-SLRs: first and second curtain sync, automatic fill flash, and flash exposure compensation.

Pentax: After many requests from D-SLR owners, this company now makes their own ring flash, the AF160FC Auto Macro Flash ($499), fully dedicated to the Pentax and Samsung D-SLRs. As expected, it's compatible with the P-TTL auto flash feature of these cameras. This metering system assures a proper exposure by measuring the flash's pre-discharge with the camera's image sensors and assessing the lighting condition with the multi-pattern metering system; subject distance, lens focal length, and data stored in the body help to determine the optimum flash exposure.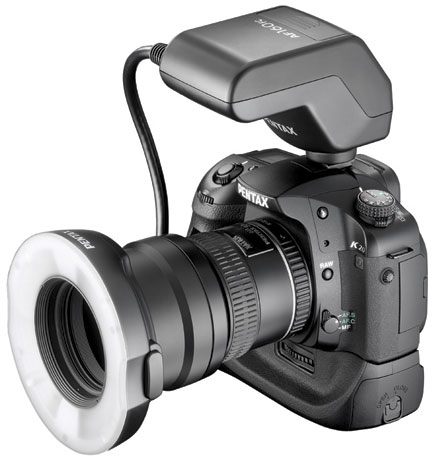 Pentax AF160FC Auto Macro Flash
This Pentax model—with controller and rotating circular head—was designed with two independent tubes; either or both can be activated for uniform lighting or for more directional lighting to emphasize texture. That aspect makes this unit useful for all types of close-up photography as well as for portraits, products, plus dental and medical applications. Other AF160FC features include a conventional TTL and Manual mode with full, 1⁄4, and 1⁄16 output levels, a GN of 16 (in meters, at ISO 100), a flash exposure compensation control, and four LEDs that act as a modeling and focus-assist lamp. The kit weighs 14.3 oz (without four AA batteries); lens adapter rings are available in 49, 52, 58, and 67mm filter threads.

LumiQuest: A leader in accessories for flash units, this company introduced the new SoftBox III ($45) with twice the diffusion surface of the original model. It's not as portable as the smaller SoftBoxes but it features a very large 8x9" surface for a more gentle lighting effect with much softer shadows. This diffuser will fit a variety of flash units. While no compensation is required when shooting with TTL exposure control, the SoftBox III will interfere with a flash unit's focus-assist beam and the autoexposure sensor that's used only for non-TTL flash.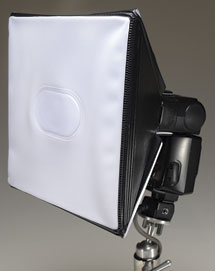 Photographers who want to use gel filters on their flash units—to match the color of the ambient light or for special effects—will appreciate the other new LumiQuest accessory. The FXtra gel holder allows for quick installation and removal of filters. While many other Rosco brand gels are available, the kit ships with a starter set: CTO, 1⁄2 CTO, 1⁄4 CTO, Plus Green, 1⁄2 Plus Green, Sky Blue, Canary Yellow, and Fire Red. Designed to fit most brands of flash units, the FXtra is not only compact but also quite affordable ($20).
LumiQuest FXtra gel holder

LATEST VIDEO

SPONSORED VIDEO
Testing Tamron's SP 150-60mm G2 lens while capturing birds and alligators in Apalachicola, Florida.