Shutterbug's Exclusive photokina Coverage; Digital Imaging Software: CS4, And More Page 2
Geotate has developed the geotagging software technology that has now been implemented in the latest version of the JOBO photoGPS device (which sits on the camera's hot shoe), making this device finally ready for the marketplace—really! If you're not familiar with geotagging, simply stated, it's a way to identify where your pictures were taken anywhere in the world, provided the device can lock onto a geosatellite and thereby track your movements/pictures. The technology quickly and automatically collects data with each camera exposure and with negligible battery drain, adding geographic metadata when images are loaded onto an Internet-connected computer while the device is connected via the supplied USB cable. The JOBO device itself uses built-in memory for geodata storage and is powered by a built-in rechargeable battery.

The original Imagenomic Portraiture plug-in didn't exactly greet you with the friendliest interface. Now Portraiture 2 (albeit still in beta—trial version at www.imagenomic.com) boasts a user interface that is a remarkable improvement, so much so that I'm eager to use it. And this plug-in not only supports Photoshop but also Aperture. What is it? Imagenomic calls it a "skin retouching tool." Basically it gives skin a smoother, more subtle and supple quality. The updated plug-in offers a new history control, preset manager, feathering and fuzziness controls (to fine-tune effects), and parameter enhancements. Plus you have the ability to generate a new layer mask or even a new document, with real-time mask previews.

Tired of finding that metadata from one device or application can't be read entirely by another application or that you can't efficiently catalog, organize, and search image files regardless of the device or application that we use to write this data? Well I certainly am, and was hoping that an announcement from the Metadata Working Group would offer a quick fix, with a new format that is compatible with existing metadata formats. Well, that was not to be the case. Instead, this group came up with a set of Guidelines for Handling Image Metadata—Version 1.0, no less, all of it on paper, 40+ pages in fact. Nothing was really implemented, only suggested, so we're in effect back to square one. The focus of the group is on "metadata interoperability."

Microsoft's Expression Media 2 ($199; trial version at www.microsoft.com) is an asset management program (/images/archivesart/video/audio) that lets you create and search visual catalogs, each containing up to 128,000 files. Drag-and-drop organizer lets you quickly import, organize, annotate, and classify large volumes of digital media files. You can select up to six files to compare side by side in full-screen view. And the integrated image editor adds tools for cropping and redeye removal, among others, with auto enhancements to speed things along. You can also add and edit metadata, produce contact sheets, and perform single or batch conversions of images, movies, and audio files to a variety of formats, including for use in Microsoft Silverlight (Windows only feature).

Nikon announced a new release of My Picturetown (www.mypicturetown.com), a photo/video storage and sharing portal with up to 2GB of free storage for standard users and 200GB for those with Gold Membership. All you need is an Internet connection or a Nikon Wi-Fi or Wired LAN-enabled camera. You can also use Nikon's View NX application to upload pictures and videos. The upgraded site offers a host of new photo-management options as well as an enhanced, more intuitive user interface. Users can now view their pictures on a map, showing the exact location where a picture was taken, a feature native to the new COOLPIX P6000 with integrated GPS receiver. For those cameras not so enabled, you can manually geotag the location.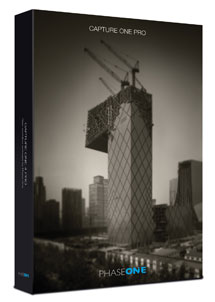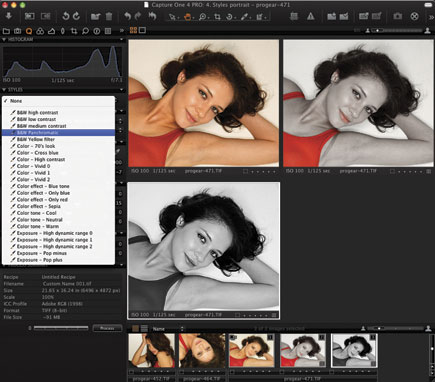 Phase One Capture One 4 PRO Styles feature
Phase One revealed their most robust software to date: Capture One 4 PRO. While details were still sketchy, here's what they tell us about this software, which, we should add, is not only for Phase One users: The re-engineered Capture One 4 PRO allows photographers to enhance and develop raw digital files with improved color and detail reproduction. This application enables you to customize your menu, building the interface and custom palettes that best suit your work style or situation. New or enhanced features include lens enhancement tools to tackle distortion, sharpness falloff, and light falloff, with the ability to produce customizable vignetting for creative effects. With the all-new Skin Tone tool photographers can easily set and reproduce skin tones shot under a variety of light conditions even without using a gray card. A redesigned Styles feature enables photographers to explore and create unique "looks" and to reproduce them consistently with ease. Capture One PRO customers can upgrade to Capture One 4 PRO at no extra cost. For new customers, it is $399, through Phase One's e-shop.
Sekonic profiling software
With Data Transfer Software Version 2 for the L-758 handheld exposure meter, Sekonic has not only delivered on their long-awaited promise to support more operating systems (notably Intel Macs and Tiger; Windows Vista) but has also made using the software dramatically simpler. The software (included with the meter) lets you establish profiles using the optional profile target ($99) for your camera and lighting system and virtually ensures that you can maximize each camera's dynamic range as you make meter readings/exposures.

Swiss Picture Bank (www.swisspicturebank.com) is a storage archive that now claims to offer guaranteed long-term photo storage. Secure long-term storage plans begin at 3 cents per picture for 30 years, with no recurring charges, with the first 100 pictures free.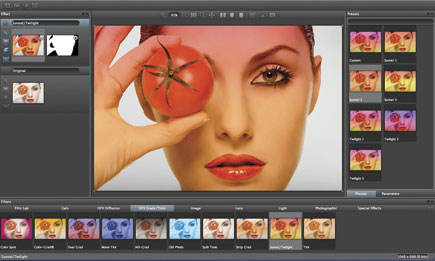 Available as both stand-alone app and plug-in (Photoshop, Aperture, and others), Tiffen's Dfx plug-in is now in Version 2.0. The new release offers various enhancements, but perhaps most important to new users and old is the slew of new filters that have been added, some of them exclusive to this software. Among them are the following: Ambient Light creates light without a defined source and contributes to the overall brightness of a scene without casting shadows; Dot and Flag let you hold back light from specified areas of the picture just as you would with physical dots and flags; a Haze filter to remove excess UV/blue from a scene; High Contrast and Soft Contrast; Rainbow; Sky to simulate a skylight filter and reduce the color cast and add a drop of warmth to scenes shot under overcast skies and in open shade; and Warm Polarizer, which combines the effects of a polarizer with an 81-series warming filter. I installed the demo and took a quick gander, and I have to say I am impressed by the variety and seeming verisimilitude these filters offer. Tiffen's Dfx Version 2.0 is available for $99, or sample a trial version at www.tiffen.com; for upgrades visit the website.


LATEST VIDEO

SPONSORED VIDEO
Testing Tamron's SP 150-60mm G2 lens while capturing birds and alligators in Apalachicola, Florida.