Shutterbug's 2005 Picks Of The Top Slide Films; Despite Today's Digital Revolution, Chromes Are Better Than Ever Page 2
9. Fujichrome Velvia 50 (ISO 50)
Quick, go out and get some, as this film is slated to be replaced by summer's end by the new Velvia 100. Often referred to as the benchmark of nature photographers, Fujifilm's Velvia 50 is a film that is still hard to beat and to this day remains the sharpest, most refined and highly saturated film of any product on the market today. In the golden hours of the day, colors are intense, adding to the dimension of the lighting at hand. This film has a sense of presence not found anywhere else. Its color richness still makes it a very desirable positive film to use even with digital capture moving in.
No question that when it comes to landscape photography Fujifilm's Velvia ISO 50 gets the nod. Here in the Western canyons you can see why it is a benchmark film with many outdoor photographers even when the sun starts to get higher in the sky.
10. Fujichrome Velvia 100F (ISO 100)
If Velvia 50 was not enough to ponder, there's the optional Velvia 100F. Adding yet another f/stop or a higher shutter speed to your bag of tricks, this 100F film retains the saturated color of reds, blues, greens, and yellows to your kit while keeping a RMS rating of 8. Velvia 100F also has the built-in technology that will keep colors fresh and true even overextended storage times under moderately controlled conditions. We are told that the new Fujichrome Velvia 100, available this fall, will not replace this emulsion, but will, as noted, knock the venerable 50 off store shelves.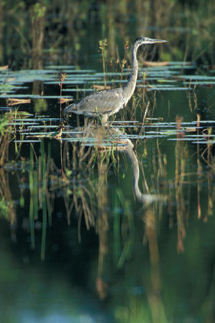 Next up is the newer Fujichrome Velvia 100F. This blue heron was captured on this film with my Nikon 300mm AF-S lens at the end of a warm summer's day.
11. Kodak Professional Ektachrome E100VS (ISO 100)
The "VS" stands for Vivid Saturation and on a recent shoot in the slot canyons of Arizona, the desert colors of this attraction came alive on this film. It added a pleasurable accent to any color or shade that was worthy of highlighting, especially if the weather went south. In spite of the harsh contrast between highlights and shadows, this film came through with flying colors.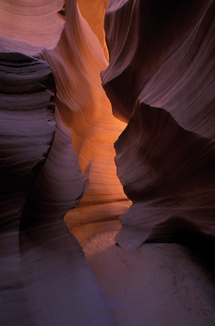 With a good ISO of 100, Kodak's Ektachrome E100VS helped to bring out the vibrancy of this slot canyon in Arizona. Notice that even in the shadows, the detail is still there. Taken with the Nikon 14mm super wide lens.
12. Kodak Professional Ektachrome E200 (ISO 200)
This film is the perfect fit between Fujichrome Velvia 100F and Provia 400F. With lowered contrast and pushability to ISO 800, in less than optimal lighting it allowed me an extra stop in shutter speed to help freeze the action of this mute swan while retaining soft, natural colors.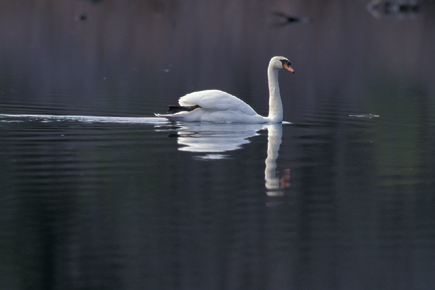 On this slightly overcast day, this mute swan was the subject of a few rolls of Kodak's Ektachrome E200 film. Looking much like a fine 100 speed film, this product gave me another stop in speed to help stop this cruising swan with his Nikon 600mm lens.
13. Kodak Ektachrome P1600 (Normal ISO 1600)
Shoot it at ISO 800, 1600, or push it to 3200 for real low-light situations. Grain? Sure it's there but now this leads to another avenue of creativity--that of extreme enlargements with tons of grain for varied effects within your printed media. However, for low lighting this film is sure hard to beat.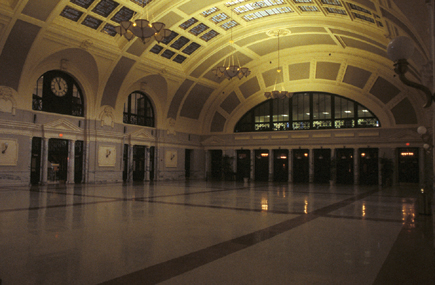 This interior view of the station shows the Kodak Ektachrome P1600's ability to hold rich detail in both the brightly lit ceiling and the darker floor.
14. Kodak Kodachrome 64 (ISO 64)
Mention traditional films and the Kodachrome name comes immediately to mind. Now in the next generation ISO 64 "Select Series," it remains the most stable and highly archival transparency film on the market today. It offers natural colors with a moderate speed and is still an excellent choice for just about all outdoor shooting situations. The only problem is that I expect Kodak to discontinue Kodachrome at some time in the future and getting it processed is getting to be more and more of a problem. Sadly, many labs have either made the switch to digital or will only process E-6 slide films, which is the processing run for all films except Kodachromes.
To some there is nothing like the old favorite Kodak Kodachrome.
15. Kodak Kodachrome 200 (ISO 200)
This film is still hanging in there. For those who like to photograph the soft colors of the fall, that extra stop or two can make a difference in the shade and especially when using a long telephoto lens combined with filters or a polarizer. The Kodachrome line remains some of the most remarkable films on the scene today, and suitable for a wide range of photographic applications.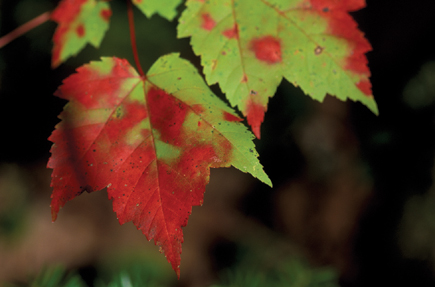 Outside for landscapes, and even in the soft shadows, the spirit of the fall is captured with Kodachrome 200. Taken with a Nikon F5, 105mm Macro lens, and an 81A filter on a Gitzo tripod.
35mm Transparency Films At A Glance

Name

ISO Speed

RMS Value

Pushability

Light Source

Process

Agfa RSX II
Agfa RSX II
CT precisa
Fuji Astia
Fuji Sensia
Fuji 64T
Fuji Provia
Fuji Provia
Fuji Velvia
Fuji Velvia
Kodak E100VS
Kodak E200
Kodak P1600
Kodachrome
Kodachrome


50
100
200
100
100
64
100
400
50
100
100
200
1600
64
200

10
10
12
10
10
109
8
13
9
8
8
12
n/a
12
19

+/- 1 stop
+/- 1 stop
+/- 1 stop
-1/2 to +1 stop
+1 stop
-1/2 to +1 stop
+2 stops
-1/2 to +3 stops
+1 stop
-1/2 to +2 stops
+1 stop
+2 stops
+1 stop
N/R
+2 stops*

D
D
D
D
D
T
D
D
D
D
D
D
D
D
D

E-6
E-6
E-6
E-6
E-6
E-6
E-6
E-6
E-6
E-6
E-6
E-6
E-6
K-14
K-14

Notes: N/A = Data not available from Kodak. N/R = Pushing this film is not recommended. * = Getting Kodachrome pushed these days is very difficult and finding a lab to do so is even more so. D = Daylight. T = Tungsten lighting only without a filter.
Manufacturers/Distributors
AgfaPhoto USA Corp.
100 Challenger Rd.
Ridgefield Park, NJ 07660
(800) 243-2652; (201) 373-4290
www.agfaphoto.com
Eastman Kodak Company
343 State St.
Rochester, NY 14650
(800) 242-2424 (film)
www.kodak.com
Fuji Photo Film U.S.A., Inc.
200 Summit Lake Dr.
Valhalla, NY 10595
(800) 755-3854
www.fujifilm.com

LATEST VIDEO

SPONSORED VIDEO
Testing Tamron's SP 150-60mm G2 lens while capturing birds and alligators in Apalachicola, Florida.