Shoot Beautiful B&W Portrait Photos with One Light in Just 3 Minutes (VIDEO)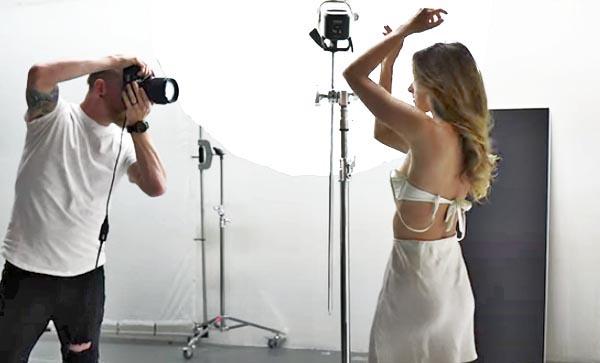 High-quality portraits can be difficult to make without a studio and a bunch of expensive gear. But if you have a willing model, a single light, a basic umbrella, and a simple backdrop (or even a white wall), you can capture some beautiful images.
Nathan Elson is a Canadian commercial photographer and a very good instructor. As you'll see below, it only takes him three minutes to demonstrate how to make the most of a very simple setup.
In this quick episode, Elson explains everything you need to know, with helpful tips on posing, camera and strobe settings, and the best way to position your model relative to the light. It obviously helps to have a gorgeous subject, but this technique will make you feel like a portrait pro while photographing both men and women.
Elson's setup is super easy, and he begins by explaining how to configure the light, which is mounted on an extension arm to bring it as possible to the model's face while keeping the stand out of view. He notes that by taking this approach you will get the best light-shaping characteristics from the light.
You'll want to pay close attention to how Elson positions his light and model for optimum results. As you'll see, he places his subject at the far end of the modifier, so the illumination is feathering across her face. "That's how we get the beautiful transition from light to dark," he notes, "without losing any of the details."
Elson then explains how he meters the strobe at f/8, 1/200 sec., at ISO 100, and what that means for the settings on your camera. When you combine these simple techniques, you end up with a spectacular image.
Elson made the shot in color and converted it to b&w, and there's a link beneath the video for tips on "editing like a boss." You can find a wealth of other advice by visiting his popular YouTube channel.

FEATURED VIDEO