Selling Through Galleries; Charting A Course For Making Fine Art Photo Sales Page 2
What will an art gallery owner look for in the talent they want to represent? For some suggestions, here's what gallery owner Charles Guice (
www.charlesguice.com
) uses as his personal check list of information he wants from any emerging artist presenting to his gallery:
• Three or four bodies of work, ranging from 12-20 images in each body of work.
• Chronology of portfolios—it gives him an idea on where your work is headed.
• Sizes of the editions within each series. Many collectors do not like large editions (he personally prefers edition sizes of 7-10, unless the prints are very large, and then an edition size of 3-6).
• Individual print sizes within each series, especially multiple sizes of the same image.
• When and where the work has been sold.
• When and where the work has been exhibited.
• Any press clippings or reviews of the work.
• Inkjet prints are a turnoff to him, because serious collectors will not consider them.
• Ideally, a current CV (Curriculum Vitae or resume) that he can keep on file.
Birthe Piontek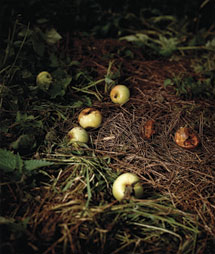 Untitled #9 from the series Terrain Vague. Chromogenic color print, 251⁄2x22" (65.1x55.9cm)
© 2006, Courtesy the artist and Charles Guice Contemporary, All Rights Reserved
Guice does not like unsolicited presentations and recommends that he be contacted first: "If you are contacting me long distance, the only thing I would need added to the check list is a CD of the work being presented." He goes on to say, "Also, I expect an artist has already done his or her homework, knows my gallery and is approaching me because they have a similar sensibility. For example, I like narrative photography, and when we talk before the presentation I would share this. So it would save a lot of time if you do not have this style. This homework always includes finding galleries that carry fine art photography! It still surprises me when artists approach me with a medium—sculptures for example—that I do not work with. Another example is when I am approached with a style of work similar to that of an artist I already represent, e.g., black and white portraits."

Guice has a strong opinion about well planned and executed marketing presentations: "Marketing presentation is very important to me. It says that the artist's commitment is there, and a good sense of design is there.

And I look for a sense of design I like. Honestly, I don't like 'slick' or 'low-end' presentations. You can push the packaging too hard and be too overbearing or not spend enough time, money, or attention."

Should you follow up after the presentation? Persistence is critical, but be cautious of creating an unwanted reaction. Guice says, "For follow-up I don't like to be bugged. If I like your work, I will get back to you. Generally, I do not mind being added to your e-mail follow-up list once we have met. But I usually like to have some closure and will recommend you send me new work in the future, or I will say the work is not what I am looking for at this time."

In conclusion, begin your search with this idea: a gallery is not the end client. You are not selling your work to the gallery. You should think of your gallery search as a matchmaking process. Find a match that will work best for both parties. Partnering with a gallery will give you not only the gratification of seeing your images on display but also the satisfaction of a profitable relationship. Focus on galleries that already display photography as fine art or those that at least show a strong interest in doing so.

Visit the gallery as part of your preparation or if out of town then at least review their website. Find out how often they have photographic shows, what type of work they like to show, and what type of work they usually carry (you can get most of this from their website). Look at the style and type of photographic work they are showing and think about how you can add something they may not have.

LATEST VIDEO

SPONSORED VIDEO
Testing Tamron's SP 150-60mm G2 lens while capturing birds and alligators in Apalachicola, Florida.