Sam Gray Master Photographer; Classic Style And Technique Page 2
SB:
Can you tell us a little bit about your software and hardware? Besides Photoshop, what other programs and plug-ins do you use?
SG:
I use Adobe's Photoshop CS4 Extended, Bridge, and Lightroom, plus Painter 11, Nik, Topaz, Auto FX, LucisArt, Kubota Actions, and anything I can find to add flair and beauty to what I may want to create.
SB:
How do you market your portrait services?
SG:
Displays, magazines, good client relations, referrals, auctions, and of course social media.
SB:
What is your favorite market these days?
SG:
Children and families have always been my favorites.
SB:
Can you give us your thoughts on today's market?
SG:
To adapt an old saying, "You can please some of the people some of the time, and you can please part of the people part of the time, but you can't please all of the people all of the time." Well, for 40 years we have gone the extra mile to please all of the people all of the time. I can sleep at night knowing I have done my best. That is what keeps our clients coming back again and again, even at higher prices. My reputation is that I am expensive…but worth it.
Sam Gray Commentary
"The two little girls are typical for the type of sessions that I enjoy. My favorites are children ages 3 to 5. Here we have a backlit situation and I wanted it to look like it was taken in the morning. I warmed and softened the scene in Photoshop CS4 then added layers of fog and began streaking it to appear as if the morning sun was filtering through the trees. I stopped when it felt natural and realistic. Sometimes I use reflectors but in both of these images I used a softbox to fill in the shadows. The softbox is faster and better for me with children since I work without assistants. This allows me to work in any environment and get great results every time.
"This shot was taken with the Canon EOS-1Ds Mark II, a 70-200mm lens at 1⁄100 sec at f/2.8 at ISO 200. I capture in Raw and JPEG. The JPEG is used for backup and often I will use them for a presentation about 20 minutes or so after the session since many of our clients are out of town. We do the session then the presentation and ship the framed paintings and photographs to their home later."
"This is a portrait of my four daughters. I captured the image in front of the gazebo by our pool. I was planning on a 40x60-inch master oil painting to go in our great room behind a grand piano. I did not want the concrete, gazebo, or pool to show so I painted over all things that took my eye away from the subjects. I inserted colors that are used in the carpet, drapes, and furniture. I wanted it to be a perfect fit for the room and of course the focal point. The dresses are black and so is the piano and the frame is black gloss enamel and 22k gold leaf.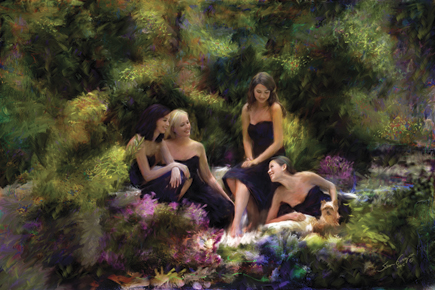 "The image was captured with the Canon EOS-1Ds Mark II, a 70-200mm lens at 1⁄200 sec at f/5.6 then worked up in Bridge and Photoshop. Next the image was brought into Corel's Painter X and I worked with brushes such as Sargent and other Impressionist brushes that I created. The painting was finished with lots of color and thick impasto paint to give it a rich texture."

We have one of the greatest professions on the face of the earth. We are able to share our talents with others and express ourselves. Clients invite us to share their special moments with them and they pay us for it. What could be better?
To see more more of Sam Gray's work, visit his website at: http://samgrayportraits.com.

FEATURED VIDEO