Photo Tips: When Running the Obstacle Course Is the Only Way To Get the Shot
Here are some of the questions I asked myself on the way to taking some of the photos you see accompanying this column:
• How am I going to find a father and son trekking through snow?
• How long is this fog going to last?
Police tape? What's police tape doing here?
Is this rain ever going to stop?
The one thing I never asked myself was: what am I going to do if I can't get the picture? All photographers, travel or otherwise, know that you can't not get the picture.
You have to solve the situation, figure a way around the literal and figurative barricades, and maybe hope for a little bit of good luck. You don't break the law and you don't risk your, or anyone's, safety, but one way or another, you get the picture. You've made plans, come a long way, put time and money into the effort, and you need a good result.
Sometimes when you've worked your way through the obstacles, outsmarted the circumstances or outlasted the elements, the picture you get may be a better picture than the one you might have gotten under ideal circumstances. Also, by improvising, by being resourceful, adaptable and a fast talker, you learn valuable lessons for future situations and their solutions.
I've photographed a lot of different subjects in my career, from motorcycle racing to advertising, fashion to travel, and along the way I've learned to adapt, improvise, and move quickly when there was little I could control.
For example…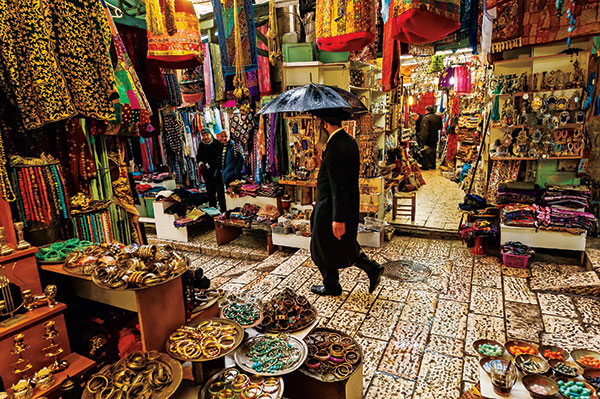 The Eastbound Zephyr
Updating my images of Denver for stock and my website meant images of the renovated Union Station, through which the California Zephyr passes twice a day, heading west to San Francisco in the early morning, east to Chicago in the early evening. I knew the shot required a train—it is a train station, after all, and the Zephyr is an iconic train. I also knew there was only one good location from which to make that shot: the passenger overpass that spanned the tracks.
I was at the scene for about four hours, first making photographs, then waiting for twilight. At about 7:10 the canopy lights went on and everything was perfect, except for the DO NOT CROSS police tape blocking my access to the overpass. There was some kind of demonstration expected, and station security had been increased. As calmly and professionally as I could manage to be with four hours invested in getting one shot, I used hand gestures to indicate to an officer what I wanted, and when he nodded I went up the steps to the overpass. I had my tripod, but I didn't want to take the time to set it up, and certainly didn't want to be too obvious, in case another officer saw me and decided I shouldn't be there. Hand held, at 1/500 second and ISO 6400, I took three or four shots, considered myself lucky, and got out of there.
Nothing But Rainy Days
It rained all the time in Jerusalem on my 2012 visit. I'd leave the city, shoot elsewhere, return on day trips and find it still pouring. I like to have my gear accessible, and it was pretty much chaos trying to change lenses on a couple of cameras while attempting to protect everything with a wind-blown umbrella.
What I needed was a change in strategy, which meant finding a location to fit the situation. An Arab bazaar was exactly what I needed: I could stand inside a covered store within the bazaar and photograph with a wide-angle lens to capture the look and feel of the place. It was just a matter of finding a spot where the rain wouldn't be raining on me.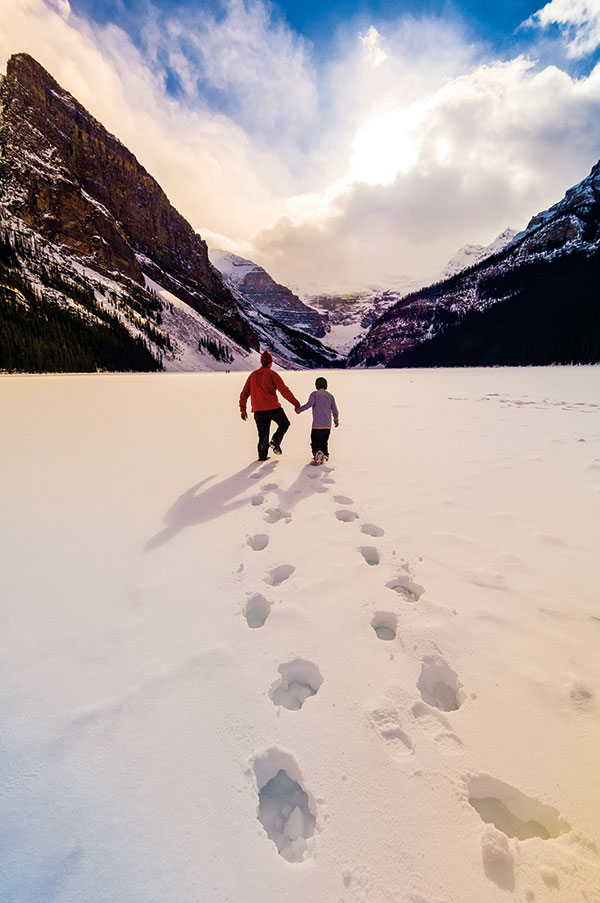 A Walk In The Snow
Invited by the tourism board of Alberta, Canada, to shoot during the ski season, I piggybacked some assignments, including one to illustrate a story for American Airlines' in-flight magazine. The story's writer told of how a walk with his son during a trip to Alberta had been a key moment in both their lives. So, of course, the magazine's editors asked me, "Do you think you can find a father and son taking a walk in the snow in the wilderness?"
Soon after, I found myself walking on a frozen section of Lake Louise in Banff National Park. The weather was good, the sun shining, though clouds were thickening up. Nearby I saw a family. I walked up quickly and said, "You'll think this is nuts, but I'm a photographer and…" They seemed okay with it. "Sure, yeah," they said.
I had one chance at it because the shot required pristine snow to start, but I didn't burden them by telling them that. The father and son walked out toward the mountains, and I made my shots. Five minutes later we were done; five minutes after that the sun disappeared. The photo was used as a full-page opener for the story.
Luck? Some of it was, sure, but maybe just the right touch of professionalism and personality got them to cooperate, and quickly. I like to think experience allowed me to become what I needed to be at that moment in that spot: calm, convincing, and sincere.
What's Hindi For Camel?
After photographing the front of the Taj Mahal, I decided to devote the morning of the next day to the back of the structure, the part the tourists don't see.
The auto rickshaw driver who I'd hired to take me around Agra couldn't pick me up for the morning shoot, but he sent his brother-in-law, who couldn't speak English but knew where I wanted to go. As we drove to the riverside location through the thick, predawn fog, I was barely able to notice some villages, and at one point, a camel tied up by the roadside.
When we got to the spot, I realized it would be a while before I could see even the Taj Mahal's spires. With nothing else to do, I started thinking about how I'd like the photo to look. It would be really nice, I thought, to have a camel in this scene—like that camel I saw back on the road. We certainly had enough time to get it, but I didn't know the Hindi word for camel, and my attempt to gesture a camel was not communicating to the driver what I wanted. Then I realized I had a picture of a camel in my pocket; it might have been a postcard, I don't remember. I showed it to the driver, then pointed up the road. He took off on foot and came back with the camel and its owner. We negotiated a fee and when the amount of fog left in the scene was just right, I got my photographs.
I think that most people would have been happy enough with the scene as it was, but I decided to try for more than just good enough.
Partial Permission Granted
I'd approached a little girl's parents in a Tokyo park and, through an interpreter, asked for permission to photograph her. They said okay, but insisted I shoot her only in profile. They became, in effect, the art directors of the shoot. I got to set it up, but they had to approve the angle and degree of profile.
I wasn't happy at first, but looking at the photo shortly after taking it, I knew it was a better picture than a straight-on shot. It wouldn't have happened without the parents setting a limitation, and I realized that working within limitations doesn't have to mean the loss of an opportunity.
A Small Window Of Light
A day of driving in the Scottish Highlands had resulted in nothing. The sky was the color of lead, and I saw no possibility of making a worthwhile image. Then, suddenly, at the horizon, a clear line of sky appeared. There was going to be bright sunlight coming from that direction in about 10 minutes, and I had to get someplace where there was something interesting to shoot.
It was the opposite of a common situation, that of finding a great spot and waiting for good light. The good light was about to arrive; I needed a good location. I saw a castle hotel, drove up, ran in and got their permission to photograph on the grounds. I ran outside and carefully chose my spot.
When the sun broke through, it was like spotlights had been thrown on a movie set. Or was it like the lighting the great Dutch painters created in their masterpieces?
In any case, any situation that you master, any obstacle course you defeat, is the basis of experience you can use next time. Problem Solving 101 is a course you take over and over again as a photographer.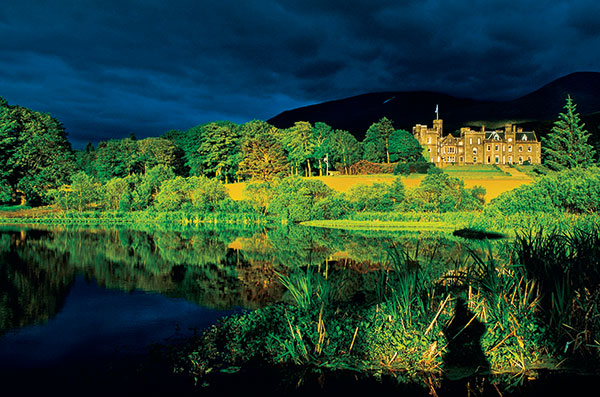 A selection of Blaine Harrington's photographs can be viewed at his website, www.blaineharrington.com.

FEATURED VIDEO