On The Road; A Guide To Travel & Field Tripods Under 10 Lbs Page 2
·
Centerpost.
Getting high is often a shaky proposition. A raised center column may be helpful in providing a good working height or vantage point, but can induce camera shake. As a rule of thumb, a practical post should be at least 1" in diameter. For close-ups, the centerpost should be reversible or split. What about gear-crank (also known as elevator) or rapid (a.k.a. sliding or friction) posts? That's open to debate, but rapid is faster. Friction control (preferably separate from the release knob) is important, so the camera doesn't drop when the knob is loosened (keep a hand on the column, camera, or head, just in case).
Caution:
Unless otherwise noted by the manufacturer, don't mount a camera directly to the screw on the post/top plate. With rare exceptions, the screw is meant for attachment of the head only and may damage the camera.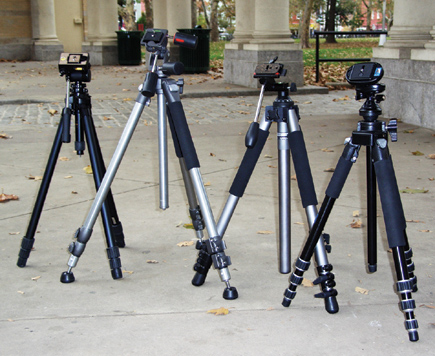 Metal tripods ranging in weight from 6-9 lbs, shown closed, each a solid choice for travel, if you can bear the weight. Left to right: Vanguard MT-110, Calumet 6261, Davis & Sanford Magnum X3T, JTL 6301.
· Tripod head. Match the head to the tripod. While a few tripods come with a head permanently attached, many more accept optional heads (and may be sold legs only). Don't put a bulky head on a small tripod, or a tiny head on a stocky support--use the size of the top plate as your guide. And match the screw thread of the head to tripod-mounting screw (1/4 or 1/8"--adapters are available). Popular choices are a "ball" or "pan" head. A quick release is handy, more so when working with several cameras (one quick plate per camera). Important: Heads and tripods each have a specified maximum load (the total weight of camera, lens, etc. each will support). Use the lower of the two values (for tripod or head) as your guide. So if one value is 5 lbs and the other 10, use 5 lbs as the maximum load.

· Bubble level. Useful, but fragile. While helpful in correctly aligning the picture, the bubble level is a fragile element in a tripod carried over rough terrain, so weigh it carefully and don't discount a tripod (or head) for lack of this feature.
The wooden Berlebach Report 2042 is at home among the trees, but the carbon-fiber Giottos Innovator MT 8180 and Hakuba HG-503MX stand just as cozy in this outdoor setting. The "stone bag" (suspended from the Hakuba) is used to add weight and stability to the tripod. It can also be used to hold a lens or flash for fast access.
· Tripod handles, straps, and bags. Convenient for toting. Not every outdoor tripod offers a handle or carrying strap, so hopefully there's at least one padded leg section you can grab to ease portage. When transporting the tripod (check with your carrier for carryon restrictions), a bag helps to prevent damage to or from the tripod in transit, especially while hiking. Padded is good, but unpadded is easier to fold and stow away when not needed. When transporting the tripod without a bag, make sure the head is on tight, and pocket the quick plate or leave it on the camera so it doesn't get dislodged from the head.
Manufacturers/Distributors
Bogen Imaging Inc. (Gitzo and Manfrotto)
565 E Crescent Ave.
Ramsey, NJ 07446
(201) 818-9500
www.bogenimaging.us
Calumet Photographic, Inc.
890 Supreme Dr.
Bensenville, IL 60106
(800) 225-8638
(630) 860-7447
www.calumetphoto.com
HP Marketing Corp. (Berlebach, Giottos, Linhof, Novoflex)
16 Chapin Rd.
Pine Brook, NJ 07058
(800) 735-4373
(973) 808-9010
www.hpmarketingcorp.com
JTL Corporation
14747 Artesia Blvd., 3-E
La Mirada, CA 90638
(714) 670-6626
www.jtlcorp.com
Paterson Photographic Inc. (Benbo)
4680-A Industrial Access Rd.
Douglasville, GA 30134
(770) 947-9796
www.patersonphotographic.com
Pro4 Imaging Inc. (Uni-loc)
701 Aspen Peak Loop #523
Henderson, NV 89015
(800) 636-0844
www.pro4.com
Ries Industries, Inc.
PO Box 487
Waterville, WA 98858
(206) 842-9558
www.riestripod.com
RTS Inc. (Cullmann)
40-11 Burt Dr.
Deer Park, NY 11729
(631) 242-6801
www.rtsphoto.com
Smith-Victor Corp.
1268 Humbracht Cir.
Bartlett, IL 60103
(800) 348-9862
(630) 830-9200
www.smithvictor.com
THK Photo Products, Inc. (Slik)
2360 Mira Mar Ave.
Long Beach, CA 90815
(800) 421-1141
(562) 494-9575
www.thkphoto.com
The Tiffen Company, LLC (Davis & Sanford)
90 Oser Ave.
Hauppauge, NY 11788
(631) 273-2500
www.tiffen.com
ToCAD America Inc. (Hakuba, Sunpak, Velbon)
300 Webro Rd.
Parsippany, NJ 07054
(973) 428-9800
www.tocad.com
Vanguard USA
9157 East M-36
Whitmore Lake, MI 48189
(800) 875-3322
www.vanguardusa.com