Raw Converter Software; From Adobe, LaserSoft, Bibble Labs, & DxO Labs Page 2
This refinement with each different software application was neither very significant or unusual. If I do film scans I find I usually have to tweak the image adjustments a bit after the initial pre-scan adjustment before they are printed. In other words, whether its Adobe, LaserSoft, Bibble Labs, or DxO Labs you can achieve just about the same result in terms of image quality for printing purposes.
Does this mean they are all alike? Not by a long way. Using each software application involves different techniques and experiences and I am sure each one will suit different photographers. For instance, when you use Adobe's CS2 Bridge and double-click on a digital camera raw file thumbnail and Camera Raw launches, the file is automatically pre-adjusted for four different dimensions of image quality. Rarely do I find those adjustments ideal, so I have learned I need to adjust the slider to get the image to where it needs to be. On the other hand, with Optics Pro Elite 3.0 there are three options: full manual adjustment, semiautomatic, and full automatic. I soon found the Semiautomatic mode was the most efficient and effective way to work and produced results that required only moderate fine tweaking afterward.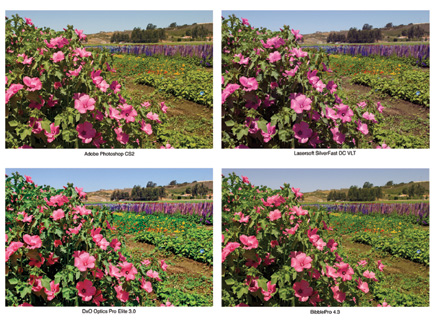 Canon EOS Digital Rebel files: Each of the four applications converted and allowed adjustment to a very similar set of images, none of which can be selected as significantly better than the others.
Although BibblePro 4.3 does not have different modes of manual to automatic functioning, it has a good mix of optional manual controls. Some of these adjustments are simple sliders to activate its unusual highlight recovery capability and its combination histogram and curve control.

SilverFast DC VLT favors individual manual adjustment of raw file image data, but also supports a selection of auto processing modes. In addition, you can also custom configure its full auto processing functions. The browser, does not apply full automatic image adjustment to the thumbnail generation, so a series of bracketed exposures are displayed with appropriate brightness relative to the camera exposure used to make the image. Then, when a thumbnail in VLT is double-clicked and converted to open in the SilverFast application, it is displayed in its "as shot" form if the application preferences are set with auto adjustment turned off. It's then your choice to apply either manual or auto adjustment, or a mix of both.

I must admit that I was taken by surprise by my tests. Starting out with no intention on my part to do so, each of the four software packages produced virtually identical image results via the use of quite distinct tools and processes. The fact that this can be achieved with three different digital SLR cameras makes it even more amazing. My recommendation is that users choose any of the four options entirely on the basis of what best serves their individual needs and work preferences. Fortunately, SilverFast (www.silverfast.com), DxO Labs (www.dxo.com), and Bibble Labs (www.bibblelabs.com) offer users the opportunity to download trial versions for themselves and find out which one is the best fit. There are no winners or losers from my tests, either between the cameras or the raw conversion software applications, just a win/win for digital camera enthusiasts and professionals.
Apple's New Aperture Application: Mac Users/Photographers Now Have A New Production Tool For Raw
The conversion from film to digital by professional photographers and serious enthusiasts has been a positive and advantageous experience. If it were not, its adoption would not have been so rapid and extensive. But that does not mean there are no negative consequences to going digital. The most frequently heard gripe is about the time it takes to access, sort, select, and cull raw camera files after a photography session before finished photographic results can be produced. Apple Computer has developed a software application that is expressly designed to deal with all of the sorting, selecting, processing, editing, and presentation tasks required by photographers within one efficient, on-screen environment.
Aperture is a powerful Mac application that allows photographers to organize a large body of raw image files intuitively, putting them in logical Stacks according to the time space between exposures.

You can also navigate through the images easily in Full-Screen mode, as well as utilize multiple displays. One of the requirements for photographers to make selections and cull out images is to see the image close-up to check for sharpness and detail, a task that is now facilitated by Aperture's digital Loupe on-screen magnifier. Aperture simulates on screen what photographers have been used to with a light table, and allows them to arrange, select, eliminate, re-size, and collect the "keepers" in a free-form display environment.

In addition to providing immediate, direct access to raw camera files, Aperture provides a comprehensive yet efficient tool set to retouch and adjust the images to a refined, finished state. This editing is non-destructive, keeping the original camera raw file intact as taken. It also supports creating multiple versions with different adjustment attributes without risking altering the original raw file integrity, while also avoiding using up large amounts of hard drive storage space.

Aperture is a fully color managed application using Apple's ColorSync to reference all pertinent profiles and also produce all forms of output. Built-in print options include the ability to create proof sheets and multi-image layouts. This is both an inspection and presentation tool that yields a finished set of image files. Aperture's layout capability also extends to multi-page publications or web galleries for promotion and presentation purposes.

Apple's Aperture for digital photographers is both a powerful and comprehensive professional-level tool that also demands a powerful G5 Mac computer. It is available through Apple's online store (www.apple.com/aperture) at a suggested retail price of $499.

For more information, including detailed system requirements, visit Apple's website at: www.apple.com.
Manufacturers/Distributors
Adobe Systems Inc.
345 Park Ave.
San Jose, CA 95110
(800) 833-6687
(408) 536-6000
www.adobe.com
Bibble Labs Inc.
6034 W Courtyard Dr. #140
Austin, TX 78730
(512) 345-3480
www.bibblelabs.com
DxO Labs
3, rue Nationale
92100 Boulogne
France
+33 (0) 1 55 20 55 99
www.dxo.com
LaserSoft Imaging, Inc.
546 Bay Isles Rd.
Longboat Key, FL 34228
www.silverfast.com

LATEST VIDEO

SPONSORED VIDEO