Quantum CoPilot TTLFlash Controller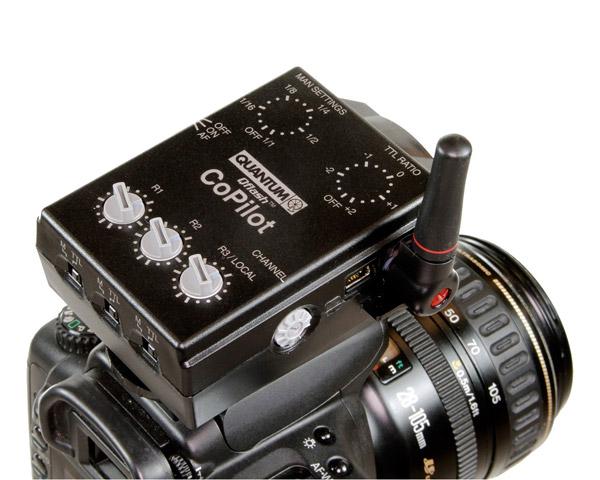 Photographers can now trigger and quickly set ratios for three groups of radio controlled Qflashes and/or Trios. Set lighting ratios on the fly, right from your camera. Simply turn three controls on the CoPilot to instantly adjust lighting ratios as you shoot.
Mix and match all the flashes you own. CoPilot controls remote Qflash TRIOs or QF5d-Rs. And it triggers any combination of non-Quantum flashes connected to a Quantum FreeXwire receiver.
CoPilot (QF91C) is for Canon & CoPilot (QF91N) is for Nikon DSLR cameras. With its patterned sensor the infrared auto-focus assist of the CoPilot helps your camera to quickly focus and shoot indoors or outside in low light conditions.
Mount a CoPilot in the hot shoe of your camera and set ratios of up to 3 groups of remote Qflashes. No complicated LCD displays... Instant dial settings TTL control of "local" Qflash... Models T5dR, 4d, 3d, 2d ...connected to the accessory connector of CoPilot. Reliable digital radio wireless up to 300' (100m). Use any number of flashes in each remote group. Trigger non-Quantum flash in manual or auto mode with FreeXwire FW8R or FW10W receivers.
Specifications:
WT: 5.2 oz (147.42 g)
Length: 3.6 in ( 9.14 cm)
Height: 1.8 in (4.57 cm)
Width: 2.3 in (5.84 cm)
Range: 300 ft (100 m)