Pro's Choice; Showing People In The Best Light; Andrew Eccles Makes Celebs, Dancers, And Everyday Folk Shine With His Lighting, Attitude, And Style Page 2
"I use a lot of really big soft lights," Eccles continues. He creates these large light sources using multiple umbrellas behind diffusion silks, either in silk tents or with large 12- or 20-foot long hanging silks. Umbrellas can be silver or white, of different sizes, all tailored to the needs of the shoot. "I'll gravitate toward the silver ones if I want something with more snap and punch, for more fashion-oriented shoots." In addition, he may use Profoto's Pro-Big 7- and 8-foot light shapers and Elinchrom's Octa Light Bank ("Octabank"), which has a Profoto adapter inside.
Client: TV Guide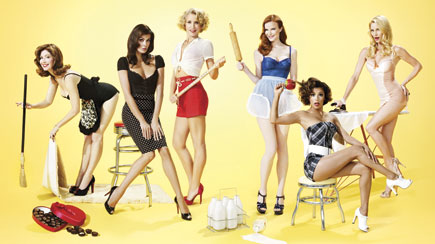 Shooting at Smashbox Studios in Los Angeles, Andrew Eccles photographed each actress individually, to promote the TV series Desperate Housewives. Eccles points out: "Even though they were shot separately, I set up the lighting as if they were all there at the same time, because I wanted to lock down the camera and put each housewife roughly in the position that they'd be in the magazine spread. So I had an enormous wall of light behind me with a silk measuring about 12x40 feet with lots of umbrellas behind it, for a big open soft light. Then I used a hard light in tandem with that to get a pin-up look." The hard light is a Profoto Fresnel (with bi-tube head) that was way up high. There was also a hairlight (also a bi-tube head) high on a crossbar behind them, carefully set so that it's not raking down their faces. "I'm very careful to aim this light so that it hits the subject from behind without impinging on the key lighting. For that I usually use a Profoto Magnum Reflector. I also used spun glass over that for diffusion." The background was a yellow-painted cyclorama. The lighting on the cyc came from background lights (one on either side) positioned so that there was a faint hot spot in the middle and vignetting toward the edges.
© 2010, Andrew Eccles, All Rights Reserved
For many shoots Eccles will rent up to 50 or 60 packs, maybe more, with as many as 70 heads. "In fact, I did one photo shoot for NBC where I rented 100 Profoto packs." That shoot involved the entire cast of the complete Law & Order franchise.
Client: New York Magazine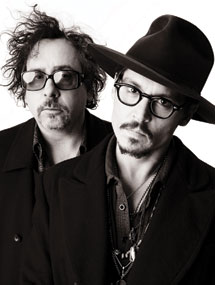 Andrew Eccles produced this shot for the Arts issue cover story titled "The Year in Culture," focusing on Tim Burton having directed Johnny Depp in Sweeney Todd (the movie). This was an unusual portrait situation. Depp and Burton were on a promotional press junket and all the photography had to be done in the hotel room, which was just wide enough to accommodate a seamless white backdrop and lighting that Eccles introduced. In lighting the shot and determining exposure, it was important to retain the clean white of the backdrop to help the main subjects pop out in the foreground. One Octabank provided all the lighting, with the addition of a black card on the far side to pull back some light and give the shot added dimension. Eccles comments: "You may have noticed that I tend to light almost everything left to right—it's the way you read, it's the way that I shoot." The publication, which tends to have more of a photojournalistic bent, opted to leave the reflections in the eyeglasses.
© 2010, Andrew Eccles, All Rights Reserved
That NBC shoot was by far the most ambitious for Eccles in terms of lighting. It was also one of those shoots where the client did all the compositing. The assignment involved a fabricated crime scene (complete with corpse) that was constructed on a sound stage. Shooting several actors at a time, "I worked with four cameras all set up in a row, each tethered to a separate monitor. We had to recreate the look of New York's Times Square at night. We had gone to Times Square, and with the help of the Law & Order team, had closed down part of Times Square to traffic between 2 and 4am so that we could shoot stills for the backdrop. We then rebuilt the same Times Square corner in the studio, right down to old chewing gum, dirt, and cigarette butts. The studio shots required lights coming from every different direction, to simulate actual street lighting. We drove 140 heads off those 100 packs—just to light the cast and corpse. I can't even remember how many people were in the crew. We rented the entire Pier 59 Studios facility. It was a very expensive shoot, but very cool."