Profile; Interview With David Hume Kennerly; A Life In Photojournalism Page 2
I'm a Canon "Explorer of Light," which is their elite group of photographers, people like myself in various areas of photography who they consider to be hotshots, and I'm honored to be there because I do use Canons. I'm particularly evangelical about the Canon 5D Mark II which I think is God's gift to photography! It's the best camera that's come down the line in the digital era.
SB: You've been quoted as saying, "In photography, everything can be taught except how to see." How did you learn to see?

DHK: You can learn lighting and other technical expertise in school, or assisting someone who knows what they're doing. But the way you see things is unique to your background, how you were brought up, what your mother taught you, and being around people who have a sense of humor and irony. Why does Jim Nachtwey only take pictures of the dramatic, difficult part of life in a way that's so compelling? Why does Elliott Erwitt shoot pictures that make you laugh? It's because that's how they see it. I don't know how you could teach somebody to be funny if they're not. It's a natural gift for the most part, and if you are lucky you will discover that you have that gift. I think you've either got it or you don't.
SB: There has been a great revolution on both sides of the camera—the side where the shooter is actually in action, and then the evaluation and distribution. How has that affected your career?

DHK: Digital photography is a bit of a curse, but I'm an old dog that has learned new digital tricks. I'm very much up on technology, which is part of being a professional. If you look at it simply, digital is just another delivery system, and is not changing how I see things, or how I'm going to take a picture.

I think one of the serious problems in digital photography is that we are sacrificing the professional picture editor. Like any good writer needs an editor, so do photographers. Nowadays if you're a wire photographer you edit on the spot. Photographers aren't generally their own best editors. My whole career has been based on being saved by good editors, and they're harder to find now. These are things being affected by the world of digital photography, but digital is here to stay. Anyone can pick out the no-brainer photos, but when it comes to the more subtle aspects of photography, you're better off having somebody who's not emotionally involved step in and look at your photos. You'll be surprised at what you missed.

A lot of good photos are being lost because they were edited or deleted prematurely, or missed entirely because you were looking in the back of the camera as a good moment happened. Try not to be so interested in what you just took!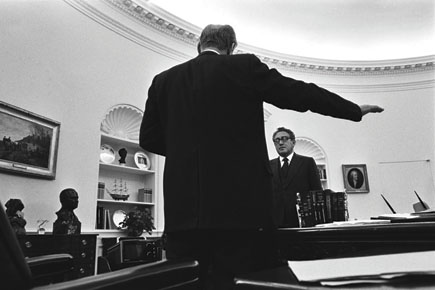 SB: So much of our understanding of our times and ourselves has come through iconic pictures in the media. Since papers are folding and journalism is shifting, do you see any direction, or potential for some other form of marketing or business for photographers?

DHK: We can only hope that photographers are still going out into the wild to take pictures of things you wouldn't normally see unless they were there to record it. That's part of what's great about the profession. That's why I went to Vietnam and why other photographers do what they do. But the current economics of it are tough. Just the idea of Newsweek not sending a photographer on Obama's first presidential trip is a bad sign, and it's because it's really expensive to run a photo department, and to have shooters out there on the road.

Present economics are getting in the way of what used to be a phone call in the middle of the night wanting me to be somewhere exotic the next day. We aren't getting that kind of phone call these days. It's now up to the ingenuity of the individual photographers to find new markets. Anybody can put out pictures on the Internet now, and anybody can have opinions and write or blog about them. But nothing changes the truthfulness of photography, what it is, and what it represents.

I think the Internet and other vehicles of delivery are where we're at, and hopefully we will always have print publications. But we have to get used to the fact that the majority of our work is going to be online. That's not a satisfying way for me to look at photos, however. I like holding them in my hand or seeing them on the wall. That isn't an old-fashioned attitude.
SB: So, how are you adapting?

DHK: I'm just trying to figure out how to make it more interesting, and how to find other work. In the commercial area big companies are cutting back, particularly on photography. The last thing book publishers budget for are photos. I get calls all the time, "Oh, we'd really like to use these pictures, but we don't have any money left." I said, "Well, then, call someone else. Don't call me." If that's how you regard photography, then you're talking to the wrong person. I love photography, especially other people's work.

SB: You have been shooting for 40 years. How do you bring that to market?

DHK: My hundreds of thousands of photographs sitting in boxes and cabinets aren't doing me any good until they're scanned, properly organized, and captioned. Again, we come down to economics. If I hire somebody full-time to scan my pictures, I have to pay them a lot of money, and they can only do 25 or 30 a day if I'm lucky. Or if you have hundreds of thousands of pictures, and send them out for $5 or $10 a scan, it's prohibitively expensive to get the work done. When I found ScanCafe and started working with them it was a landmark moment for me because I now have thousands more pictures scanned than I would've been able to otherwise afford, and they do professional-caliber work. I'm an advisor to them. Like Canon cameras, I wouldn't endorse anything that I didn't use personally, and I don't endorse anything at all other than ScanCafe and Canon, and that's it.

SB: Scanning also gives you backups of your film originals.

DHK: I've lost photographs. I had a flood in my garage when I was out of town, and fortunately, my wife saw what was happening and was able to rescue most of them. Here's a worst-case scenario: Jacques Lowe had incredible photographs of the Kennedys over the years and particularly John F. Kennedy and the kids and his family. His negatives were in the World Trade Center in a bank vault. What could've been safer than that? They were all vaporized, and they hadn't been scanned. All of those pictures except for the prints that were elsewhere or in books are gone. Don't let that happen to you!

I've also become evangelical about this subject, and it wasn't because of ScanCafe per se. It's just that they are one good solution, and one I could recommend to everybody, including my fellow photographers. I have almost a thousand pictures being scanned with them at any given time and it doesn't need to be done overnight. From the time you send them out to the time you get them back it would be about five or six weeks. But if they've been sitting in your garage for 20 years, what's the difference?

SB: The only fear there would be the possibility of loss or damage in transit as well.

DHK: I think loss and damage in garages, attics, deterioration or damage from mice, is a much larger problem. I'm sending key images to ScanCafe because of their excellent track record on getting them out and back. Honestly, I would tell anybody to do it, professionals or amateurs alike, because it's not only economical, but the quality is so good that there's no reason not to do it. For the pro, the value is getting those pictures into a stream where they can be sold. For the majority of the people it's preserving family photos, and being able to share them. I'm just trying to ring the bell a little bit!

SB: What do you see in the future?

DHK: I'm not totally doom and gloom about the business. There will always be photography. But I think the single biggest issue is where it's all going, and what's going to happen trying to get there. Technology has changed everything. I remember when Life magazine folded in 1972, and it was blamed on television. You just have to evolve along with the technology, and adapt with it to make a living. That's the big issue right now pertaining to my particular end of the business.

One thing that the future holds is more time at the computer. For every hour I'm shooting there are another two or three hours of editing and Photoshopping. It's not as much fun as it used to be, when we just "shot and shipped," and then went to the bar and laughed at the reporters who had to file their stories. Well, now you're there filing right alongside them. The workload has just gone way up for the photographer.

The great thing about photography is as long as you can still walk and see halfway decently, you can still do it. That's exactly what I'm doing.
Recommended Websites
• David Hume Kennerly—www.kennerly.com
• ScanCafe—www.scancafe.com
Larry Berman and Chris Maher are photographers, writers, and web designers, specializing in image-intensive photographic sites. For more information, visit their websites at: www.BermanGraphics.com and www.InfraredDreams.com.