Press-Printed Products; A New Offering For Wedding & Portrait Photographers Page 2
SB: What's the most innovative use of these products that you've seen?

KW: Several photographers are now using our paperback companion albums as a promotional tool for both wedding and portrait images. The metallic covers on these albums make it a really distinctive product. It's almost impossible not to pick one up. Photographers have taken advantage of its unique appeal by creating books of their work and placing them in key locations in order to present themselves creatively. We have been told that it has worked extremely well for them.

PK: It's probably a toss-up between photo-magnetic paper and repositionable vinyl (you can stick it anywhere, then remove it and stick it somewhere else multiple times with no loss of tack).

SB: How can photographers benefit from these items?

PK: They can sell more add-on items to their clients, and they can also use these to promote their own photographic services. They make great calling cards and a way to show off your work.

KW: Press-printed products give the photographer new opportunities for additional sales. Steve Sedman, our New Technology Manager and a photographer as well, has a favorite expression that we like to pass on to our clients--"Never run out of products before your clients run out of money." That is exactly what we are trying to do here at LustreColor, give the photographer as many products as possible so that he or she can maximize their opportunity to make a sale to their client. Today, nearly everyone is faced with the prospects of handling fewer events or portrait sittings, so it is critical that they have more products to sell.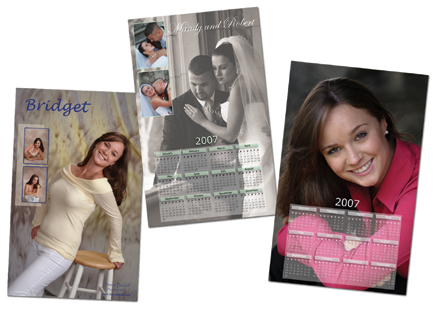 Posters and calendars are just two of the ever-increasing uses for press-printed products.
SB: What other new products do you see in the near future?

KW: We will be introducing coffee-table albums early in the third quarter of this year. These albums have photo covers
with fine art paper pages that give the look and feel of a fine art coffee-table book. They will be available in sizes ranging from 4x5 to 12x12". They will literally sell themselves the moment a client sees them. We expect them to eventually be our most popular product.

PK: We are using artistic papers that produce excellent wall art (we are already doing some of this), and adhesive stock to use around a three-dimensional object.

SB: Can you explain briefly just how the press process works?

PK: Customers use our software to build whatever product they desire, then upload the order to our lab. We perform any necessary corrections, then render the order for printing on our HP Indigo 5000. From there, the material cycles for four passes (one for each color) and special electrolytic inks are laid down in a sequence that corresponds to an electrically-charged area to be printed on the material. All this takes is a matter of seconds--and we receive a dry print in the out bin. From there it goes to creasing, cutting, UV coating, bookmaking--whatever the order calls for. Most orders ship within a day or two.

KW: Perhaps the best part of ordering these products is the fact that they are ordered the exact same way that photographic prints are ordered. Our customers can use either pre-designed templates or create their own, then (using our software) FTP the order directly to the lab. We color correct each image for optimum quality. Instead of printing the files photographically, we convert the rendered files to PDFs and print them on a digital press. Our press operator also has the additional responsibility of making sure that the correct paper substrate is loaded on the press before printing. Once the printing is completed we send the order to our finishing department where, depending on the product requested, it is folded, bound and/or boxed before shipping.

SB: Can you give me any additional thoughts you have about these products?

KW: Press-printed products are an unexpected benefit of the digital revolution. Now photographers can reproduce their images on different and unique surfaces in forms that were unimaginable just a few short years ago. It is simply an opportunity for everyone in the professional photographic industry to create and sell more.

Steve Bedell holds Masters and Craftsman degrees from the Professional Photographers of America. Bedell recently released an educational DVD about shooting in the sun called "Sparkle Light." For more information on the DVD or to subscribe to EPhoto, his free online newsletter for professional and advanced amateur photographers, contact Bedell via e-mail at: sb@stevebedell.com.

LATEST VIDEO