Post Cards From The Land Of The Thunder Dragon; Bhutan's Buddhist Culture Is A Draw For Travel Photographers Page 2
Here I shot with a wide angle zoom set at a small aperture to get as much of the scene in focus as possible. I composed with the prayer flags in the foreground to add a sense of depth to the scene. Pray for good weather, as it can be foggy at the pass. Don't forget to "stop and smell the roses." Being at the pass is an incredible experience.
6. Tiger's Nest Temple, Paro. This cliff-hanging temple is one of the most sacred sites in the Himalayan world. It is a pilgrimage site for devout Buddhists. The round trip hike, from the parking lot to 10,000 ft, takes about six hours. Tiger's Nest gets its name from the story that the great tantric mystic Guru Rinpoche (the precious teacher) flew here on the back of a tiger, bringing the teachings of the Buddhist Dharma to Bhutan in the 8th century.

On this shot I added the digital frame in onOne's PhotoFrame 2.5 Photoshop plug-in (www.ononesoftware.com).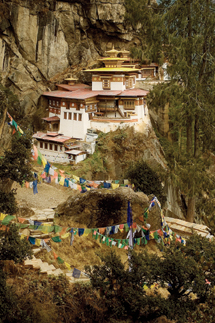 7. Early morning school assembly, Punakha Valley. Schools are everywhere in the valleys and cities of Bhutan. If you arrive early in the morning, you'll be able to photograph the daily assembly, which includes prayers and singing. The kids and teachers I encountered all spoke English and were happy to let me photograph them.

While close-up pictures of the kids are great, I try to keep a "sense of place" in my photographs by using a wide angle lens to include the background. The scenery is what adds a "sense of place" to this picture.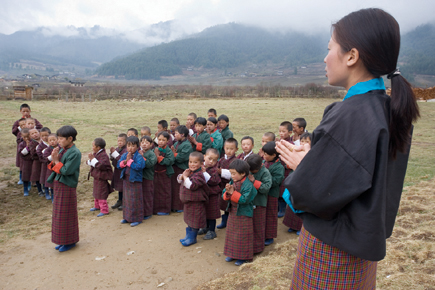 8. Monks dashing off to have lunch at the Punakha Dzong. As in all the temples in Bhutan, photographs are not allowed inside. So you need to look for photo opportunities outside the temples. In this scene, the monks had just been given a "take-out" lunch of rice and were dashing off to their living quarters to eat.

I always try to be prepared for unexpected photo opportunities. Technically, one way to be prepared is to have two camera bodies handy: one with a wide angle zoom and one with a telephoto zoom. Psychologically, you need to constantly be looking for picture opportunities.
9. Monk magic, Nyingmapa (Old Sect) Monastery, Black Mountains. One of the methods I use to get people to like or accept me before I start taking pictures is to do magic tricks. Here I am doing a simple coin trick. Check out the monks' faces. They are all intently looking at me--and really enjoying the moment, as was I. Now that's real magic!

If you ask a stranger to get a shot that includes you in the scene make it simple--set your camera on Program and make it a push button affair. Go for the fun shot, for once.
Bhutan Travel Tips
Planning a trip to Bhutan? Here are some helpful hints:
· Schedule your trip to include a festival. For a list of festivals, see www.tourism.gov.bt.
· Work with an established travel agent, and know that you can't travel in Bhutan without a guide (which is a good thing).
· Don't expect gourmet food at each hotel.
· Get in good shape if you want to hike to Tiger's Nest Temple. Wear broken-in hiking boots for the hike to 10,000 ft.
· Know that the Bhutan experience is worth the two-day trip (from New York). While overnight in Bangkok, try to get adjusted to the time difference.
· Tipping is not expected.
· Good luck finding a high-speed Internet connection.
· Bring earplugs or your iPod to block out the sound of the barking dogs at night. (Packs of a dozen or more wild dogs roam the streets at night and bark at spirits, or so the story goes.)
· Plan to enjoy the long car/van rides over the winding mountainous roads, which can take an entire day.
· Be prepared for the most exciting landing and take off you have ever done on an Airbus in Paro. If it's foggy on your day of departure, your actual day of departure could be the next day or the day after. This is good to know when making connecting flights.

For tour information, contact Bhutan Travel, PO Box 757, Baldwin NY 11510; (800) 950-9908, (516) 378-3805; www.bhutantravel.com.

LATEST VIDEO