PMA Show Reports; Tripods, Monopods, And Heads; This Year The Focus Is On Travel-Worthy Support Page 2
Feisol USA specializes in carbon-fiber support systems. Their latest product is the large four-section tripod CT-3472LV with leveling center column ($598). With the center column fully extended, the tripod reaches nearly 72", folding down to just over 23". The tripod features an anti-rotating system for fast set up, an interchangeable standard base plate, and preset leg angles at 25, 50, and 75?. A minimum ground-hugging height of 3.5" lets you get close.
Feisol USA CT-3472LV Tripod
Sunpak (ToCAD America) announced the new carbon-fiber 423PX2 tripod with a compact pistol grip ball head. The advantage to a pistol grip head is speed, since a single squeeze-trigger release/lock mechanism is required to position the camera as needed. This pistol grip ball head is made of lightweight aluminum and magnesium, featuring a built-in bubble level and rubber-gripping surface.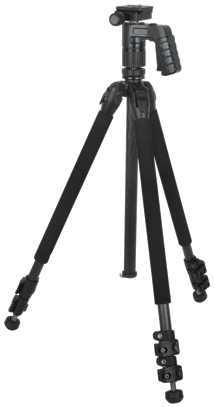 The tripod itself is lightweight and rigid, owing to seven-layer carbon-fiber leg-tube construction. The magnesium chassis incorporates three-position leg angle settings, a spirit level, and a center column tensioning adjustment. In addition, the 423PX2 comes with neoprene leg wraps, tension-adjustable flip-lever leg locks, a second short, anti-rotation carbon-fiber center column for low angle photography, removable auto-retract center column accessory hook, and oversized rubber feet with retractable leg spikes. This three-leg-section tripod supports up to 5.3 lbs, weighs 3.4 lbs, extends to 63", and folds down to just under 26".

The new 4-lb Sunpak 6600PG is a full-sized aluminum tripod, also with a pistol grip ball head ($69 street). For those of you who also like to have a monopod handy, Sunpak introduced the Ultra 63 tri-monopod, which gives you the option of either support. This combo-pod comes with an all-metal pan head with quick-release plate and retractable spikes. The monopod center section includes a fast-deployment five-section leg assembly with twist-lock leg sections. Maximum height is 63"/65.5" (tripod/monopod), at just over 4 lbs.
Tamrac gets points for introducing us to a very clever little folding tripod, the ZipShot, which literally springs to life practically with the snap of a wrist. The 11-oz ZipShot folds down to 15" and opens up to 44". Aluminum tubing encases a bungee cord in each leg, allowing the legs to fold up quickly and snap open and lock in place. There is no center column, so the maximum height is really as big as it gets, but the tripod is topped off with a ball head, albeit a small one that will support a load up to 3 lbs, sufficient for a compact D-SLR with lightweight lens. Elastic ties secure the folded legs and can also be used to latch the tripod to a camera bag handle.
Vanguard focused considerable attention on their new top-of-the-line ABH series semi-elliptical ball heads that automatically adjust and increase tension to handle an off-center load. Key features include Vanguard's patented Combination-Friction Forces Control (CFFC), which enables extreme tension and friction control via an ergonomic grooved dial located on the main adjustment knob, and Stability X3 system that carries a load stated to be three times greater than that of other ball heads. The anodized head is scratch-resistant and comes with a quick-release plate with anti-slip rubber pads, with a scaled base for 360? panoramic movement. What's more, it is compatible with numerous Arca quick-release plates without an adapter. Also new: the Espod Plus aluminum tripod, which features adjustment to 25, 50, and 80? leg angle positions. The center column is reversible for macro photography. The tripod comes with a three-way pan head, an anti-shock ring to prevent vibration damage, and quick-flip leg locks.
Vanguard ABH-340L Ball Head
My favorite new product in this category is the Giottos (HP Marketing Corp.) VGR series of tripods. These are folding tripods with built-in monopod conversion. The Giottos VGR tripods each come with a ball head and are made from magnesium and aluminum alloys. They feature Giottos' speedy dustproof locking system; all leg locks on a leg can be loosened at the same time with one hand with just a 1⁄8 turn. The legs also provide independent, three-position, quick-release angle adjustment. The removable center column, when attached to one of the legs, forms a full-sized monopod. Collapsing each tripod involves folding the legs up around the included ball head for a very compact arrangement eminently suited to travel, folding down to as little as 14" (collapsed size varies with model). Giottos also announced specially packaged Classic aluminum tripods bundled with selected ball or pan heads. See your dealer for details.
Giottos VGR Tripod Series
Manufacturers/Distributors' website addresses can be found by visiting the Instant Links section of our website at: www.shutterbug.com/currentissuelinks/.

LATEST VIDEO