PMA Show Reports; Gadgets & Accessories; The "Other" Stuff We All Love Page 3
OmegaBrandess has an interesting flip-back angle viewfinder with a mirror for 3" LCDs with two pivot points that allow you to view the LCD image reflected from above or beside the camera. It lists for $20. The Z-Finder mounts on your camera's LCD to provide covered sides for easier viewing in bright light and has a large Schneider Optics lens for magnified viewing of the LCD screen. The MSRP is $395.
OP/TECH USA has introduced the Work Mat portable work surface. Its antistatic, waffle pattern is neutral gray in color to help keep small items visible, and it rolls up into a convenient pouch for storage. Three sizes range from 16x24" up to 24x42" and the MSRP starts at $11. They also have a leather media card carrier that easily attaches to a camera neck strap and lists for $10. Their Dual Harness consists of a padded section for behind the neck and a removable chest strap for extra support and stability. Two straps extend from the bottom of the shoulder pad to securely carry two cameras or binoculars. Fully compatible with their system connectors, the interchangeable design lets the user convert from a dual to single sling system or rapidly move a camera to another type of OP/TECH USA strap.
Pandigital has several models of moderately priced scanners that permit the user to easily scan prints onto either an SD memory card or directly to a PC. They are said to work right out of the box without the need to install software. The PhotoLink One-Touch 5x7 Scanner includes a USB cable and a 1GB memory card for $119. It weighs 1 lb and measures 7.5x1.75x3". The PhotoLink Personal Photo Scanner accommodates both 35mm color slides and negatives or 4x6" or smaller prints. Prints scan at 300dpi while slides and negatives have a resolution of 1200dpi. There is a color balancing and film-type detection that lets users choose optimum image quality. The MSRP is $129. If you want to scan larger prints, the Personal Photo Scanner/Converter accepts prints from wallet size up to 8.5x11" and lists for $149.
Promark's Cool-Lux Mini Combo hot light kit is designed for use with D-SLR cameras in Video mode operation and camcorders. A compact quartz halogen 100w lamp is inside a metal housing but offers a variety of light intensities. It can be used straight or directed up to bounce off a diffusion reflector. Several different reflector modifiers are included as is a filter to convert the tungsten-balanced light to 5600?K. A rechargeable lead acid battery will operate it for 20 minutes. A dual camera bracket has one shoe for the light plus another at the side for an external microphone. The MSRP is $400.
Schneider Optics' 4x5.6" "P size" rectangular glass, graduated ND filter ranges in density from clear to two stops ND. It fits Lee brand adapters and will list for $349. They have a kit of 4x4" glass filters that are designed for motion picture applications but are also being used by pro photographers. It consists of a solid 0.6 ND, 0.6 graduated ND, polarizer, and diffuser. It comes in a carrying pouch and sells for $699.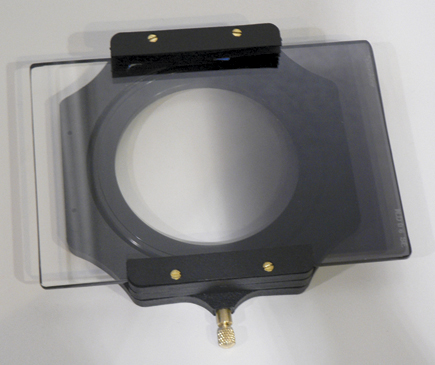 Schneider Optics "P size" Rectangular ND Filter
SkyTop Trading offers handcrafted custom leather cases for many models of D-SLR cameras. The "Newspaper Rock" models are tough, durable cases that have a harness leather exterior with a glove-soft leather liner. They can be used with or without the snap-off top flap, worn as a shoulder case, cross-body, or around your waist on a belt. They are available in saddle brown or black. An eight-part camera holster system has an MSRP of $160.
Think Tank Photo's Hydrophobia 70-200 is a water-resistant, seam-sealed rain cover for cameras using 70-200mm and smaller lenses. Features include side arm holes for focusing and accessing controls, allowing the SLR to be turned vertically. You can change memory cards or batteries without having to take off the rain cover. You can either carry your camera attached to its neck strap, or via a strap attached to the rain cover. A clear window lets you see the LCD and camera controls and there is a fabric cover over the end of the lens. The MSRP is $139. A flash version includes a transparent pouch on the top to protect a shoe-mounted flash unit. It has an MSRP of $145.
Think Tank Photo Hydrophobia 70-200
Think Tank Photo Hydrophobia Flash 70-200
THK Photo Products' Hoya HRT (High Resolution Transparency) is a UV absorbing, circular polarizing, screw-in glass filter. The extra thin optical construction does not absorb as much light as conventional polarizers, resulting in a half stop less light loss. Available in thread mounts ranging from 49-80mm, the MSRP starts at $80. THK also offers the SLIK Compact II tripod that closes down to less than 14.2" yet extends up to about 39" with the center column up. A quick-release lever lock speeds up adjusting the leg segments and it has a tilt top. The MSRP is $39. For tabletop situations there is the SLIK Mini II that lists for $29.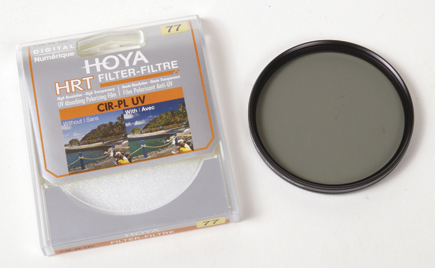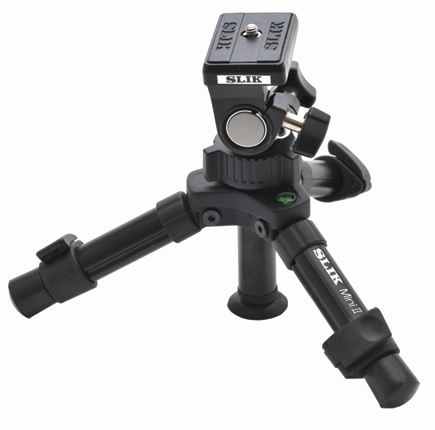 Batteries And Chargers
GN Batteries & Electronics' Eni Time Plus line of pre-charged 2500 mAh rechargeable Ni-MH AA batteries are said to have the highest capacity of this type of battery. A four pack sells for $20.

HP Marketing Corp.'s Ansmann line offers the Powerline 4 Zero Charger that automatically turns off after it's fully charged and has different plugs so it's compatible worldwide with different types of power source outlets. The Ansmann Accu-Battery Rechargeable comes pre-charged with 2500 mAh that is said to hold the initial charge for a year. The Ansmann Digicharger Vario has user-adjustable contacts so it can be set to charge virtually any camera lithium cell requiring 3.6 or 7.2 volts, plus AA and AAA batteries. It has an MSRP of $46. The Ansmann all-in-one universal plug adapter sells for $25.

ToCAD America Inc. has new solar-powered chargers. The Sunpak 800 is an ultra-thin compact charger for batteries, cell phones, and USB devices that costs $30. The Sunpak SC-2AA is a solar charger for two AA-sized batteries or USB-powered devices that sells for $20.
Manufacturers/Distributors' website addresses can be found by visiting the Instant Links section of our website at: www.shutterbug.com/currentissuelinks/.

FEATURED VIDEO