PMA Show Reports; Gadgets & Accessories; The "Other" Stuff We All Love Page 2
Ewa-marine (distributed by RTS) has a new SplashiX underwater housing for compact digital cameras that has an optical glass lens over the camera lens. The MSRP is $69.
HP Marketing Corp.'s Novoflex line of lens adapters has a new model, which allows you to use Nikkor lenses on Canon and Samsung D-SLR cameras.
Industrial Revolution UltraClamp 2.5
Industrial Revolution is the manufacturer of innovative lightweight UltraPod camera supports. New is the larger jaw UltraClamp 2.5 with a "C" clamp-like opening that can be securely attached to flat objects or trees from 1" up to 2.5" thick and has a 1⁄4-20" stud thread onto which a ball socket can be attached. The MSRP is $30. A bit larger version of their quick-release mounting system for use with larger cameras is now available.
Industrial Revolution UltraPod Quick-Release Mounting System
The latest innovation from Joby is the Gorillapod Magnetic. The small, lightweight tripod with fully-articulating legs can be easily wrapped around most any tubular item. It has super-strong magnets in the feet allowing you to securely attach it to any metallic surface such as a refrigerator, car hood, or lamppost. A slim-line quick-release clip stays on your camera then instantly snaps into the Gorillapod for instant setup. This 1.6 oz tripod will hold compact cameras or mini video cameras weighing up to 11.5 oz. The MSRP is $24.95. The Joby Ballhead X for the Gorillapod Focus is precision-machined from anodized aluminum, has an all-black finish, a universal mounting plate that stays connected to the camera, can accommodate both 1⁄4" and 3⁄8" threads, and will support professional SLR cameras weighing up to 11 lbs. It has full 360? panning and 90? tilt. The MSRP is $69.95.
Lensbaby has made some significant additions to their line of interesting interchangeable focus plane-altering lenses for SLR cameras. The Composer lens, which lists for $270, has a ball-and-socket configuration designed for smooth and very selective focus shifting (somewhat akin to a tilt and shift lens, but to a greater degree of tilting) for exceptionally creative special effects. Simply loosen the outer ring, tilt the lens until the desired effect is visible in the viewfinder or LCD, then tighten to lock in this effect so multiple images can be easily made. In addition, new Optic Swap components are available, including a 12mm fisheye ($150) and a 50mm soft focus lens ($90).
Lensbaby Composer Lens And Optics
LensPen has added some new models to their extensive line of products designed to clean lenses, CCD sensors, and monitor screens. The new FilterKlear pen has a flat tip formulated specifically for cleaning flat optical filters and costs $14.95. The LensPen SensorKlear Loupe cleaning components are now available in a kit that lists for $99.95.
LensPen SensorKlear Loupe Kit
Olympus' PT-EP01 underwater housing for their new E-PL1 Pen camera can be used down to depths of 130 feet, has a one-twist locking mechanism, and accepts a range of interchangeable lenses. The PT-048 underwater housing is intended for use with the Olympus Stylus Tough 8010 and 6020 digital cameras. These durable polycarbonate housings are customized to permit full control of all camera functions, including both zoom and flash modes. Colorful float cases and straps are buoyant and attach securely to their waterproof cameras so the cameras won't sink in water.
Olympus PT-EP01 Underwater Housing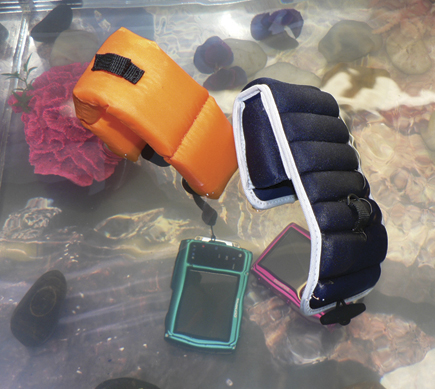 Olympus Floating Straps/Cases

FEATURED VIDEO