PMA 08; Weird & Wonderful Page 2
About the size of a deck of cards, the Photo Finder runs on two AAA batteries and is said to be compatible with most digital cameras on the market. The data it records can be read by software packages such as Google's Picasa 2 and Google Earth. The Photo Finder has a margin of error of about 10m (33 ft) and comes with 128MB of flash memory, providing sufficient capacity for 550 hours of tracking. A pair of alkaline AAAs is claimed to provide about eight hours of run-time. The company positions the Photo Finder as a "portable photo organization device," but it has many other uses such as tracking your trips and sharing location-based images. It's just the latest example of creative uses of GPS tracking data, and the company speculates, "photo-enabled GPS navigation may be just around the corner." MSRP: $99.99.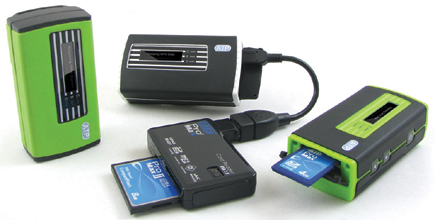 Tiffen's Digital HT Multi-Coated Filters
Claimed to be the first multi-coated filters that are scratch-resistant and easy to clean without destroying the coating, Tiffen's new line of HT (High Transmission) multi-coated filters feature Hi-Trans double-sided, titanium-oxide multi-coatings. Based on independent abrasion, adhesion, and humidity tests conducted at RIT, the new filters surpass military specifications for hardness, durability, and humidity resistance. Other distinctive features include a low profile titanium-finish ring and anti-reflective black locking ring. The Tiffen HT filter range includes the Digital Ultra Clear; Haze 86 (which absorbs 86 percent of UV light); Circular Polarizer; 812 Warming Filter; ND 0.6 and 1.2; Soft/FX 3; Star 4 Point 2; and Color-Grad ND 0.6 in sizes from 52-82mm. Each comes in a soft pouch and carries a 10-year warranty. MSRP: Varies with size and type.
Up, Up, And Blast Dust Away!
From HP Marketing, the Giottos 7.5" Rocket Air Blaster looks like a Space Age version of the classic ear syringe blower, and it is! Made from an environmentally friendly nontoxic silica gel, the rocket-shaped blower has an air intake valve on the bottom that prevents dust from being sucked back inside where it can wind up being deposited back on lenses and other delicate equipment with your next blast. It provides a powerful stream of air by simply squeezing the bulb (no batteries required), its nozzle is removable, and (if you're prepared to put up with stares from curious onlookers) it's designed to be hung by a neck strap. MSRP: $15.50.
Giottos 7.5" Rocket Air Blaster
Fuji's Back-To-The-Future Folding Camera
Fujifilm, no stranger to folding rollfilm cameras, displayed this enticingly retro prototype under glass in the film area (where else?) of their big booth, where it garnered a fair amount of attention from salivating medium format film fans. The unnamed handmade prototype is a classic 6x7cm folding 120/220 rollfilm camera with a coupled rangefinder, sporting a semi-wide angle 80mm f/3.5 Fujinon lens in a double helical focusing mount. Other features include an electronic inter-lens leaf shutter, and a built-in metering system with Aperture Priority and Manual modes. Judging by the frosted area around the rangefinder window, it evidently has true projected parallax-compensating viewfinder frame lines just like the late great Fuji GA645, now a prized collector's item. Will it ever be made? That probably depends on how many enthusiasts will be willing to shell out a pretty penny for something truly unique.
Fuji's folding rollfilm camera

LATEST VIDEO

SPONSORED VIDEO