PMA 08; Software Page 2
Another improvement in the latest version is its new user interface, which groups commonly used tools and effects into four categories (light, color, geometry, and detail). The redesign really considers a photographer's workflow and groups functions in a way that makes sense.

As I teach workshops, I recognize that not everyone wants to invest and learn Photoshop. Though it may be the de facto standard for many photographers, there are many who really want to spend their time improving their images rather than learning the intricacies of a software application. ArcSoft's PhotoStudio Darkroom 1.5 provides the essential tools and features needed for a person passionate about photography who doesn't want to be burdened with a steep learning curve. The first thing I noticed when opening the application is that the desktop is well organized and clean. But while looking "simple," underneath the hood was a nondestructive image editor that not only allows you to work with raw files without quality loss, but also JPEGs and TIFFs. It's great to see an affordable application that makes the process of working with digital images easy and fast.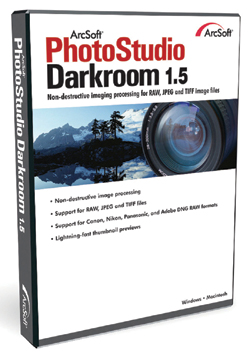 Published photo books have increasingly found favor among photographers as a means for sharing photographs. A lot of local and online labs provide the means to collect and publish your images in a bound book. However, many of them require that you use online software that limits you to fixed templates and designs.
PXL Soft's Dg Foto Art Gold offers you the ability to create your pages using user-customizable templates, which you can output to your own inkjet printer or through a commercial lab. The ability to easily personalize the look of your images makes the process of making your own photo book as fun as making the images themselves. The same goes for Digilabs with their My Photo Books software. You download the software from their website and you're ready to go. Whether it comes to swapping photos or making adjustments to framing, color, or size, these software packages are very responsive and speedy.

LATEST VIDEO

SPONSORED VIDEO