PMA 08; Hot New Digicams Page 3
Super-Zoom Cameras
Very popular among families with children who participate in sports events, the super-zoom digicams incorporate a 12x or longer zoom. Billed as the world's smallest 12x zoom camera, Fujifilm's (10MP) FinePix S1000fd ($249 MSRP) is equipped with a 1/2.3" CCD, non-stabilized 33-396mm lens, electronic viewfinder, and 2.7" LCD. This very portable (11.5 oz) digicam includes SLR Style modes, a new Panoramic option with automatic stitching of three photos, and a remarkably effective Face Detection system with automatic redeye elimination.
Olympus attracted a lot of attention with their (10MP) SP-570 UZ, the first digicam with a 20x zoom, a stabilized 26-520mm lens. This digicam ($499 MSRP) with a 1/2.33" CCD and SLR-type features includes an electronic viewfinder, 2.7" LCD, and powerful built-in flash. Add the optional TCON-17 tele-converter and CLA-10 Conversion Lens Adapter and the lens extends to a full 880mm focal length. Extras include manual focus, AF with Face Detect and Continuous Tracking modes, a Shadow Adjustment Capture mode plus a hot shoe for an optional FL-R flash unit.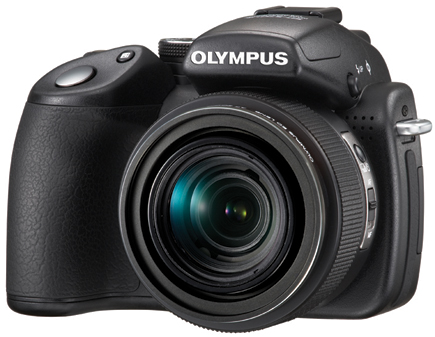 Panasonic's (9MP) Lumix DMC-TZ5 incorporates a 28-280mm stabilized Leica DC zoom, 1/2.33" CCD, and 3" (460,000 dot) LCD but no viewfinder. It's packed with new technology such as the Intelligent Exposure mode discussed earlier. Other items include an Intelligent LCD function (for automatic brightness level adjustment in a full 11 steps), a more sophisticated Intelligent Scene Detection mode (that sets the appropriate Program), and automatic redeye correction in Face Detect Capture mode. Continuous AF has also been added, which is great for moving subjects, especially with the motion detect feature that can automatically set a suitably fast shutter speed. This family-oriented camera ($349 MSRP) performed exceptionally well during preliminary testing in Nevada.
Waterproof Cameras
Most digicams are easily damaged by water, making it risky to use them in the rain and snow or at the beach or swimming pool. But some of the new cameras are a lot more rugged, especially the (10MP) Olympus Stylus 1030 SW with a 1/2.33" CCD, 28-102mm zoom ($399 MSRP), and 2.7" LCD. Displayed in a solid block of ice and a deep tank of water, this digicam's stainless steel body is waterproof (down to 33 ft), but also shockproof (resisting a 6.6-foot drop), freezeproof (to 14°F), and crushproof (resisting up to 220 lbs). The (8MP) Stylus 850 SW with a 1/2.35" sensor, metal body, 38-114mm zoom, and 2.5" LCD is almost as rugged. This affordable model ($299 MSRP) is also waterproof (to 10 ft), shockproof (to 5 ft), and freezeproof.
Both of these family-oriented Olympus SW models include Face Detection and Shadow Adjustment Technology (for lightening dark areas) provided by the TruePic III image processor. They also include the really great In-Camera Panorama mode, allowing for 10 images to be automatically stitched together, and not merely a few photos as with many other brands. This panoramic feature does require an Olympus brand xD-Picture Card, available in capacities to 2GB.

Manufacturers/ Distributors

FEATURED VIDEO