Picture This!
Color In Black And White Page 2
Doge's Palace: Photographer Lorraine DarConte wrote, "The image was photographed in Venice, Italy, during Carnivale--a very colorful event. However, miserable weather all week rendered most everything gray." DarConte worked with a Canon EOS Elan with 28-80mm lens on Fujichrome 400 film.
© 2003, Lorraine A. DarConte, All Rights Reserved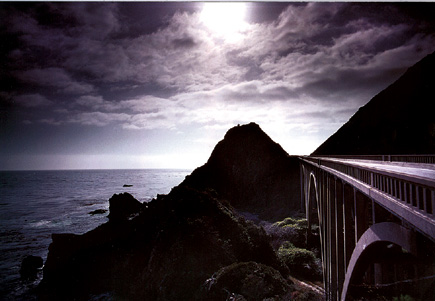 Big Creek Bridge: Jack Davis sent us this study where only a touch of green comes through of this bridge in Big Sur, California. He worked with a Pentax LX and Pentax-A 20mm f/2.8 lens on Kodak Lumiere 100 slide film. He used a Cokin G2 graduated gray filter to help control the sky values.
© 2003, Jack Davis, All Rights Reserved
Ocean Reflections: Davor Gornik wrote, "When I saw this alignment of beach sand, sun, waves, and the late afternoon haze I knew I had to take a picture. I did not have any idea of what the results would be because of the extreme contrasts. Now, an 18x24" print hangs in my living room." Gornik used a Nikon F60 and Sigma 70-300mm lens on Fuji Reala 100 film and exposed the shot at 1/2000 sec at f/16.
© 2003, Davor Gornik, M.D., All Rights Reserved
Picture This -- Our Next Assignment

Directional Light
As the sun sets the light rakes across the horizon, making it the "golden hour" to make photographs that would look entirely different in the middle of the day. Waiting for directional light, and following it into the subject, can reap great rewards. This cruise ship pulling out of Port Canaveral, a few miles from Shutterbug world headquarters, seems to glow with promise as it makes its way out of port.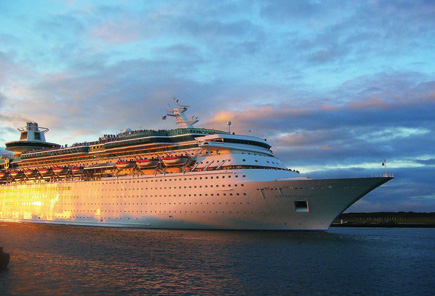 © 2003, George Schaub, All Rights Reserved

Please Read This:
It is important that you read and follow these guidelines.
We need to follow this procedure because of the large volume of images we receive.

1) Images sent to us cannot be returned. You retain complete copyright over the images, but do grant us permission to print your image(s) in the magazine and on our website, www.shutterbug.com.
2) Because images are not returned please send a quality print or duplicate transparency. We will not accept or view images on CD, ZIP, or any other electronic media.
3) Images will be selected on the basis of content and technical quality. Please mark your outer envelope with the topic of the month (for example, "Wide View").
4) Enclose a short caption with the image stating camera, lens, film and exposure, plus location. If you are submitting an image with a recognizable person we must have a model release or signed permission from that person to reproduce their image in the magazine and on the website.

Send your image and information to:
Picture This! Shutterbug Magazine, 1419 Chaffee Dr., Suite #1, Titusville, FL 32780.
Deadline for submission: December 15, 2004 Images will appear in our March 2005 issue.
Our next topic: Made In The Shade Deadline: January 15, 2005 Publication Date: April, 2005

LATEST VIDEO

SPONSORED VIDEO
Testing Tamron's SP 150-60mm G2 lens while capturing birds and alligators in Apalachicola, Florida.