Photoshop Actions; Add Effects With A Mouse Click Page 2
Craig's Actions (www.craigsactions.com) is a collection of imaging and productivity tools that also includes a custom palette, interactive assistance, and video tutorials. The Actions Toolkit includes production tools such as Color Genie, Blemish Buster, Shadow Fill, Light Brush, and more than 80 practical actions for correcting and improving an image's look. For the working photographer these actions provide lots of marketable styles that will be useful for wedding and high school senior photography. For the professional portrait shooter Craig's Image Styling Actions such as the simple (Cross Pop and Cross Punch) and more complex (Vintage Spot Color, Craig's Art) should produce salable images. Some of Craig Minielly's actions are highly stylized (Film Art 300, Retro Art Nautica, Dramatic Moods, Holga) while others are meant for everyday use (ShadowSoft, BW Series). His Studio Workflows will not only enhance client options but work from Adobe's Lightroom as a Lightroom Export Preset.
The original color photograph was captured with a Canon EOS-1D Mark II with an exposure of 1⁄25 sec at f/5.6 and ISO 800. Craig's ShadowSoft - Sepia Action was first applied to the photo. This action allows you to "paint back" part of the effect using a black brush (the action selects it for you) and I used it to clear the area around the Indian motorcycle's name and logo. Then I applied Craig's Vignetter Strong to give the final nostalgic look.
© 2005, Joe Farace, All Rights Reserved
iDC Photography's (www.idcphotography.com) Textures with Actions Volume 1 includes 16 textures that can be used to add surface effects to your photographs, producing a layered image file for flexibility and further processing. Also included in the package are a set of workflow actions called Hollywood Glam, Silent Movie B&W, ShowBiz Snap, Faded Technicolor, Colortone, and Uninhibited Resize. Like all actions, you can mix and match these effects.
The original unretouched studio portrait was captured with a Canon EOS Digital Rebel XTi with an exposure of 1⁄60 sec at f/10 and ISO 100. I began the retouching process using iDC Photography's Hollywood Glam Action, using a black brush to allow details in Nicole's eyes and mouth to shine through the retouching layer, then lowered the layer opacity to 80 percent. Then I flattened the image and applied the Bleached Blues Textures Action using brushes of varying opacity to allow the portrait (background) layer to show through the texture layer.
© 2008, Joe Farace, All Rights Reserved
Kubota Image Tools' (www.kubotaimagetools.com) latest update to its line of image-enhancing software tools is called Action Dashboard and is powered by onOne Software's PhotoTools, creating a quick-launch interface for more than 280 actions, including Kubota Artistic Tools V1, V2, V3, and the recently-released V4. Kevin Kubota's fourth set of Artistic Tools contains more than 40 new actions and the Action Dashboard tool. This new volume contains a variety of color enhancing, enriching, and "beautifying" actions for Photoshop CS2 or later, including the three-dimensional "Enter the Dragon" to the rich, cinematic palette of "300esque," as well as cool new interactive black-and-white converters.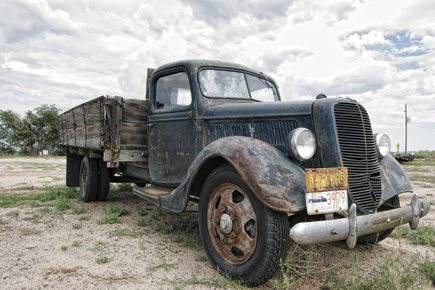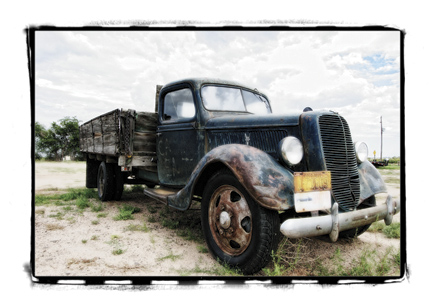 The original unretouched photograph of this vintage truck was captured with a Canon EOS 20D with an exposure of 1/250 sec at f/11 and ISO 400 and was lightly tweaked in Photoshop. Then Kubota's LOTR Return of the King Action from Kubota Artistic Tools V2 was added, followed by one of his Sloppy Border Actions to add the finishing touch.
© 2005, Joe Farace, All Rights Reserved
Panos Efstathiadis (www.panosfx.com) is a Greek graphic artist/designer who has created a series of framing and presentation actions. Some, like those listed under PS Freebies and PSE Freebies, are free but the rest are modestly priced. The Club Room on his website contains a number of advanced actions that are free to registered users but it doesn't cost anything to register. While at his site check out the Forum and the many different Photoshop tutorials you'll find. If you like Panos's Actions as much as I do, you can get the full arsenal containing all PanosFX products for about $90 as I write this.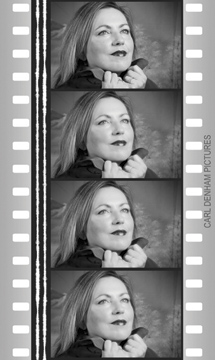 The original photo of Mary giving me her best Greer Garson Mrs. Miniver imitation was captured in Monochrome mode with a Canon EOS 20D with an exposure of 1⁄60 sec at f/13 and ISO 100. I first applied Kubota's Angle Glow Action from Kubota Artistic Tools V2 to give it a little Hollywood soft focus before running PanosFX's Movie Film Action that he specially created for me but is available free to everyone and can found be in his Club Room. The effect is similar to his four-image vertical filmstrip action and uses four landscape photos to create a movie-camera filmstrip. On the left film edge the script creates a sound waveforms stripe. This is basically a one-click effect but if you can, add text on the film frames, as I have here, using another action that's part of the set.
© 2005, Joe Farace, All Rights Reserved
The trick is not to blindly accumulate actions but to explore and test while looking for ones that fit the way you work. If you uncover an action you don't use anymore, store it in an "Inactive Actions" folder or dump it in the trash can or recycling bin.

Keep in mind that the products featured are not the only commercial or even freeware/shareware actions that are available. I could spend the rest of my life exploring the number of freeware/shareware actions that abound on Internet sites. The commercial actions and collections of actions appearing here are ones that I am familiar with and that I've tried and liked. I'm guessing you will, too, but will keep searching for new and exciting ones. For me, exploring the capabilities of actions is a work in progress.
If you'd like to try out the action Joe creates in this article, go to the Instant Links section on the "Shutterbug" website for this month's issue and download Joe's.atn—Editor

LATEST VIDEO