photokina Special Coverage; New Lenses For 35mm And Digital SLR Cameras: The D-SLR Lens Ship Comes In Page 3
"Standard" Zooms For D-SLRs
Although most D-SLR cameras are available in a kit with a very small, lightweight, inexpensive small aperture zoom, most manufacturers are marketing alternatives that appeal to the more serious photographer. Often, these feature much wider maximum apertures, more rugged build, and optical formulas with high-tech glass elements for greater edge sharpness at all apertures. A perfect example is the Tokina AT-X 16-50mm f/2.8 DX model shown in prototype form at photokina; this lens should be available by mid-2007. It will be large (77mm) and hefty (roughly 21 oz) due to the wide diameter elements and the use of 15 pieces of glass but should provide fine performance with two aspherical and one SD (Super-Low Dispersion) element. (To be available in Canon and Nikon mount; price not yet set.)

The new digital-only Sigma 18-50mm f/2.8 EX DC Macro lens ($649, list) is relatively compact (72mm filter size) but a bit heavy (18.5 oz) and boasts a minimum focus distance of 7.9" for a maximum magnification of 0.33x. A premium-grade zoom, it features aspherical elements as well as SLD (Special Low Dispersion) and ELD (Extraordinary Low Dispersion) glass to correct distortion, vignetting, and aberrations. Other features include a super multilayered lens coating and an inner focusing system that eliminates front lens rotation for greater convenience when using a polarizing filter. (Available mounts: Canon, Four Thirds, Nikon, Pentax, Sigma, and Sony/Maxxum.)
Sigma 18-50mm f/2.8 EX DC
While it is the kit lens for the D80, Nikon has decided to sell the digital-only AF-S DX Zoom-Nikkor 18-135mm f/3.5-5.6G ED-IF zoom as a separate item, great for anyone who owns or will buy any Nikon (or Fuji) D-SLR. This moderately priced ($399, list) zoom features one piece of ED glass plus two aspherical elements, internal focusing, multilayered coating, and a Silent Wave focus motor for high-speed autofocus as well as full-time manual focus override. In preliminary testing with the D80, the 18-135mm lens produced excellent image quality, making it a fine choice as a "standard" zoom even for owners of high-end cameras such as the D200.
Nikon 18-135mm f/3.5-5.6G
Telephoto Lenses
After a flurry of activity in designing and manufacturing ultra-wide lenses for D-SLR owners, this trend seems to have slowed. Now, we're seeing more new telephotos again, such as the multi-platform AF-S VR Zoom-Nikkor 70-300mm f/4.5-5.6G ED-IF with a fast Silent Wave (ultrasonic) focus motor. Quite compact (67mm filter size) and not overly heavy (1.6 lbs), this zoom is equipped with the latest VRII Image Stabilizer that enables users to take sharp handheld pictures at slower shutter speeds, approximately four stops slower, than would otherwise be possible. Two VR modes are available: Normal for static subjects or when panning with motion and Active that compensates for severe vibration. Extensive multilayered coating, two ED glass elements, and internal focusing should allow this relatively affordable lens ($699, list) to provide great performance.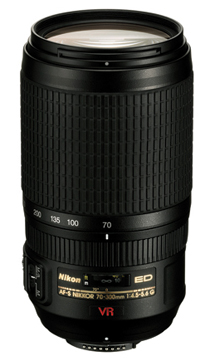 Nikon 70-300mm f/4.5-5.6G zoom
Not nearly as long, but slightly heavier (29.8 oz) the new digital-only Tokina AT-X 50-135mm f/2.8 DX will be more expensive (price not yet set) because it is a pro-grade lens with a very wide maximum aperture that requires wide diameter optical elements. As you would expect from an AT-X lens, this one features SD (Super-Low Dispersion) glass lens elements to correct for chromatic aberrations, focusing all colors of light accurately at the film or sensor plane. According to Tokina, that level of correction qualifies this zoom as an APO (Apochromatic) lens. Other features include a tripod-mounting collar, a new coating on the front element that resists water spots and fingerprints, and a one-touch focus clutch mechanism for fast switching between AF and Manual Focus modes. (Available mounts: Canon and Nikon AF.)

Special Lens Types
The digital-only Tokina AT-X 10-17mm f/3.5-4.5 DX ($1060, list) is a full-frame fisheye lens that provides an incredibly wide 180Þ field of view with curvature of field. The rear optical group contains a piece of SD (Super-Low Dispersion) glass for fine image quality. Note, too, that the front element has a newly formulated optical coating that allows for easier removal of spots left by water or fingerprints. (Available in Canon and Nikon AF mount; does not accept filters.)

Billed as a "pancake-style" lens, the digital-only Pentax 70mm f/2.4 Limited is indeed ultra-thin (1") but it's definitely a high-grade model; the barrel, hood, and cap are all made of a high-grade aluminum material. In addition to multilayered coatings, the front element is coated with a special fluorine compound to repel dust, water, and grease, making it easy to wipe off fingerprints and cosmetics. According to Pentax, "this lens produces smooth, natural skin tones and beautiful out-of-focus backgrounds at open aperture in portrait applications, while assuring crisp, high-contrast images at smaller apertures." A Quick-Shift Focus System is available for instant switching to manual focus after AF confirmation, allowing for quick focus touch-ups. (List price: $599.)
Pentax 70mm f/2.4 Limited

LATEST VIDEO

SPONSORED VIDEO
Testing Tamron's SP 150-60mm G2 lens while capturing birds and alligators in Apalachicola, Florida.