The Photography Of Robert Leon; A Passion For People Page 2
These days, Leon calls the shots. He chooses a place he'd like to visit, then contacts editors and/or clients to see if they need images or stories from that locale. "It works out really well," Leon says. "I can work on my projects and work for clients simultaneously. When I travel, sometimes I don't have any plans, while other times I have very detailed itineraries. I go and see what happens; and I have my camera with me to capture those moments."
Essential Equipment
"I'm shooting a lot of digital now except if I go to a place where there is no electricity or Internet café," Leon says. He only brings the essential gear he'll need so he can better concentrate on the situation at hand. "I don't let equipment change the way I photograph something. I don't need a lot of camera gear because the subject/location/story is what's interesting, and I like to show it as it is."

Leon carries a Lowepro Orion AW camera backpack with a small tripod strapped underneath. He has a Nikon F3HP and a Nikomat FTN, "which I love because I can shoot in very difficult conditions without batteries. I always shoot manual exposure/focus with my Nikons. I've never had a problem in hot deserts or humid jungles. While on assignment for an Italian magazine in Istanbul, Turkey, I shot in a hamam (steam bath) with my Nikon F3. Even totally drenched in moisture it worked!"

Leon also owns a bevy of lenses, including a Nikkor 20mm, Nikkor 24mm, Nikkor 35mm f/2, Nikkor 50mm, Nikkor 105mm Micro, and an Angenieux 180mm f/2.3. "I very rarely use the Nikkor 300mm f/2.8 because it's too big and I like to be close to the people I photograph. I usually use 24mm, 35mm, and 50mm." Leon also uses a Minolta Spotmeter F light meter and Minolta III Color Temperature Meter. When shooting film, he prefers Fujichrome Velvia, Fujichrome Provia 100F, Fujichrome Provia 400, Astia 100, Kodak Tri-X, Kodak Plus-X, and Ilford XP2.

When shooting digitally, Leon uses his Canon EOS-1Ds Mark II and Canon EOS 20D. His lenses include a Canon EF 20mm f/2.8 USM, Canon EF 24-105mm f/4L IS USM, Canon EF 35mm f/1.4L USM, Canon EF 135mm f/2L USM, and Canon Extender EF 2x II. He also uses a Canon 580EX flash. "I shoot 90 percent of my images with prime lenses. I also have a Nikon-to-EOS adapter (from CameraQuest). I can adapt Nikkor lenses to the EOS body, but they are manual focus and manual stop-down only."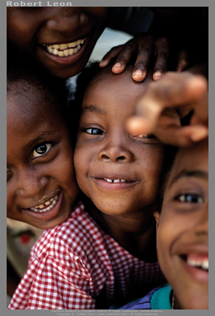 These Garifuna children, in Livingston, District of Izabal, Guatemala, are more than happy to share a few smiles with Robert Leon.
A People Person
People often ask Leon how he manages to take such natural-looking portraits--especially of people he barely knows. "It's not something I think about or plan; I talk to people, ask them their name, where they're from. I'm just curious." But perhaps the real reason Leon takes such intimate portraits of strangers is, by the time he photographs them, they are no longer strangers. Leon's secret for successful portraits is spending real time--often several days--with his subjects while he photographs them.

"You never really know who a person is," Leon adds. "Each situation leads to another and it goes on and on, and there's a story. You have to be super versatile and adaptable and go with the flow. I've learned a lot on the road traveling," Leon concludes. "It's the best school. You learn about so many things--not just about other people--but also about yourself."

Robert Leon is currently working on a book about Guatemala and is also planning to visit Vietnam, Cambodia, Thailand, Laos, and Myanmar, among other places. For more information and to view additional images, visit www.robertleon.com.