Photo Art Masters Search Contest; Corel's Paint Shop Pro Photo Art Suite Winners Page 2
2nd Place Winner: Rachel Wells Artist's Statement
In the mid-20th century, as a modern postwar child, I spent half my life with my 19th century grandmother, who believed in the healing virtues of sun, sand, and saltwater. For her, Coney Island was the American Riviera. We often went to the beach via subway. My Aunt Lila, years later, recounted her childhood journeys to Coney Island, not by subway, but in her mother's horse and wagon...my 5'1" grandmother, standing on the buckboard, reins and whip in hand, the wagon up on two wheels, careening down Brooklyn streets with all 5 kids in the back, on their way to the beach.
Original Photo
After Paint Shop Pro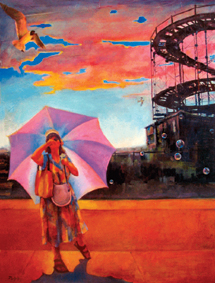 © 2006, Rachel Wells, All Rights Reserved
In memory of my grandmother, who came to this country alone, on a dare, when she was 14, I painted the beach she loved. Years ago, I met a fellow from Britain who told me that his father, an architect, never went anywhere without his small camera, shooting everything he saw and getting better and better. This became my process. I never left home without my keys, my journal, and a very simple inexpensive point-and-shoot camera...taking pictures of families, backstreets, flags, animals, lovers, doorways, clouds, parades, gardens, and a lady blowing bubbles sheltered from the summer sun by an umbrella.

I'm by nature a hunter/gatherer...bringing back visual gold and inspiration to my painting studio. I use Paint Shop Pro as an art assistant, very much the way the Renaissance master artists, Leonardo da Vinci or Michelangelo, utilized the skills of young and talented apprentices to help them in the developmental stages of their masterpieces. When I need to plan out a painting before committing expensive oil paints to my palette--or I want to visualize my painting darker, lighter, cooler, hotter, without spending more time sketching--I use Corel software.

3rd Place Winner: Larry Bolch Artist's Statement
Much of my life has been spent upon photojournalism, but I have always had a parallel life exploring less objective forms of image making, first in the fume-room and now in the digital darkroom. When doing photography--even for hard news--I looked for ways of extending vision beyond the 50mm lens. Both streams come together in this piece, "Québec Steps."
Original Photo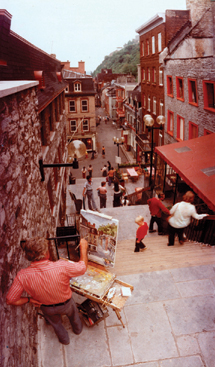 After Paint Shop Pro
Photos © 2006, Larry Bolch, All Rights Reserved
The picture was shot on a travel assignment to the Province of Québec. It was shot from just below the Château Frontenac, at the top of the stairs leading from the upper city to the lower. To get the whole sweep in from the painter below me to the wonderful old buildings in the distance, I shot with a Widelux 140Þ panoramic camera. The aquatint emulation process is a bit complex to describe, but the goal is to create an effect similar to a pen or pencil drawing, overlaid with transparent watercolor but with the power and composition of the photograph. These "pseudo" aquatints make superb prints.

Paint Shop Pro has been on my machine since Version 4 or 5. There are a number of tutorials on my website (www.larry-bolch.com), and I have written extensively about it in forums. I feel that it is in no way a competitor to Adobe's Photoshop, but rather an essential complement.

LATEST VIDEO

SPONSORED VIDEO
Testing Tamron's SP 150-60mm G2 lens while capturing birds and alligators in Apalachicola, Florida.