Peter McGowan: Nautical Images Extraordinaire Page 3
When shooting film, his favorite is Fujichrome Velvia ISO 50. However, he maintains, "It's not really a 50-speed film," and he rates it instead at E.I. 32. McGowan says he's shooting digitally more often as time goes on, but claims, "I'd rather shoot a roll of Velvia, as the quality is better for me at this point." He says that some art directors still prefer film, and he feels that the saturated colors of Velvia offer more punch than those of digital images. McGowan says he'd like to see Adobe Photoshop and other software programs offer "masks" that imitate film types.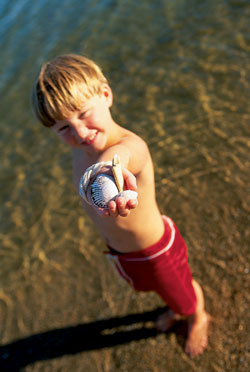 A boy proudly shows off his seashells, collected at a beach in Massachusetts.
Seek Photo Ops For photographers who want to get started shooting water sports, McGowan says, "There's a lot of public events to shoot. You can also go out on the water with someone who owns a boat--everybody likes to get portraits of their sailboat or yacht." He points out the fact that there are numerous local sporting events nearly everywhere in the country. "You don't have to go to major races."
Foresails at full mast on a boat called "Shenandoah."
Four Tips on Shooting Water Sports
1. Sharpen Your Composition Skills. McGowan is known for having a very good eye and a unique point of view. "You never stop learning," he exclaims. He advises those who want to photograph sailing and water sports to check out his images, and books, posters and calendar shots on the subject, and to look for unusual angles. When McGowan is assigned to shoot a story, he says, he's usually required to get straightforward images. After he gets the standard photos out of the way, he asks himself, "How can I see this differently?" Sometimes he'll get into the water to vary his point of view. He prefers to avoid the typical eye-level photo. "I try to push the frame. For example, diagonal lines create tension. Try to capture the moment and shoot lots of pictures. Don't be afraid to try new things--it's how you'll learn. Train yourself to see a situation differently," he says.
2. Freeze Action With Fast Shutter Speeds. "The most important thing is to freeze action, and your photos must be tack-sharp," he points out. McGowan says he shoots in shutter-priority mode most of the time, and uses fast (f/2.8) lenses with slow film. "Don't go below a shutter speed of 1¼500 or 1¼1000," he asserts. He shoots wide-open most of the time, like f/2.8 or f/3.5. He also takes pictures on sunny days whenever possible, as blue skies are best for photo sales.

At times, McGowan deliberately slows down his shutter speed to show blurred action, and uses shutter speeds of 1¼60 or 1¼125. If he's using a wide-angle lens, he sometimes shoots at 1¼30 or 1¼15. "There are no hard and fast rules," he says. "I bracket shutter speeds." He finds digital imaging very useful when bracketing and changing film speeds, as he can see immediate results.
3. Utilizing Natural Light. As sailing, surfing, and other water sports are photographed outdoors, lighting conditions can't be controlled. "This is why Fuji Velvia is great--it adds contrast," says McGowan. Sometimes he has to shoot sailing events in the middle of the day, but he prefers the warmer light of the late afternoon, and the smooth, glassy water of early morning.

He strives to shoot a boat against a pleasant backdrop, such as a setting of trees or hills on a shore. Sometimes McGowan shoots at sunset, and when he does, he brackets exposures. "After some of these shoots are done, I've gotten some great images," he says, as he describes one of his shots of a boat against a colorful sky, which became a recent magazine cover.
4. Keep It Dry! Protecting camera equipment from the elements is one of the challenges of marine photography, according to McGowan. He works around salt water constantly. He admits that there have been occasions when he's dropped lenses over the side of a boat. (Fortunately, a few times he's been able to have them repaired or replaced by Canon.) "My photo gear gets tough use being around the ocean." When he's shooting, he stores his camera gear in a beverage cooler on a boat to keep them dry. His Canon EOS-1v is weatherproof, and McGowan has learned when to shield his cameras and accessories from the elements. When in water, he uses waterproof housing on his Canon EOS A2e.
To see more of Peter McGowan's images, visit www.petermcgowanphotography.com.

LATEST VIDEO