Peter McGowan: Nautical Images Extraordinaire Page 2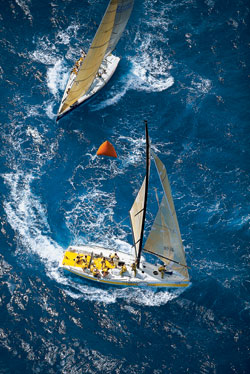 From this lofty vantage point, McGowan conveys the action and excitement of a sailboat race.
SAIL magazine sponsored a photo contest in Fall, 1993. "I wound up winning the grand prize," McGowan beams. "I thought, `wow, I guess I can actually do this.'" This initial success inspired him to go to the Key West Sailing Regatta in January, '94. "I took lots of pictures and got soaking wet," he laughs. This excursion resulted in his first magazine cover for SAIL in June '94. Bolstered with confidence, McGowan began getting photo assignments from SAIL and Sailing World. "To get more experience, I heard that it's best to get images published editorially," he explains. He went to lots of sailing events and regattas, some of which were "on spec." He also garnered assignments from other nautical magazines. Eventually, he broke into the well-paying world of advertising photography. A resident of Rhode Island today, he travels the world to get many of his exciting nautical images, and still enjoys participating in a variety of outdoor sports.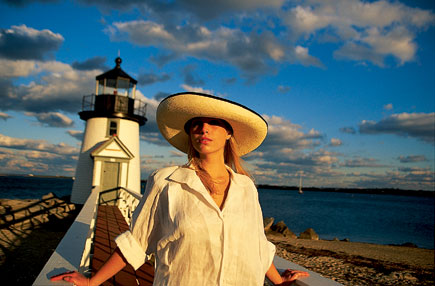 A woman takes in the view near a Nantucket lighthouse.
Maritime Clientele McGowan's images appear in SAIL, Sailing World, Sailing, Yachting, Outside, Condé Nast Sports, Wooden Boat, USA Today, The New York Times, New York Daily News, Windsurfing, Soundings, Cruising World, Seahorse, Australian Sailing, and "most marine magazines." Among his corporate accounts are United Airlines' in-flight publications, Patagonia, Oakley Sunglasses, Accenture, West Marine, and Southwestern Bell. In 1996 and '97, he won first prize in a photo contest as a "quasi-pro" at Sail Expo in Atlantic City (he won 2nd place in 1995).

He continues to shoot and sell work "to whoever I can," although he shoots on spec less often than he used to. These days, he says, some photographers are hired to shoot royalty-free images at water events. McGowan typically shoots on assignment these days, although getting work is tougher than it used to be. "The marine industry is a luxury business," he points out; one that's been hard-hit by the economy. Nonetheless, he says optimistically, he's confident that the industry will bounce back. In the future, he hopes to branch out into doing more corporate photography.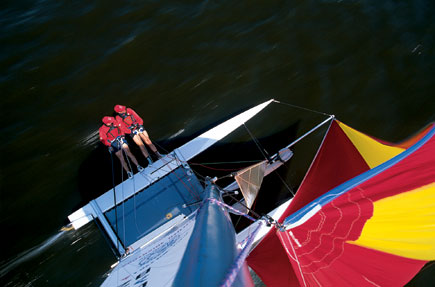 McGowan says that he likes to avoid the typical eye-level shot, such as with this image, where diagonal lines create tension.
Shooting Digitally and With Film In terms of photo gear, McGowan is a Canon shooter. His staples are the EOS-1v, the EOS A2e (which he uses with Stromm waterproof housing), and the EOS 10D digital SLR, which he applauds as "a great camera." He uses a 300mm, f/2.8 Image Stabilizing (IS), 70--200mm f/2.8 IS, 17--35mm f/2.8, a fisheye 15mm f/2.8, and 28--80mm f/2.8 lenses. He offers up this advice: "If you have extra money, put it in a good lens--it's all in the optics." McGowan also uses a Canon 1.4X tele-extender, and from time to time, he'll use a remote-control device (the type found on model airplanes) on top of a boat's mast.
A sailboat navigates its way through the fog.

FEATURED VIDEO