Personal Project; The Art Of New York's Bridges Page 2
Of course, the biggest problem I have had with this project was post-9/11, and since then I have been essentially "grounded." I have had very limited access to the bridges and I truly hope some of these restrictions lift so I can fulfill my vision of these great bridges. I do understand the reasons for not allowing me up on the bridges but I believe my work is strictly fine art and is not a threat to the safety and security of the bridges or any building. I have a very stubborn nature and I for one do not give up easily. Even though I may not have the access I once had to the bridges I do have at least 90 percent of the images I need for the book I am planning on the project. The rest of the images can be obtained from ground level.
Bayonne Bridge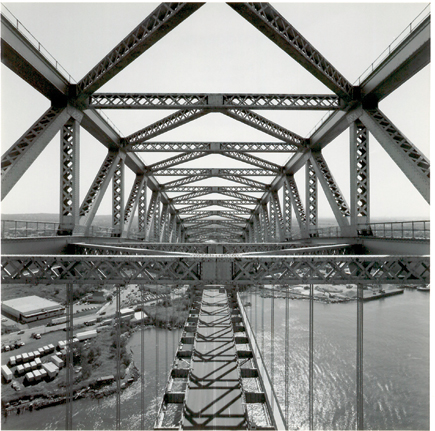 View of truss from center of lower chord.
At this stage of my project I believe I will have all the images I need for my book in about 4-5 years, but that's just guessing. Like any artist working on any major project, I feel I have to fulfill my vision--without doing that I will not feel a sense of completion about this work.

To see more of Dave Frieder's work, visit his website at: www.davefrieder.com

Some Quick Facts About The George Washington Bridge
An absolute engineering marvel, the George Washington Bridge was designed by the great Swiss engineer Othmar Ammann, whose findings during that project made possible all other large-scale suspension bridges, including the Golden Gate Bridge in San Francisco. Ammann went on to design many other bridges in the New York City area, including the mighty Verrazano-Narrows Bridge, the longest suspension bridge in the world when it opened to traffic in 1964. And the Bayonne Bridge, another of Ammann's masterpieces, was the longest above arch bridge when it opened in '31, modeled as it was after the Hell Gate Bridge in New York. The Sydney Harbour Bridge in Australia also took its design from the Hell Gate, but the Bayonne Bridge is 25" longer than the Sydney span.
George Washington Bridge
View of main cables and roadway from top of tower, New York side.
Some of the other facts of the George Washington Bridge are impressive:
· Height of towers--604 ft
· Elevators per tower--3 rack & pinion
· Rivets in both towers--approx. 2 million
· Main cables--4, w/ 61 strands per cable
· Wires per strand--434
· Diameter of each cable--36"
· Pull strength of each cable--180 million lbs
· Width of roadway--90 ft
· Center of deck, change in height between winter and summer--approx. 10 ft
· Width of superstructure--119 ft
· Weight of each main floor beam--65 tons
· Weight of entire bridge--approx. 600,000 tons
· Height of deck to water--212 ft
· Amount of trap rock removed for NJ anchorage--300,000 cubic yards
· Amount of masonry in NY anchorage--165,000 cubic yards
· Total length of bridge and approach ramps--8716 ft

The George Washington Bridge also holds the largest free-flying American flag, suspended from the New Jersey Tower on holidays and special occasions. It is 60x90 ft and weighs 450 lbs.