Pentax's K100D Super; The Digital K-Mount Revolution Continues Page 3
The Pentax K100D Super is a super deal for the new D-SLR photographer. Its rock-bottom price combined with rock-solid performance make it an ideal first SLR for the shooter who's not already locked into a specific manufacturer's lens system. For users of Pentax film cameras, it's a super way to move from analog to digital photography.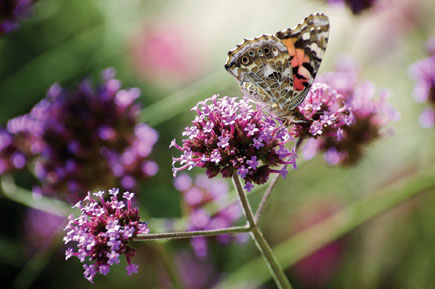 The DA* 50-135mm f/2.8 ED (IF) is not really a macro lens but I shot this at its closest focusing point (39"). Exposure was 1/500 sec at f/5.6 and ISO 200. I would have preferred making a shot with the pop-up flash but this was my third shot of the butterfly and it flew off.
New Pentax Lenses
In addition to the new camera Pentax launched two new zoom lenses in its premium DA* series that use aspherical and extra low dispersion optical-glass elements along with special lens coatings. The two lenses I used exclusively for this report included the DA* 50-135mm f/2.8 ED (IF) and DA* 16-50mm f/2.8 ED/AL (IF) both of which feature the new SDM (Supersonic Drive Motor) system that assures smoother autofocusing operation using a built-in motor. When mounted on the Pentax K10D D-SLR camera body, Focus mode is automatically switched to SDM-assisted autofocusing. On other Pentax D-SLR camera bodies, such as the K100D Super, conventional Autofocus mode with the camera-mounted motor is used. The Pentax DA*-series lenses feature tightly sealed, weather-resistant and dust-resistant construction to enhance durability in rainy or dusty locations and a Quick-Shift Focus System that lets you quickly switch to manual-focus operation after the subject is captured in focus by the AF system. The lenses use the SP (Super Protect) coating on their front surface that's designed to repel dust, water, and grease. The DA* lenses are digital only with an image circle perfectly proportioned to match the 23.5x15.7mm CCD used in Pentax D-SLRs.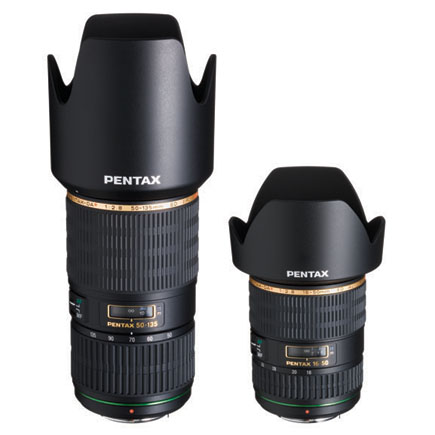 All of the photographs in this story were made with either the DA* 50-135mm f/2.8 ED (IF) and DA* 16-50mm f/2.8 ED/AL (IF), which are part of Pentax's premium DA* line of digital only lenses.
Technical Specifications
Color Depth: 8 bit/channel (JPEG), 12 bit/channel (raw)
Lens Mount: Pentax KAF2 bayonet stainless steel mount
Usable Lenses: KAF2, KAF, KA (K mount, 35mm screwmount, 645/67 medium format usable with adapter and some restrictions)
LCD Monitor: 2.5" TFT color
Image Stabilization: Body-based, magnetic, free-floating CCD-shift Shake Reduction
Shutter Speeds: 1/4000 sec to 30 seconds with bulb
Continuous FPS: 2.8 fps (5 JPEG, 3 raw)
Viewfinder: Penta-mirror
Coverage: 96 percent
Depth Of Field Preview: Optical diaphragm stop-down (digital preview available via Custom Function)
Built-In Flash: Retractable P-TTL auto pop-up flash
External Flash: P-TTL (high-speed sync, wireless P-TTL available with Pentax dedicated flash units)
Power Supply: CR-V3 (2x), AA (4x lithium, alkaline, Ni-MH rechargeable)
Size: 5.1x3.6x2.8"
Body Weight: 20.1 oz without battery or memory card
Price: $519 (body only); $549.95 (with Pentax SMCP-DA 18-55mm f/3.5-5.6 AL AF Zoom lens)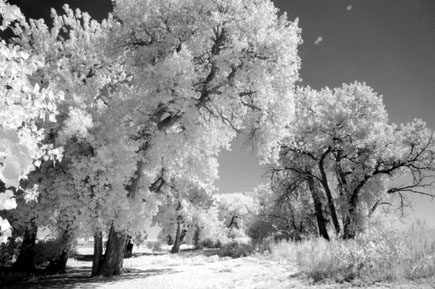 This digital infrared shot was made with a Cokin 007 (89B) filter held in front of the DA* lens. Exposure was 1 second at f/16 and ISO 200 to keep the noise low. The flare artifacts you see were caused by my removal of the lens hood in order to hold the filter in front of the lens. Using the proper sized screw-on filter would have permitted mounting the hood and eliminated these imperfections.
For more information, contact Pentax Imaging Company, 600 12th St., Ste. 300, Golden, CO 80401; (800) 877-0155; www.pentaximaging.com.

LATEST VIDEO

SPONSORED VIDEO