Passport
Eye Contact; Sure, I Take Travel Photographs, But What I Really Like To Do Is Direct Page 2
Now, the easiest way to eliminate a cluttered background is to move to another location--which, of course, is not always possible. Or, shoot from a low angle. In that case, the sky becomes your background. Unfortunately you can't always get the photograph you want from that angle. So what we're left with is trying to make backgrounds interesting without being distracting.
I have to point out that the fact that I take my photographs for stock or on assignment for product or service illustrations dictates their composition.

In an advertisement, the product is the hero; text or a logo is the message.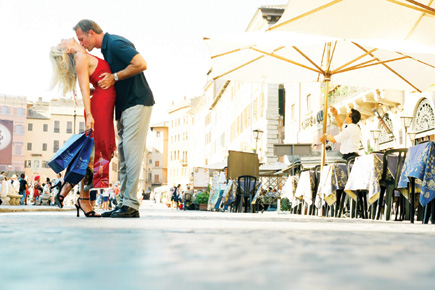 In this photo of a couple in Rome, the red dress does it all. It instantly attracts your eye. You don't see all the busy work going on in the background until later.
The photo will, the client hopes, attract attention, but its purpose is to get people to read the text. So I have to compose to leave plenty of room for that message. I can do that because, most of the time, I have the advantage of putting models exactly where I want them, and I can always place props anywhere in the scene. You can do the same with props, of course, and if you're traveling with helpful friends and relatives, a little gentle direction will do the trick.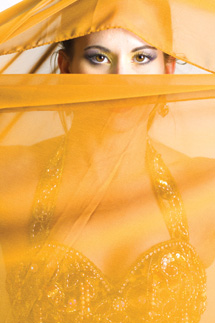 The woman behind the veil was photographed in my studio in Dallas, and here I wanted to lead your eye right to her eyes, and the foreground of the colorful veil becomes, in effect, the background.
Actually, it's probably not a bad idea to take a few photos as if you were composing for ads. It'll help you keep your compositions from being too cluttered--I look for one, two, or, at most, three elements--and it'll get you in the habit of thinking about where you want to direct the viewer's eye.

FEATURED VIDEO