Paper And Ink Choices Continue To Grow Page 2
JOBO Fototechnic debuted ImageLife ink jet papers from PermaJet. ImageLife papers are archival and optimized for use with PermaJet VT Blax inks, but can be used with any ink jet inks. The papers come in three different surfaces: Alpha, Delta, and Omega. Alpha is 100 percent rag acid-free, natural creamy paper tone, with a lightly textured surface that won't smudge and is dye and pigment ink compatible. Also acid-free and compatible with dye/pigment inks, Delta has a smooth surface similar to traditional double-weight fiber-based paper, while Omega has a buffered surface to enhance image stability. The papers are available in 8.5x11, 11x17, and 13x19" sizes. PermaJet VT Blax variable tone black and white ink jet cartridges feature archival inks. The tone of each print can be set by the user through the use of the Epson driver sliders or by the application of Curves via Photoshop. The Curves are available at no charge online at: www.permajetusa.com. This allows the consumer to try VT Blax inks without the hassle and expense of having custom profiles made for their printer.


Lyson introduced three new papers compatible with all dye- and pigment-based inks, plus bulk ink systems for selected printers. Archival Matte is a bright white fiber-based matte with a slightly textured finish and sheen that mimics traditional fiber-based matte photographic papers. Premium Gloss is a bright white high-gloss paper perfect for printing photographs and enlargements for use with glass frames, photo albums, and portfolios; it is smooth and water-resistant. Premium Luster is a satin-finish paper. These papers are available in most common sheet and professional roll sizes. Two bulk feed delivery systems address the needs of Canon i9900 and Epson Stylus Photo R800 printer users. The R800 system features Cave Paint and is stated to save money while improving color gamut, and includes a gloss optimizer ($499). The bulk feed system for the i9900 comes with a complete set of Fotonic inks and retails for $449.


Media Street announced the new Generations QuadBlack (GQ) pigment ink set, a selection of photographic and fine art papers, and a special print driver to produce museum-quality black and white photographic prints. Initially available for Epson R200/R300-series printers (others to follow), Generations QuadBlack solution prints a long, smooth gray scale from the lightest highlights to the deepest shadows without banding, posterization, or other artifacts. Different inks are specifically matched to paper type/finish. Separate Curves are provided for coldtone, warmtone, and split-tone prints, and ICC profiles included with each Curve provide accurate soft-proof previews on calibrated monitors. This company also announced the release of its Niagara Continuous Ink Flow System for the Canon i9900 and Epson 4000/R300/R800 ink jet printers. The Niagara System (starting at $125) employs a modified cartridge assembly that hooks up to bulk bottles of ink, eliminating the need for cartridges while bringing costs down and eliminating waste. Also new from Media Street are Royal Greeting Cards in various sizes, including panoramic, as the Photographic Series (high-resolution photo matte) and Fine Art Series (100 percent cotton/pH neutral); prices start at $19.
Photographic Research Organization, Inc. (PRO) added two new color ink jet papers to the PROMASTER PhotoImage line of professional ink jet papers: PhotoImage Artisté is 100 percent cotton rag, buffered, and acid-free, offering a unique museum-quality feel. PhotoImage Matte is a dual-sided coated matte ink jet paper, for, among other things, greeting cards and business cards. These papers are offered in various weights and finishes. Expanded package quantities now include 50 and 100 sheets.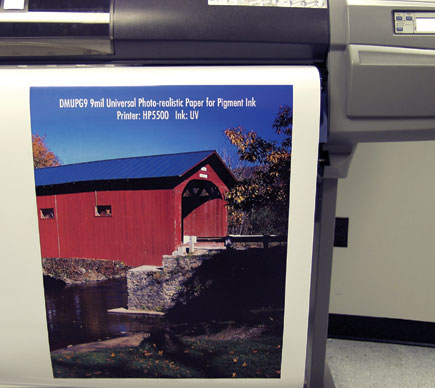 Premier Imaging Products showcased the new PremierArt ECO Print Shield, in gloss, matte, and satin finishes. This product is a water-based, non-toxic, and odorless finishing spray designed to add a protective coating to all ink jet media, effectively rendering any paper tougher and more resistant to damage against moisture, light, humidity, atmospheric contaminants, abrasion, and fingerprints. It is available in aerosol cans and bulk containers. The manufacturer notes that it is Epson UltraGiclee approved and Wilhelm tested. This company also introduced various ink jet papers, namely PremierArt Luster Rag 335g, which is acid-free and coated, and suitable for fine art and display prints--compatible with HP, Canon, and Epson printers/inks. Hot Press is acid- and lignin-free, 100 percent cotton rag, water-resistant, and instant drying. The new PremierArt Watercolor papers are textured and archival. For those of you into scrapbooking, there is PremierArt Matte Scrapbooking Paper for Epson, which is 100 percent cotton and acid-free for long life, and designed to work exceptionally well with Epson UltraChrome inks, delivering a 200+ year print life, and coated for two-sided printing. Another scrapbooking product, PremierImage Double-Sided Matte Paper is designed to work with all printers, whether dye or pigment-ink based.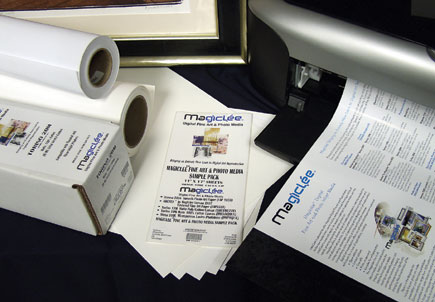 And finally, for those of you who prefer to work with remanufactured/ refillable ink cartridges, Cartucho Express is installing ink-refilling kiosks in numerous retail and discount outlets. These InkStations automate the process. Unfortunately, no specific data on print quality and fade resistance was provided. Suitable for all but Epson cartridges. Look for an InkStation in a store
near you.

Manufacturers/Distributors' addresses can be found on page 176.