The Olympus E-420 Digital SLR; An Affordable, Compact D-SLR Loaded With Enthusiast-Level Features And Speed Page 2
Hybrid AF: When this mode is selected, the camera first employs contrast-detection AF to set approximate focus so the image looks quite sharp on the LCD monitor. There's no interruption of the live preview display. Press the shutter button to take a photo and the reflex mirror flips up allowing the camera to use phase-detection AF for more accurate focus and greater low-light reliability. This combination of strategies was intended to take advantage of the benefits of both types of autofocus technology.
The Gradation control options (new with the E-420 and E-520) allow for modified shadow detail as a method for increasing the tonal range. While these examples were produced with the Studio 2 converter program, the same four options are available in camera. (This raw photo was made at ISO 200 with raw capture, using Continuous AF and Drive mode, with the 50-200mm ED SWD zoom.)
Evaluation: Autofocus is faster when using the optical viewfinder, but Sensor AF is quite fast and reliable even in Live View. Imager AF is more convenient and versatile but it is noticeably slower anytime, particularly in dark locations. (Do note that Imager AF works only with recent Zuiko Digital lenses: the 14-42mm, 40-150mm, 25mm, and 18-36mm models and future lenses.) Hybrid AF is quick in bright light but the need for two focusing methods does produce more of a shutter lag in dark conditions; that can make it difficult to capture a fleeting instant in low light.

Continuous AF cannot be set in Live View regardless of the AF mode in use. That makes sense because the real-time preview is interrupted--either during focusing or while an image is being taken--making Live View impractical for action photography. On the other hand, anyone who enjoys using Live View for portraits, landscapes, or architecture will benefit from a wide range of focusing options.
Image Quality And Characteristics
The Olympus E-420 provides a vast range of Capture modes and overrides for modifying every aspect of an image to suit every user's personal preferences. For the sake of consistency, I conducted initial testing with Large/Fine JPEG capture, the Natural Picture Style mode, and the Standard level for Noise Reduction (NR). Later, I began to experiment with other options. These include monochrome with various filters; Vivid and Portrait Color modes; Levels adjustment for contrast, sharpness, and saturation; as well as Super Fine JPEG and raw capture.
In raw capture or with the Super Fine/Large JPEG option, the E-420 produces superlative quality, particularly at ISO 100. A 13x17" print made from this image is technically excellent in all respects, including resolution of intricate detail and a wide dynamic range. (This Super Fine JPEG was made with the 12-60mm SWD zoom at f/8, using a Hoya Pro1 D circular polarizer.)
During preliminary shooting the camera produced JPEGs that seemed a bit flat so I tried the other options. The Vivid style--particularly with a +1 setting for Sharpness--provided more striking photos that my family preferred. Auto White Balance (AWB) worked well in outdoor photography. Images of light-toned scenes were often underexposed, easy to prevent with a +2/3 Exposure Compensation setting. The Automatic Gradation option was useful on sunny days, helping to boost shadow detail without "blowing out" highlight areas. Image enhancement in Playback mode (post-processing) can also be used to increase boost shadow detail, modify saturation, convert to monochrome, fix redeye, and more.

Image quality at ISO 100 to 400 is first-rate--particularly in Super Fine JPEG or raw captures--with great resolution of intricate detail in 13x17" inkjet prints made at 240dpi. Sharpness was a tad low, easily solved in camera or later in Photoshop. At ISO 800, the Low NR setting provided optimal results; a mottled color pattern is visible but the images still made for very nice letter-size prints. By ISO 1600, I found that the Standard NR level was preferable. There was some slight "smearing" of fine detail but adequate resolution for making very good 5x7" glossies.

Evaluation: This 10-megapixel D-SLR provides very high resolution with excellent definition of fine detail. The Large/Super Fine JPEG mode is a fine choice for serious photography. Slightly better image quality is possible in raw capture but the difference is not noticeable in print sizes smaller than 10x13". Of course, raw capture is useful, too, because of a wider latitude for modifications before processing and conversion to TIFF or JPEG. I found the Master 2 raw converter moderately versatile and a bit slow; the optional Studio 2 converter software ($100) was more desirable in both respects.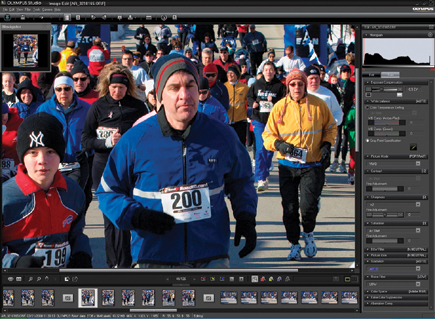 The Master 2 software includes a raw file converter that's designed for simplicity with a series of basic tools for image modification before conversion to TIFF or JPEG. Olympus also markets the optional Studio 2 converter program ($100) with more advanced utilities, some additional features, and greater speed.
The Bottom Line
This Olympus camera primarily targets first time D-SLR buyers or snapshooters, but it should also appeal to more serious shutterbugs on a tight budget. That's because the designers did not skimp on features, performance, or functions that provide high image quality. The Live View system with its three AF modes is the most versatile in the affordable D-SLR category. Anyone who is first moving up from a high-end digicam may not find Live View to be as quick and convenient. Still, it's fine overall and D-SLR newbies should especially appreciate the features available in the Imager AF mode.

While the E-520 is even more desirable because of its built-in stabilizer, the E-420 offers a lot of bang for the buck. As the most affordable of the recent models, it would be great for families who want a D-SLR/lens combo that's unusually small and portable. They'll get lots of value from the many automatic options in quick picture taking, as well as the great speed and many overrides that will be useful in more serious photography. Regardless of the Olympus D-SLR that you choose, plan to buy it with the 14-42mm f/3.5-5.6 ED zoom. For about $100 more, you'll be getting one of the best of the affordable kit lenses on the market.
The Olympus E-520 Adds Image Stabilizer
Just as I was completing this test report, Olympus announced the E-520 ($599), a replacement for the E-510 but also similar in many respects to the E-420. The new model is slightly larger/heavier than the E-420 at 5.4x3.6x2.7" and 16.8 oz; it also offers a more substantial handgrip and slightly different controls.
Employing the same technology and features as the E-420, the E-520 is a more substantial camera that's preferable for large hands. This D-SLR is also equipped with an Image Stabilizer, an amenity that's not available with the smaller, more affordable E-420.
The E-520 is noteworthy in one important respect: it's equipped with a built-in Image Stabilizer.

The E-510 already included an Anti-Shake system that shifts the entire Live MOS sensor module. Olympus employs a proprietary stabilizer with "blurring frequency analysis/detection" to determine the type of camera shake and a Supersonic Wave Drive motor to adjust the sensor module's position. When the Live View feature is on, the effects of the Image Stabilizer can be previewed on the LCD monitor.

The E-510 provided two Image Stabilizer (IS) modes and these are retained in the E-520. The first IS mode is for multipurpose use with dual-axis stabilization that compensates for both vertical and horizontal shake. The second IS mode is designed for panning: when shooting horizontal images at a shutter speed such as 1/30 sec. The system stabilizes only up/down camera shake and does not try to compensate for your intentional horizontal camera movement. Pan the camera at just the right speed and your subject should be quite sharp (without blurring from up/down shake) while the background will be blurred, simulating motion in a still photograph.

Entirely new and unique to the E-520, the third IS mode is also designed for panning but with a twist: it's identical to Mode 2 in principle but is intended for use when the camera is held in a vertical orientation. That would be useful when shooting a series of photos of a tall subject--a single runner, a basketball player, or a giraffe, for instance--moving across your line of vision.

An E-520 was not available for testing but while testing the E-510, the IS system allowed me to make many sharp photos at an 84mm equivalent focal length at 1/15 sec instead of the usual 1/80 sec. That's slightly better than a two shutter speed step advantage over a non-stabilized D-SLR. The E-520 should be just as effective and its third IS mode will be a bonus for those who often use panning in action photography. While the E-420 is more portable and affordable, the larger camera should appeal to those who appreciate a bit of extra mass and want an effective Anti-Shake system.
Technical Specifications
Sensor: 17.3x13mm Live MOS (nMOS); 10 megapixels (3648x2736) effective; 4:3 aspect ratio
Lens Mount: Four Thirds; 2x focal length magnification factor
Shutter: Electronic; speeds from 60 seconds to 1/4000 sec selectable; also, Bulb
ISO Equivalent: ISO 100 to 1600 and Auto
Exposure Control: Center-weighted, 49-zone Digital ESP, spot (1 percent), highlight-based and shadow-based spot metering; exposure compensation, bracketing, and AE Lock; four Gradation control options
Storage: CompactFlash and xD-Picture Card
Connectivity: USB 2.0 Hi-Speed; video output
Power: Rechargeable BLS-1 lithium ion battery; optional AC adapter
Dimensions/Weight: 5.1x3.6x2.1"; 13.4 oz, body only
Average Street Price: $489, body only

For more information, contact Olympus Imaging America Inc., 3500 Corporate Parkway, Center Valley, PA 18034; (888) 553-4448; www.olympus-esystem.com, www.olympusamerica.com.
A long-time "Shutterbug" contributor, stock photographer Peter K. Burian (www.peterkburian.com) is the author of "Mastering Digital Photography and Imaging" and several "Magic Lantern Guides" to Pentax and Sony D-SLRs. He is also a digital photography instructor, teaching two online courses at BetterPhoto.com.

LATEST VIDEO

SPONSORED VIDEO
Testing Tamron's SP 150-60mm G2 lens while capturing birds and alligators in Apalachicola, Florida.