No April Fool's Trick; Hardware & Software For Today's Digital Imagers Page 2
HARMAN created profiles containing optimum settings for most printer brands and they're available for download from HARMAN's website. During CRYSTALJET RC's launch, the manufacturer will be offering the new paper in value packs of 25 sheets plus five extra sheets. If you like to print monochrome images, you're gonna love HARMAN papers.
Super-Wide Zoom For Four Thirds System
Olympus (www.olympusamerica.com) recently introduced the Zuiko Digital ED 9-18mm f/4.0-5.6 super-wide zoom lens with a relatively affordable, for this focal length range anyway, price of $599.95. The tiny—less than 3" long—lens makes an ideal companion for Olympus' equally tiny E-420 D-SLR and my wife and I used it to photograph cars at a recent indoor hot rod show. The 18-36mm equivalent (compared to full-frame 24x36mm) makes it a useful focal length range, and while it's not quite as fast as its more expensive sibling, the way cool but way big in price and size Zuiko 7-14mm f/4.0 E-ED lens, shooting at ISO 800 indoors takes up some slack. The noise levels produced by the E-420's 13.5x18mm chip were surprisingly well controlled and even images shot at f/4, such as the photograph of the hot rod at the top of this column, were tack-sharp because of the incredible depth of field that the lens produces. Even at f/4 you can be in focus from the closest focusing distance of (less than) 10" to infinity, making it useful for everything from landscapes to environmental portraits. The lightweight design coupled with in-body Image Stabilization that is alas missing from the tiny E-420 (but found on other cameras from Big Oly, including the E-3, E-30, E-510, and E-520) makes capturing blur-free, deep depth-of-field images possible even without a tripod.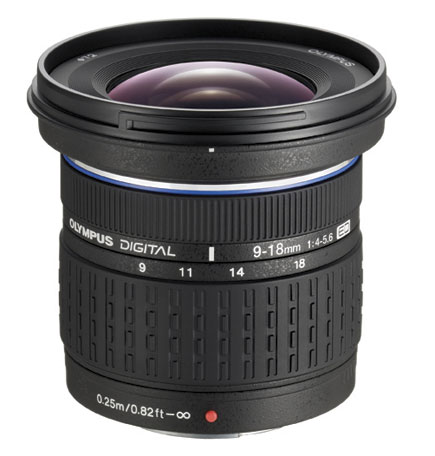 FireWire: What Happened?
When Apple dropped FireWire ports from its new MacBook computers many in the computing world were surprised but no more than photographers who, like me, love their Lexar (www.lexar.com) Professional UDMA FireWire 800 Reader. These fast and daisy-chainable card readers make downloading images to laptop computers fast and painless. I asked if Lexar has any plans for changing these wonderful card readers and Jeff Cable, director of marketing at Lexar, replied: "Apple's recent decision to discontinue using FireWire ports in its MacBook and MacBook Pro laptop computers will not affect our production of Lexar Professional FireWire 800 CompactFlash card readers. Many professionals and high-end amateur photographers have invested heavily in professional-level Apple computers and Professional FireWire card readers and will continue to leverage them in their workflow, to quickly and easily download images from their memory cards to their computers. As long as photographers keep using MacBooks and MacBook Pros with FireWire interfaces, we will continue to support them with our Professional FireWire card readers."
Innovative Hard Drive Dock
Have you ever removed a hard drive from a computer but still wanted to have access to the data? In the past, I would purchase a hard disk enclosure (see the December 2008 issue of Shutterbug) and install the drive inside it, turning it into an external hard drive. Newer Technology, Inc.'s (www.newertech.com) Voyager is the world's first Quad Interface Hard Drive Docking Solution that turns any 2.5 or 3.5" Serial ATA (SATA) hard drive up to 2.0TB capacity into a bootable external drive. Just insert the hard drive into Voyager's docking base and connect the fastest of the four interfaces (FireWire 800/400, USB 2.0, and eSATA) that's supported by your Mac OS or Windows computer for read/write data speeds of up to 3.0Gb/s. There's nothing else to install or configure. Voyager is so easy to use, that combined with the low cost of hard drives, you might think of a bare SATA drive as convenient to use as a memory card with the same access benefits but with a huge storage advantage. Voyager is completely hot-swappable for photographers wanting to move multiple drives while their computer is up and running. Its design and drive eject button makes inserting, using, and removing SATA I/II hard drives safe and effortless while saving storage space by allowing you to keep the drives in the manufacturer's original box—you saved it didn't you? I think the Voyager is "Storage Product of the Year" and it's only the start of 2009! NewerTech's Voyager costs $99.95, and is available from Other World Computing (www.macsales.com).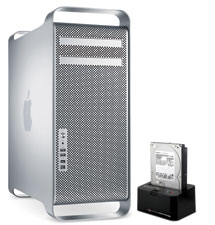 I'll never have to buy another enclosure kit again.

LATEST VIDEO

SPONSORED VIDEO