Nissin Flashes Put Your Digital Photography In The Right Light; This Line-up Of Digital Flashes Sheds Light On An Expanding Universe Of TTL Flash Photography Page 2
As you'd expect, the higher the model number, the more sophisticated the flash. The Di866 is the only one with a digital LCD panel as well—in color, as noted earlier. The others employ LED indicators to show you Operation modes and status. Either way, each strobe sports a very clean and efficient interface. On this note, I come back to the Di866—I have never experienced this level of user-friendliness on any flash unit with a feature set as complete as this—until now.
For the more formal portrait of this vivacious 2-year-old seated on an ottoman and holding a stuffed bear, I aimed a Nissin flash into a photographic umbrella–both attached to a light stand that stood to my right. Her dad held a white reflector to open up the shadows on her face. For this shot, the camera and flash were each in Manual mode, and we determined the correct exposure by viewing the images on the camera's LCD monitor. After noting some intrusive background shadows, we moved the ottoman away from the wall, focusing all attention on this adorable youngster.
In Action
I have to say, I was very impressed with these flash guns. Each performed admirably. One day I shot flowers in a garden, experimenting with the lighting, with the flash off-camera and attached to the Nissin Universal TTL remote cord SC-01 (a must-have accessory). Another day I was running around a local festival, photographing everything in sight, with the flash on- and off-camera. Then came the real challenge: photographing a lovely and lively little 2-year-old girl who kept me on my toes. I tested these strobes to their limit, photographing her at home with one Nissin set up as an umbrella light in Manual mode, then with bounce flash in TTL mode. Then we went outside to see how well the flash would do in TTL mode with strong back and side lighting. The Nissin strobe managed to keep pace every step of the way. And finally, back in my home studio, I set up a still life focusing on an ornamental toy. Here I set up two Di866 strobes operating in Wireless TTL mode in tandem with the camera's built-in flash set to Commander mode. The resulting colors popped off my computer screen!

All I can say is that these Nissin flash units never failed me. They have definitely made flash lighting simpler, while delivering the quality I'd expect of any flash gun in my arsenal. They produced admirable exposures, pouring out a beautiful light that gave me rich, clean tones, whether the subject was a flower petal, decorative glassware, delicious delicacies at a street festival, or a toddler's rosy cheeks.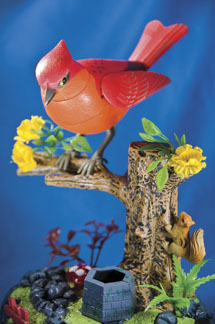 In this shot I put the wireless TTL capabilities of the Nissin Di866 to the test. I wanted to bring out the rich color palette and throw just enough light on the draped blue backdrop to subtly bring out the folds, without washing out the yellow in the flowers. I set up one Di866 to the right, aimed into a small silver reflector so that the light was redirected at the toy from the front. On the left I positioned the second Di866 with the head in bounce position, diffuser in place for wide dispersal, and the bounce card to feather the light as fill on the bird and also light the background. The camera's built-in flash was set to Commander mode, so it triggered the Nissin strobes but did not contribute to the exposure. I'd set the camera to Manual mode, while putting each slaved Di866 under TTL control.
A Closer Look
The Di28 is seemingly the most basic of the Nissin flashes, and designed strictly for TTL flash operation. While it lacks a tilting head, it otherwise comes with amazing functionality. Not least of which is built-in TTL flash compensation. Powered by only two AAA batteries, it is pocket-sized, making it a truly go-anywhere flash, so you have faster recycling and more power than the camera's built-in flash can deliver, without the drain on the camera's battery.

The next rung up the Nissin ladder is the Di466. Now we add a tilting flash head, and considerably more power. But more importantly, this shoe mount adds totally responsive auto-zooming. As mentioned, this TTL shoe mount supports wireless operation. As a slave flash it can be triggered by practically any strobe, whether dedicated TTL or even a studio strobe (and used as a kicker or accent light, for example). And it features a built-in bounce reflector panel—which is sure to come in handy together with the upward-tilting/bounce flash head. And it offers flash exposure compensation as well.

Add swivel movement, increase the size, give it more power, maintain flash exposure compensation and auto-power zooming, include digital wireless capability—and you have the Di622. The interface on this flash gun is slightly different than on the Di466, but equally user-friendly.

The pride of the fleet is the new Di866 Professional. This flash has everything you could ask for—and more. Aside from the world's first color LCD panel, it has a built-in sub-flash for even more controlled fill lighting while the main head is being directed at the ceiling or a nearby wall or reflector. Want complete TTL flash exposure control in Wireless mode? The hearty Di866 gives it to you, serving as master or slave, with a full set of user settings, to boot. And it of course comes with a host of custom settings to tailor it to your working style. What's more, for those occasions when you'd prefer to bypass TTL flash but not go all the way to manual, this strobe has an Auto-Sensor mode (you may find it preferable when dealing with extremely bright tonalities, such as a wedding gown). But for the most part, you'll likely use the Di866 in TTL mode, which gives you total control over output from each flash head. Plus, there's an optional high-powered rechargeable battery pack designed just for this strobe, to keep pace with Burst modes on your camera.

One more point worth noting: there's no catch to swivel/tilt operation—literally. It's effortless, yet surefire. Positive-locking detents do away with the need for that annoying release found on many flash guns. In fact, everything about these flash units shouts quality—from mechanical movements to digital control, and of course extending to the light each Nissin shoe-mount flash outputs.
Technical Specifications: Nissin Di866 Professional
Compatible Cameras: Nikon or Canon (version dedicated to specific camera brand)
No. Flash Heads: Two (main + sub-flash—each individually controlled, depending on mode; sub-flash only operates when main head is raised in bounce position and/or swiveled)
Flash Modes: Full TTL auto; TTL (user-controlled); manual; auto-sensor; repeating/stroboscopic; wireless
Display/Interface: Color LCD w/auto rotation/cursor control + three function buttons: set, on/off/lock, flash test (pilot)
Guide Number (ft): 198 at 105mm/ISO 100
Illumination Coverage: 24-105mm (18mm w/built-in diffuser)
Power: Four AA batteries
Battery Life: 150-1500 flashes (depending on mode/alkaline batteries)
Energy Saving: Sleep/standby in 30 seconds; power-off time can be set by user
Recycling To Full: 5.5 seconds
Exposure Control: TTL (Nikon i-TTL; Canon E-TTL/E-TTL II); auto-sensor; manual (full to 1⁄128)
AF-Assist Beam: Yes (2.3-33 ft)
Color Temp: 5600K at full power
Flash Duration: 1⁄300 sec at full to 1⁄30,000 sec min. power
Wireless Flash: TTL and non-TTL (master/slave; three channels; three groups)
Special Features: Sub-flash (user-controlled output): built-in wide-angle diffuser and bounce card; USB firmware updates; X-sync contact; TTL override; modeling flash burst; custom settings; supports external power pack; supported camera functions (varies with camera model): high-speed/FP sync; slow-sync; rear/second curtain sync; auto flash bracketing; redeye reduction; FV lock
Size & Weight: 2.9x5.3x4.3"; 13.4 oz (w/o batteries)
Accessories Included: Soft pouch; shoe stand

For more information, visit www.nissindigital.com.

FEATURED VIDEO