The Nikon F6
A State Of The Art Film SLR Page 2
While the previous F5 had two dozen custom settings, the F6 teases you with 41! Like a Nikon D1X you have a Bank Select, which allows you to set up groups of settings for four different shooting conditions by just switching to A, B, C, or D. Within these Bank Select settings you can "have it your way" as you personalize the camera to your needs to include major headings (which include the variations in parenthesis) like Autofocus (eight), Metering and Exposure (six), Timer/Lock (five), Shoot and Display (nine), Bracketing and Flash (eight), basic Controls (five), and a separate Reset CSM (Custom Settings Mode) to bring the F6 back to factory defaults.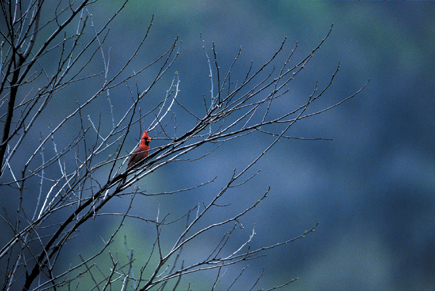 With 11 sensors it's hard not to get a good shot. This cardinal was framed on a dark day with the very extreme left-hand sensor. Lens was the Nikkor 600mm f/4 lens with the 1.4x extender (840mm) and just a little saturation was added via Photoshop Elements to enhance the bird from the background.
Scrolling down the back LCD you'll also come across a Set-Up menu that allows you access to such items as the date, date format, and something that's very exciting, what they call Shooting Data. This is really neat as you can recall everything that you'd see on a digital camera, like the lens used, exposure, focal length, and even the time. And to broaden this feature, you can download this information (via the data within the INFO button) as text data to your computer via a Data Reader MV-1 for future reference. In short, what you have here is a built-in data back, something you had to pay extra for in the past but that is now included within the parameters of the F6.
Digital camera? Hardly. This is the back of the new F6 and includes controls like a rear LCD for information and various buttons to control the impressive features on the camera.
Next, you'll find a Shooting menu which allows you to imprint your film with the date, day, or time at the bottom right-hand corner or in between frames, regulate multiple exposures, and set up an interval timer. But this is no ordinary interval timer. For long spans between shots the meter will shut off, then 30 seconds before the picture is taken turns back on and the autofocus is activated 2 seconds before the shutter is released. On top of all this, you can program the Mirror Up and Bracketing mode up to seven exposures that would include 0.3, 0.5, 0.7, and 1 full stop of compensation. This bracketing mode is new to the F6 (the F5 could go up to nine but you needed an additional data back) and can be used in any application within the camera programs.

Finally, you'll find a program that allows you the use of non-CPU lenses, the language that you are talking to the camera in (English, German, French, etc.), and buttons that relate to menu, ISO, and flash control that takes full advantage of Nikon's brand-new and innovative i-TTL Advanced Flash Data system. It goes without saying that 3D Color Matrix metering is part of the package, as is their flexible center-weighted and spot metering patterns that allow you, via those 11 sensors, to zero in on the most accurate exposure possible within the limits of available light and subject matter.
Focus tracking at its best! This hawk was flying and landing at just about every other fence post in the field. I was able to time his actions and as he just started to rise, the bird was caught in his full glory. The lens was the Nikon 80-400mm VR.
Even with a bright light like the sun, the Matrix meter gave more than adequate shadow detail to this photograph.
During the course of a few weeks I used the F6 as much as I could wherever I went. I'm basically a film guy so I was right at home no matter where I ventured with the F6 and any lenses that I used. Nikon had sent the popular AF-S Nikkor 24-85mm f/3.5-4.5G that I found very handy for grab shots around the local area on a book project. I used other lenses both up and down the focal length scale and found the camera very fast on take-up and follow through with regards to focus acquisition (especially with the AF-S series) and its ability to cope with difficult exposure problems. The 11-area autofocus system was a plus when dealing with compositional problems where the subject just had to be on one extreme side of the photograph or the other. Comparing it to the F5 was a close match, but this camera is definitely steps ahead of its predecessor on all counts, including handling, features, and controls.
In closing, I find the new Nikon F6 a very exciting piece of equipment. The camera is tough yet sensitive to all of my shooting needs, exposures were dead on, focus was sharp, and overall, the F6 was indeed an extension of my shooting abilities in the field.
Could I ask for anything more? At the present time, no, but the fat lady isn't done singing yet!
Nikon's New AF-S Teleconverter TC-17E II
Like most things that seem to meet halfway or look like a compromise, Nikon's brand-new 1.7x tele-converter is the exception. The product itself is only 1.2" long by the common 2.6" in diameter, fitting in between two established icons of 1.4x and 2x. Internal construction gives it resolving power to enhance its position between lens and camera with Nikon currently listing the makeup as having seven elements in four groups all placed in a tight package that checks in around a half a pound. We've all seen how Nikon is big on compatibility so this tele-converter will talk to most lenses now available; works with the VR mode and AF-S functions; assures accurate metering; works perfectly in autofocus with Nikon cameras from the D-series digital down to N75 film cameras; and light loss is only in the neighborhood of 1.5 f/stops before your image reaches the film (or sensor) plane.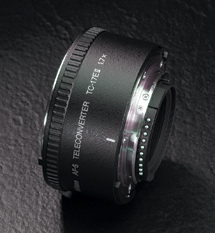 The new AF-S Nikon 1.7x tele-converter. When attached to the camera, it adds only 1.25" in overall length to the entire lens and camera assembly and loses only 11/2 f/stops in light.
So what's in it for you? Your 300mm or 400mm f/2.8 lens is now a 510mm or 680mm f/4.8 lens which is still under the parameters set by your autofocus feature. Now, how about using the same lenses on wildlife with the extender and the digital aspect added in? On the D1X with the 1.5x factor, the 300mm is now a 765mm lens (300mm x 1.7x1.5); the 400mm becomes a 1020mm partner in the field still at f/4.8. Wow!
In the field, I found the TC-17E II an interesting tool to use considering what it's up against in balancing optics from the prime lens through the tele-converter and on to the camera. It is available now at a street price of around $420.
Technical Specifications
Lens Mount: Nikon F mount
Custom Settings: 41 are available
Exposure Modes: Program, Shutter-Priority, Aperture-Priority, and Manual
Autofocus: TTL phase detection; Nikon Multi-CAM 2000 with 11 different spots within the viewfinder
Focus Tracking: Automatically activated by using either Single Servo AF or Continuous Servo AF
Autofocus Area Modes: Four areas within viewfinder, manual selection on camera back
Metering Options: Matrix, center-weighted, or spot
Metering Range: EV 0 to EV 20 in 3D matrix and center-weighted; EV 2 to EV 20 in spot
Bracketing Options: Two to seven shots; 1/3, 1/2, 2/3, or 1 full stop
Shutter Speeds: 30 seconds to 1/8000 sec
Maximum fps: Eight with optional MB-40 battery pack
Flash Control: Compatible with previous Nikon flash units and newer i-TTL technology
Weight: Approx. 34.4 oz with batteries or the optional MB-40 battery pack
Street Price: Around $2200 for the body; $399 for the MB-40 battery pack

For more information, contact Nikon by visiting their website at: www.nikonusa.com.
Stan Trzoniec is a frequent "Shutterbug" contributor and a widely published author on the outdoors, photography, railroads, and travel with over 1800 magazine articles, 700 full color covers, and five books to his credit. His new photography book, "Images of the Present," is due out this fall. He can be reached at fotoclass@aol.com.

LATEST VIDEO

SPONSORED VIDEO
Testing Tamron's SP 150-60mm G2 lens while capturing birds and alligators in Apalachicola, Florida.