The Nikon D2x; Nikon's Flagship Pro Digital SLR Page 2
Hue Adjustment is set to 0, as I prefer to do this adjustment in Photoshop. After processing the raw files using the Adobe Raw Converter, I edit, color corre ct, and sharpen in Adobe Photoshop.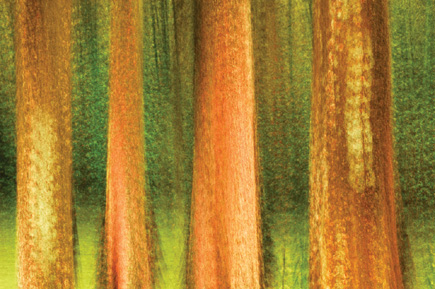 The D2X is one of the only pro digital cameras that can perform multiple exposures. Here is an example of nine exposures, moving slightly upward for each exposure.
I finished off my D2X test at Niagara Falls, Ontario, where I was conducting a two-day seminar. It was cold and damp with quite a bit of vertical mist coming off of the falls. The camera and DX lens got drenched. The body was sealed against the wetness and performed flawlessly. I wiped the lens off immediately after shooting in order to minimize any problems.
Conclusions
On balance, I feel great about the D2X. Its response is instantaneous, autofocus was responsive and silent, and quick candids using Program (P) mode were excellent.

However, there are a few things that I'd like to see improved or added. Nature photographers really like slow shutter speeds to blend moving water or to capture long exposures of wind and moving clouds without adding a neutral density filter. For those who prefer glass filters, a neutral density filter and another color correction can cause vignetting on wide angle lenses. One more ISO rating to ISO 50 (ISO 25 would be nice, also) would give us more long exposure capability.
(Left) There was a lot of wind and blowing sand. Aside from taking obvious precautions, like holding the lens facing downward and changing lenses as quickly as possible, blowing sand did not penetrate the body or otherwise cause any problems. (Right) Reds are notoriously difficult to render using digital. This fresh red poppy image was made to see how the D2X handled it. Normally, I would add a little saturation to an image in the processing stage. In this case, I just left it alone and it worked fine..
A general problem with digital cameras is their noisy performance at very high ISOs. Although the D2X's performance is noiseless up to ISO 400, it begins to get a bit noisy and the color starts getting blocked up at ISO 800 and higher. In cases where I need very fast speed, like photographing in a recording studio in dim light, I'll need to continue using film (T-MAX 3200 pushed to 6400).

The longest exposure time available is 30 seconds, which is fine for the vast majority of images, but the F5's longest exposure time is 30 minutes. I would really like to see a longer exposure time on the D2X. As of now, one needs to go to the Bulb setting and do some math for exposures that run into minutes.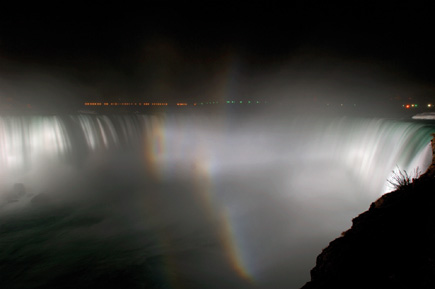 This first image shows how the camera reacts to blackness and brightly lit falls at 10:30pm. The blacks are very black and there are only a few minor borderline bright areas, one of which I cover (or merge) with the silhouetted hillside.
Aside from the very specific issues mentioned earlier, the D2X meets all of my needs as a nature/outdoor photographer and the industry's standards for image quality and file size. I had used Fuji's Velvia ISO 50 for my entire career up to this point. We have all learned that modern digital photography involves as much software expertise as it does photographic expertise in bringing an image to fruition. But, with a professional digital camera like the D2X and some Photoshop knowledge, image quality equals and can even surpass 35mm film scans.

So, it appears that my days of using 35mm film are on the wane. However, I still use film for my panoramic work and for extreme low-light situations. But as an expressive tool, I find the D2X quite remarkable. For example, it can perform multiple exposures, a feature missing from many other professional-level digital cameras. The D2X has a fun menu selection called "layers" in which the photographer can merge two different images in camera, combining them to make a single image. It's kinda like a double exposure, but it's a bit different in that you can pick any two images that are on the flash card and combine them in camera, regardless when the images were shot. I really don't use it a lot, but if you have some spare time, it's fun to see what one can come up with.
(Left) This next image was shot the following morning. I wanted to see how the camera would react to bright, colorful mist and how it would render a blue sky. Many digital cameras render the sky on the cyan side. The sky in this image and the mist was exactly how they appeared! (Right) This image was hard to resist. I planned to go back on a clear morning and fortunately we had several. I wanted to see how the D2X handled all of the color, bright highlights, and dark areas. There was very little Photoshop work done on this to slightly brighten the dark foreground cascade.
For example, say one wants to do the classic shot of photographing a cityscape and taking a second exposure of the moon and sandwiching the two images. The D2X allows the photographer to merge both, in camera! No more guesswork.
As a studio tool, it will serve the photographer very well and will be a viable camera for many years to come. And, as a tool to be used outside in various weather conditions, the D2X has already proven that it will bear up under the rigors of professional nature and outdoor photography.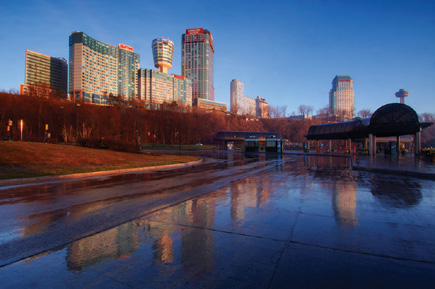 Afterward, I noticed this great city reflection right next to where I was parked. There was still a mist swirling around the car, so I got as close to the car as I could and, using a Singh Ray three-stop Grad ND, I was able to capture this nice graphic of Niagara Falls, Ontario.
Technical Specifications
Sensor: High-resolution 12.4 effective megapixel CMOS DX Sensor with fast four-channel output for 4288x2848-pixel images
Exposure Control: Programmed Auto with Flexible Program [P], Shutter-Priority Auto [S], Aperture-Priority Auto [A], Manual [M]; exposure compensated in 5.0 EV range in 1/3, 1/2, or 1 EV steps; autoexposure bracketing
Top Shutter Speed: 1/8000 sec
Continuous Shooting Mode: Five frames per second continuous shooting at full resolution, for 21 JPEG or 15 NEF images
Wireless Capability: WT-2A Wi-Fi transmitter (optional) wireless connectivity using 802.11g technology is possible through this accessory with full remote camera control using new Nikon Capture 4.2 software
Metering: Improved 3D Color Matrix Metering II; Center-Weighted Metering (75 percent of the meter's sensitivity concentrated on the 8mm diameter circle) given to 6, 10, or 13mm diameter circle in center of frame, or weighting based on average of entire frame; Spot Metering (3mm diameter circle, approx. 2 percent of entire frame); metering position can be linked to the focus area when using Nikkor lenses with built-in CPU
Autofocus: Multi-CAM2000 autofocus module provides 11-area AF system with group dynamic AF, close-subject priority dynamic AF, close subject in a group priority dynamic AF, and Lock-On
Memory Buffer: 17 Uncompressed NEF (raw) and 22 Fine JPEGs (large)
Flash: Nikon Creative Lighting System support for Nikon Speedlight SB-800, SB-600 for full i-TTL flash control with Nikon Advanced Wireless Lighting, color control, FP High-Speed Sync, modeling flash, and more
Suggested Street Price: $4999.95

For more information, contact Nikon Inc., 1300 Walt Whitman Rd., Melville, NY 11747; (800) 526-4566, (631) 547-4200; www.nikonusa.com.
Tony Sweet is a professional nature/stock photographer, author, lecturer, and workshop instructor. Visit his website at: http://tonysweet.com.

LATEST VIDEO